We asked Library staff to write about their experiences of working from home during lockdown. Maria Menezes and Tim Haillay share their thoughts.
I'm in Week 10 of lockdown!!!!
By Maria Menezes
When lockdown came into place I hated my first week at home because I missed seeing people – I'm a people person. As the weeks went on I found it easier to cope with my new working environment and amazingly learn new technology on my own – I'm now a Zoom whiz.
However in Week 6 I was not in the right frame of mind but zooming and talking to friends and family helped me through this rather dark period – it's difficult not having anyone directly to talk to at home living by myself. I have now accepted that this situation will continue – but hopefully not for much longer.
I need structure and though I have tried to set myself a "rota" being the Rota Queen (hee hee) it doesn't always work.  I can't wait to get back to work – daytime telly is awful.
Up with the larks
By Tim Haillay
The idea of working from home when we were still working on campus was not an attractive one to me, mainly as the physical journey to work was part of the discipline and by losing that, part of the holistic work experience would be missing too. My coping strategy therefore has been largely based on keeping things as normal as possible.
Therefore, from day one I decided to keep the journey to 'work' and make it the start of my normal day. For the first couple of months I would leave my house by 5 am and walk up through Hollingbury and over the golf course past the Iron Age hillfort. The path then descends through 49 acres field to Coldean and the woods beyond. A footbridge crosses the A27 into Stanmer woods and the path goes over Marquee Brow and up through Russell's Clump to the edge of campus. It then heads north, past the dewpond to Highpark Farm and back around via the woods on the edge of the Stanmer estate back to the Pudding Bag and Old Boat Corner and home via the Ditchling Road cycle lane. The following day I would do the same walk in the opposite direction…and thus it continued (Map 1).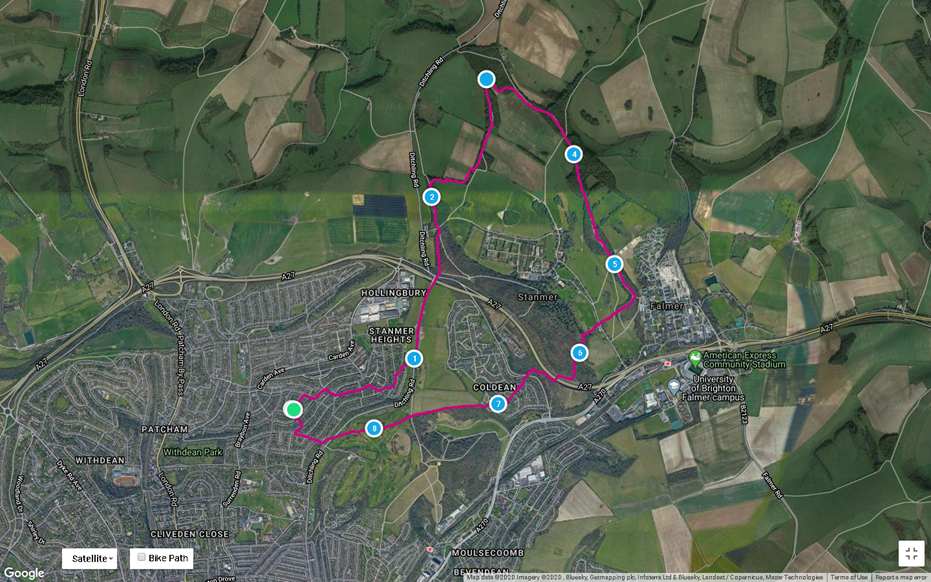 After 7 weeks or so of the same loop, I was getting restless for a slightly different (and longer) challenge. I had walked home via Ditchling Beacon on many occasions when working on campus but never in a circuitous route from home.
There are two slightly different routes (Maps 2 & 3). Both necessitate going through Patcham and crossing the A27 via the Horsdean footbridge at which point they divide. The first drops into Standean valley via the metalled bridleway. The valley below is an oasis of calm so close to the A27 and winds up past the 'shepherd's hut' and Alpha and Beta cottages to Lower Standean farm. Beyond, the road turns into a rough chalk path that follows Ditchling Shaw to a staired stile named for the 'Monday Club' (your guess is as good as mine but I hope it refers to a group of ramblers!).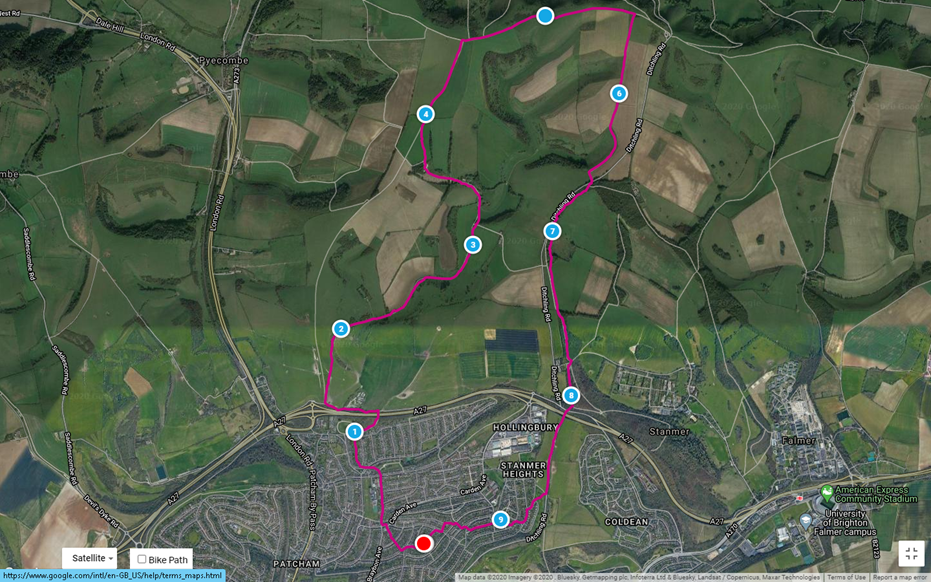 This opens out into a large cultivated field, the path at the edge of which leads all the way up to Keymer Post on the South Downs Way. Following the well-trodden (but deserted at that hour of the day) path over De Lilt Hill towards Ditchling Beacon gives exhilarating views across Ditchling, Hurstpierpoint, Burgess Hill, Haywards Heath and beyond to the North Downs to one side and Poynings and Brighton and Hove to the south. At the Beacon proper, the path turns south past Hogtrough Bottom and over Heathy Brow and North Bottom to Highpark corner. The path then goes through Stanmer woods and joins up with the homeward leg of Map 1. The alternative route after Horsdean (Map 3) goes up past the Chattri (a memorial to the Indian soldiers who were cremated there during the First World War) and up to the aforementioned Keymer post via Holt Hill.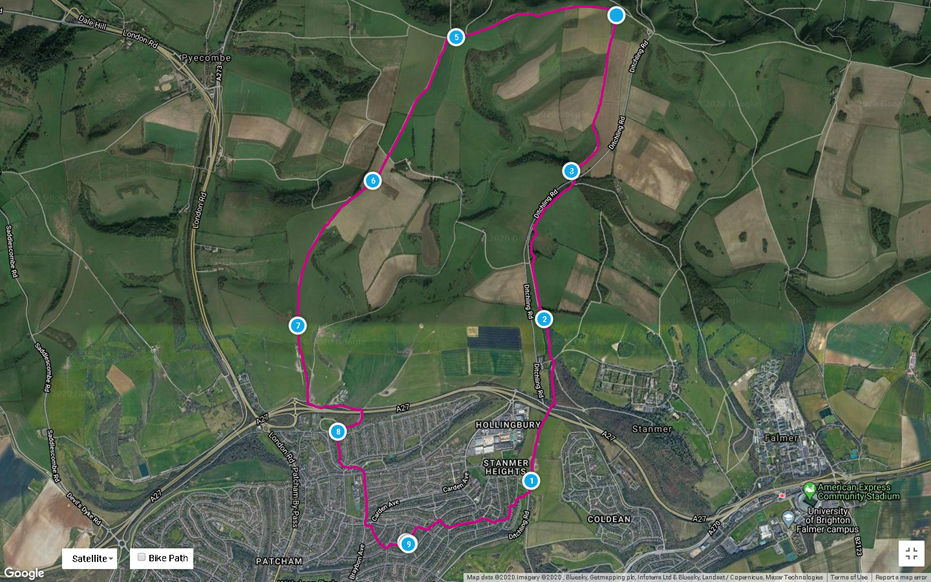 I love the solitariness of this hour of the morning but the abundance of flora and fauna mean I am never really that isolated. I regularly see badger and deer and the bird life up on the downs is just stunning, the skylarks are like an army of tiny drones monitoring my every move. This morning I saw a pair of crows see off a buzzard who was clearly too close to their nest… and the light… there was a low mist over Standean and the sunrise was like a series of Turner paintings seen through a kaleidoscope. We have been so lucky with the weather thus far since lockdown, only 3 mornings of rain since the end of March. If some of us are still homeworking in October and I write an update to this, it will undoubtedly be a different story weather-wise but for now my working day will start with a walk to work and back and I can heartily recommend it, or at least something that equates to the discipline of it. It certainly sets me up well for the working day.
If anyone fancies joining me on a morning, socially distanced 'stroll' please feel free. There are places to leave cars at both Horsdean and Old Boat Corner so you do not have to live within walking distance… just drop me an email.