Continuing the series about getting to know our lovely colleagues, next up is Clare, Senior Library Assistant in Cataloguing.
If you'd like to submit your answers to the Q+A, fill out the template and send it to library.innovation@sussex.ac.uk, or get in touch with the Blog admins – Lizzy & Sam…
---
Clare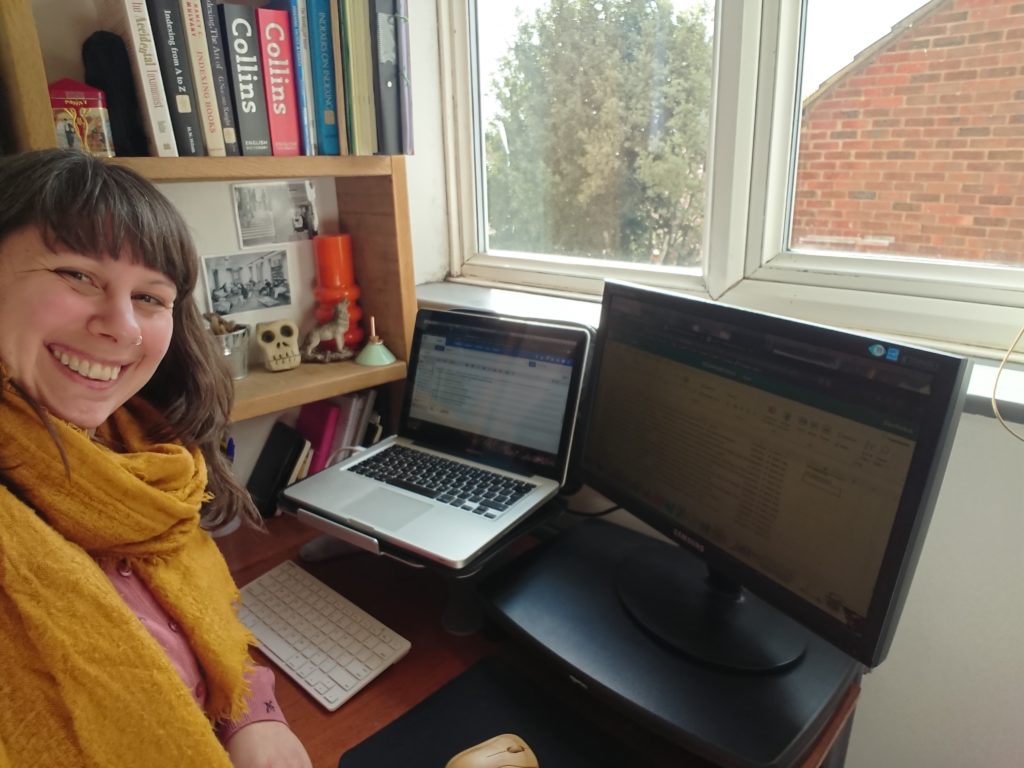 We'd like to include a brief biography before the Q+A. To help with this, could you tell us, in a couple of sentences, where you're from, where you live now, and a little bit about your working life so far…
I was born in Brighton and have been hanging around it ever since. Studied at Sussex and lived on campus in the early 2000s and now I live in Lewes. I worked in a load of different shops from the late 90s until I finally escaped retail for library work at East Sussex County Council in 2009 then started here at Sussex in what was then Lending Services in 2013.
What's your favourite part of the library?
The whole of the top floor. The back bit looking out to the trees and the front when the sun comes up and shines through the windows in the early mornings.
Tell us about your journey into work.
I walk up the road to school with my daughter, or on her tired/grumpy days I'll take her on the back of my bike. Walk/freewheel back down the hill again. Lock my bike up, up the steps, in my front door, down the hall, into the kitchen and turn the laptop on.
What's the strangest thing you've seen or heard in the library?
The strangest thing in the library isn't a sight or a sound, it's the smell of G70.
Which book/film/album changed your life?
I'm not actually much of a book reader (I know weird right? Do I have to hand over my staff card now?). And I find films are generally too long although I do like the ones about sharks.
So when it comes to life changing works the album Every time a bell rings an angel gets his wings by Logh is the one.
What is the worst job you've ever done? (Careful…)
I had a Saturday job at Forbuoys in Seaford where I had to wear a stained old tabard and spend 8 hours selling polos, fags and lottery tickets and getting paid £3.50 an hour. The Lottery was still quite new then and people were so into it. I remember they tried to get me to wear a plaster over my nose ring.
What do you feel most proud of, in your work here?
I'm proud to have instigated the changes we have made so far to outdated and offensive subject headings and classmarks and I hope I have managed to explain our classification systems to lots of people in a way that they understand.
If you could go back in time, where would you go?
Not too far, maybe just that bit in the mid 2000s in Brighton. When the Freebutt and the Engine Room were still open.
How do you relax?
I don't.
What keeps you awake at night?
My daughter, my mobile phone, upstairs neighbour, that thing I said in 2014 that might have offended someone.
Who would play you in the film of your life?
People say I look like Fairuza Balk so maybe her.