In a slight change to the usual format, Library pets have hijacked the
Q&A for Wellbeing week. For the final installment, it's Gayemarie's dog Alfie, Annette's dog Bramley, and Nell's cat Gwen.
If you'd like to submit your answers to the Q+A, fill out the template and
send it to library.innovation@sussex.ac.uk, or get in touch with the Blog
admins – Lizzy, Kate & Sam…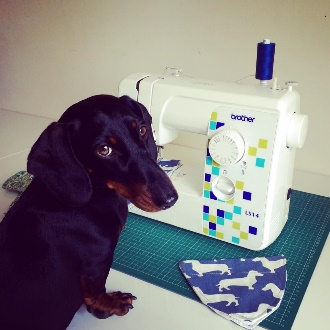 Tell us about yourself, where you live and with who…
I live with my human pack of Mum, Dad and my brother Jack …as I am older I am his boss. My Grandma comes to visit me lots for walks and cuddles.
What do you do all day while your owner is at work?
It is my job to protect the house, which means I stand on sentry duty on the back of the armchair looking out of the front window and bark at everything that goes by, also, during this time I eat what was in put my Kong and chew my toys. I also sleep a lot. I then look out into the back garden and bark at squirrels and then wait by the door for my mum and jack to get back from school.
What is your favourite song?
My Humans are very musical and like dancing a lot and like me joining in but if I had to have a favourite it would be Rocadown by Vanupie (when my Dad plays this Jack and I fall asleep).
How do you support your owner's wellbeing?
I help her by telling her someone is near the house and squirrels etc are in the garden so she feels safe, and I water and poop in the garden a lot, I then go back and tell her to collect the poop so she has a clean garden.
I model for and help her in her Pet design company see my photo.
I take my Mum (or Dad/Grandma for walks and training with treats) and she gets to meet my friends. I help her play and give her cuddles.
I go and collect Jack from School so he is safe, and we play in the park to give my mum a rest.
In the evening I snuggle under the blanket with my Humans to keep them warm and happy until it is time for poop and bed. If grandma stays I am allowed to stay in her bedroom to make her happy.
What is your favourite food?
Everything!!!
What keeps you awake at night?
Any noise and when Jack wakes up I have to go to the toilet with him and make sure he gets back to bed.
How would you spend your paw-fect day?
Breakfasting the morning. Then going to the beach/ park with my Humans, playing, eating and sleeping. Also meeting my doggie pals, playing eating and sleeping. Then go home for dinner.
Who would play you in a film of your life?
There is only one person who could play me and that's ME!!!!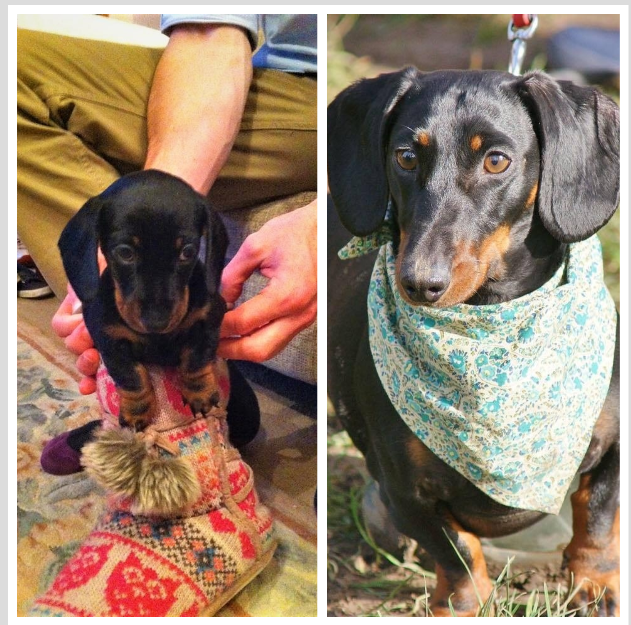 ---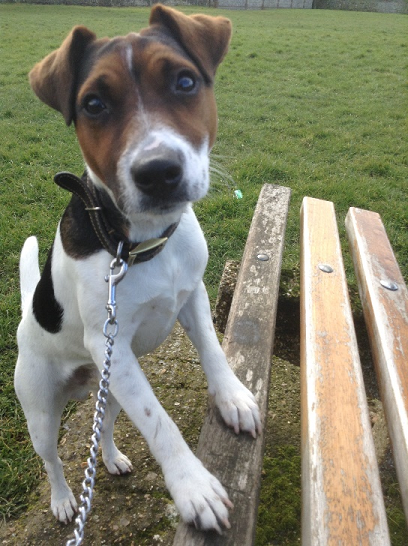 Tell us about yourself, where you live and with who…
My name is Bramley. I live in Angmering village with my humans (Annette, Malcolm and Adam). Sometimes Adam, the youngest human, refers proudly to me as 'Sir Bramley of Brambleton Manor" so I think I must be someone quite important. I come from a family of working Parson Russell dogs who lived on a farm in Surrey. That probably explains much of my character as I like to be outside exploring, helping with chores and generally interested in EVERYTHING that is going on in my household and in the outside world. However, that said, I am now very used to sunning myself in the garden whenever the opportunity arises and taking several long naps during the day in the comfiest of places I can find.
My best friend and companion is Molly, also of the Parson Russell breed. Molly and I get on well together most of the time, but she can be extremely bossy and is weirdly very protective of our toys. Molly takes all of her favourite toys into her basket and guards them from me. She is not very good at sharing.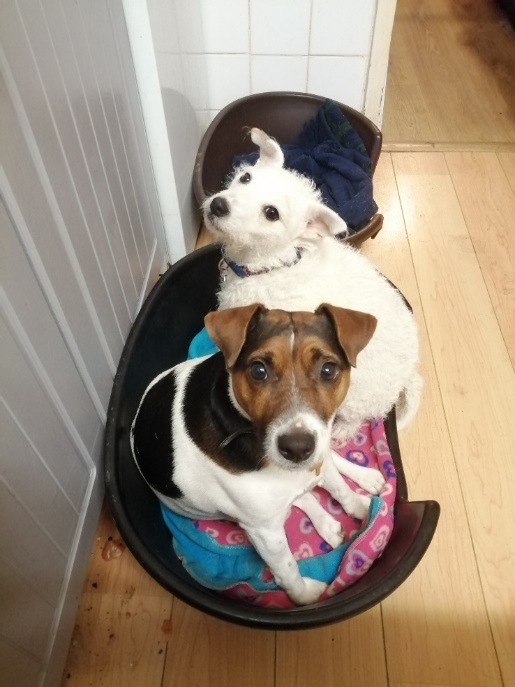 What do you do all day while your owner is at work?
Luckily, I am seldom on my own as only one of my owners is out all day, so I have company for most of the time. However, during the day I normally take myself off into the living room and adopt a comfy position on the back of the sofa and stand guard of our house, making sure I alert my owners to any passers-by (potential intruders) and their dogs (potential new friends) and always let my owner know when the postman arrives (parcels – I love them).
While my owners are busy doing their own thing (whatever that is), I take the opportunity to check if any food has been left out for me, particularly after visits from friends and family. There is always something; a half-eaten biscuit, a sausage roll or my favourite, a small piece of cheddar cheese.
I am very appreciative of how comfy the sofa cushions are as a place to snuggle up and have a nap and this I do when my owners are out or engaged in some important activity that for some reason doesn't involve me. I dream of splashing through puddles, running through fields, cream-coloured kittens and brown paper packages tied up with string. These are a few of my favourite things.
What is your favourite song?
There are many songs that I like such as 'I did it my way' by Frank Sinatra or 'The Boss' by James Brown, but my true favourite has to be 'I Love my Dog' by Cat Stevens. It is an old song that my mother liked from the 1960s. If my Mum liked it, then I do too. It is also my favourite because the concept of a 'Cat' writing a song about a dog intrigues me.
How do you support your owner's wellbeing?
I aim to please and nothing makes me happier than having my humans' full attention and I think they like this too. Playing with me helps them to relax and forget about all the cares of the world and just concentrate on me. I make them laugh by trying to catch three bouncy balls all at the same time or when I run round in circles trying to catch my own tail. Molly and I sometimes play tug-of-war with a strong, colourful rope and this gets their attention too. I usually let Molly win.
When any of my humans go out without me, I complain bitterly; but on their return, I make it up to them by showing how excited I am to see them again (even if they have only been gone for half-an-hour) and demonstrate how much I love them by jumping up and licking their hands and making a lot of fuss around them. This makes them feel wanted and appreciated.
Exercise is good for everyone's wellbeing and in this area I am really helpful, encouraging my humans to take at least two good walks a day. Ball games also add to their exercise routine and sometimes I pretend to be bored with the game so that they have to run and fetch the ball and bring it back to me.
I KNOW when they are feeling sad and will sit with them until they feel better.
Finally, I am always willing to get involved with the household chores, either by watching enthusiastically or helping by removing seemingly unwanted items to another area of the house. So all-in-all, laughter, relaxation, mindfulness, exercise, love, companionship, empathy; this is my contribution to my owners' wellbeing.
What is your favourite food?
For very special occasions a ham bone is my favourite. Happy to enjoy this as a sharing platter with Molly. However, as previously mentioned, Molly is not a 'sharer' so this doesn't always end well! Even one each can end in trouble, depending on who finishes their bone first… and starts making plans to 'steal' the remaining bone from their true friend.
At all other times, a small piece of cheddar cheese is much appreciated.
What keeps you awake at night?
The howling wind. Take Storm Dennis for example, I usually appreciate the comfort and privacy of my own bed at night, but when storm Dennis arrived with the rain pounding on the window pane and the wind whining through the eaves of the house roof, I was quite anxious. Was it the wind I could hear or the sound of some ghostly creature invading our house? To be on the safe side, sleeping at the end of the bed seemed more appropriate that night. There is safety in numbers.
How would you spend your paw-fect day?
An early morning run
Sausages
Soaking up the sun in the back garden
Morning nap on the sofa
Play pick-up-sticks in the garden
Afternoon walk up the hill behind our house and through the woods. If there are lots of puddles, all the better.
Back home and into the bath followed by running madly around the house until my coat is dry (it is a well-known ritual)
Snoozles
Dinner time: Freshly prepared chicken and cauliflower cheese. Followed by cheesecake, even though I am told it is not good for me.
Cuddle up on the sofa and sleep through EastEnders.
Who would play you in a film of your life?
Eddie from the TV show Frasier – https://thefrasier.fandom.com/wiki/Eddie_Crane
Eddie and I have a lot in common. We share the same birthday, May 15th and we are both smart, good looking and quick to learn new tricks (when we want to be).
---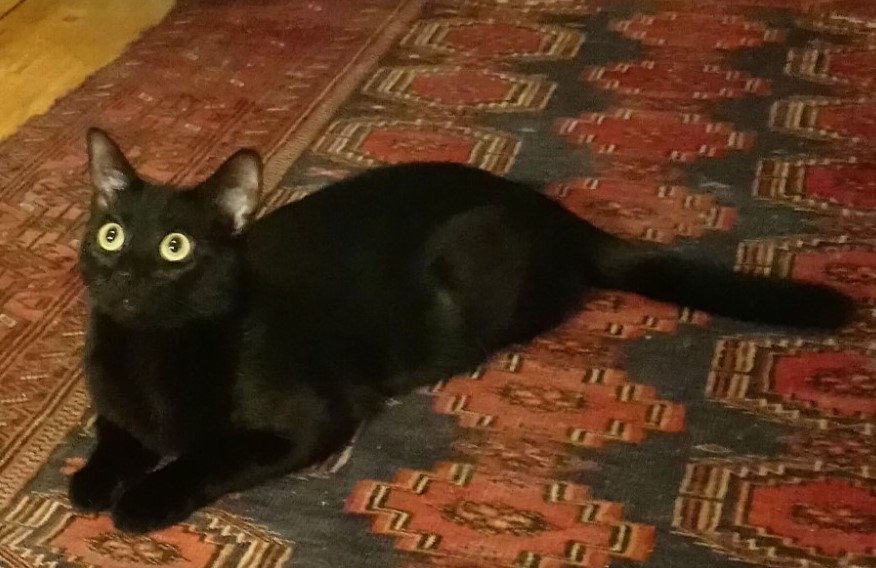 Tell us about yourself, where you live and with who…
I am writing this on Gwen's behalf as she is a cat and cannot read or write. Gwen is a tiny black cat with a short tail who I got for free off a woman on the internet. When she arrived from Crawley (she took the train) she immediately crawled into a hole behind the washing machine. She lived in the walls for two weeks, coming out at night to eat biscuits and watch us sleep. She crept out eventually and has been moderately tolerant of me ever since. She does not like to be touched much but she loves being in the same room as me. She also likes to bash open the toilet door and run off.
What do you do all day while your owner is at work?
Gwen is a voyeur. She obsessively watches the neighbours across the street. One day the neighbours will do something awful and she will be the only witness. This is her life goal.
What is your favourite song?
Gwen composes and performs her own songs. Her favourite is 'Yayayayayaya-wol'.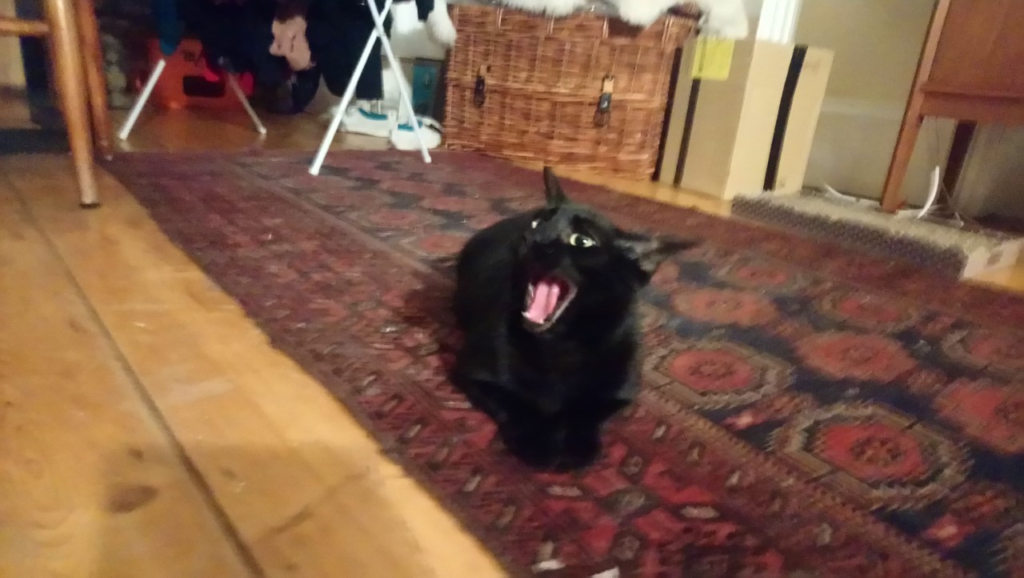 How do you support your owner's wellbeing?
Sometimes Gwen will honour me with a respectful slow blink. It's a real treat.
What is your favourite food?
Tinned tuna in spring water, marmite and only the 'wet' part of wet catfood.
What keeps you awake at night?
Like most cats Gwen is crepuscular (not nocturnal or diurnal) She uses the night time to loudly pick at the wardrobe door and then run into whatever room is empty to hoot 'Lalalalalalala' at the top of her little lungs.
How would you spend your paw-fect day?
Having a long, hard stare out the window followed by a session of "being very fast" (running up and down the flat) and then one very firm stroke on the head.
Who would play you in a film of your life?
Anjelica Huston.
---