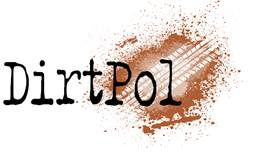 DirtPol is, we are sad to say, coming to an end and for various reasons, slightly more prematurely than we had hoped. The team are disbanding and dispersing, however this blog and the DirtPol website will stay in place. All data collected in this phase will be open access and so therefore made available to anyone with an interest to either read or use for their own purposes. You will be able to access our data from the website.
As the team re-situates itself across the globe (members at Sussex are moving to Yale, members of the English department are travelling as far as across campus to IT, researchers are going on to new research posts, PhDs and Masters), we will still maintain an interest in the cultural politics of dirt and will keep a keen eye on Professor Newell's future projects as we've been informed they will remain, at least for a while, suitably dirty.
It's not anticipated that this blog will be updated any further, so we thank you for your readership and hope that we have given you, across these posts, some interesting points of departure for thoughts both on research methods and the muddy cultural concepts of dirt.