In recent years the nature of historical research has changed. Most family and local historians now combine the use of online digital resources with the photography of un-digitised materials in physical archives for later analysis. This methodology has fundamentally transformed the nature of historic research. Now, a single visit to an archive might produce hundreds of images. During the same years thousands of 'citizen historians' have come to contribute to large-scale collaborative heritage projects, drawing together academic historians, repositories, and local and family historians to co-create new 'particiaptory archives'. Yet collaborative public history projects have taken a little longer to incorporate this 'click and collect' methodology. Capturing the Past is designed to create the tools and workflows that will optimise archival photography to the benefit of all parties. It draws on this democratisation of history by using the affordances of smart phones and the cloud; of digital cameras and the growing significance of public history to recreate a community of sharing and scholarship
During a previous project, Small Bills and Petty Finance, the team developed a suite of digital tools as a method of undertaking large-scale data collection and management. Capturing the Past, the AHRC funded follow-on project, aims to develop these tools as a series of generic applications to support image and data collection for individual or collaborative research projects. By working with community groups, academic or family and local historians it will explore methods of providing these easy, cheap, and simple implement technical solutions for image and information capture.
The team is now adapting these tools for more general usage. Over the next few months the project will:
create a customisable phone app for both Android and Apple phones that embeds the relevant archival reference and a repository code in the image meta-data (photo information generated by your mobile phone). Made freely available through Google Play store or Apple equivalent
create an adaptable file management tool associating images via shared meta-data with the relevant collected data, allowing export or download
create a multi-user system of information capture designed to be managed and adapted by the user. The system will allow the user to install and create an online data entry portal that facilitates archival transcription from associated images as well as the creation of structured data (e.g. date, names, sums of money, material objects, geo-locations). The flexibility of the system will allow the user to name and adapt their own fields, create dropdown menus and enrich transcriptions with additional information. It will also build into the data collection process, help notes to guide users around data collection, as well as forms of best practice – ensuring that everyone using the tool will conform to GDPR, the highest standards for accessibility, and will have recorded the rights status of each item and image. The system is designed to mesh with common archival and museum platforms (CALM), allowing records transfer or mapping to new fields
develop tutorial and documentation that will allow anyone to make a cheap, lightweight 'digitisation-stick' to facilitate high quality phone-based photography in archives.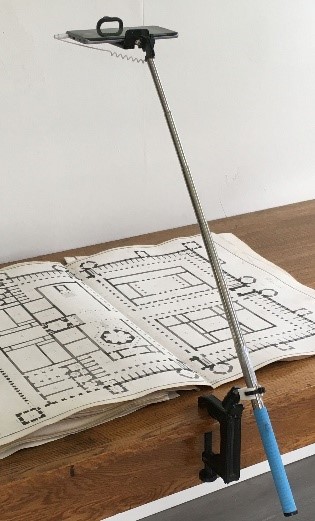 These 'sticks' allow smart phones to be held still above a document, and for a phone's camera to be operated remotely (via blue-tooth) to avoid 'shake'. Initially built from an inexpensive clamp and selfie-stick the project has manufactured and distributed some 60 digitisation-sticks so far to researchers working in 15 countries.
In addition, we will test some ready-made, easily available solutions – many of which appeared during lockdown to aid mobile phone handling in slightly different ways.
If you run a community group or other heritage group, please get in touch if you would like some support with your information or image collection processes. We are happy to help both institutional and community archives.