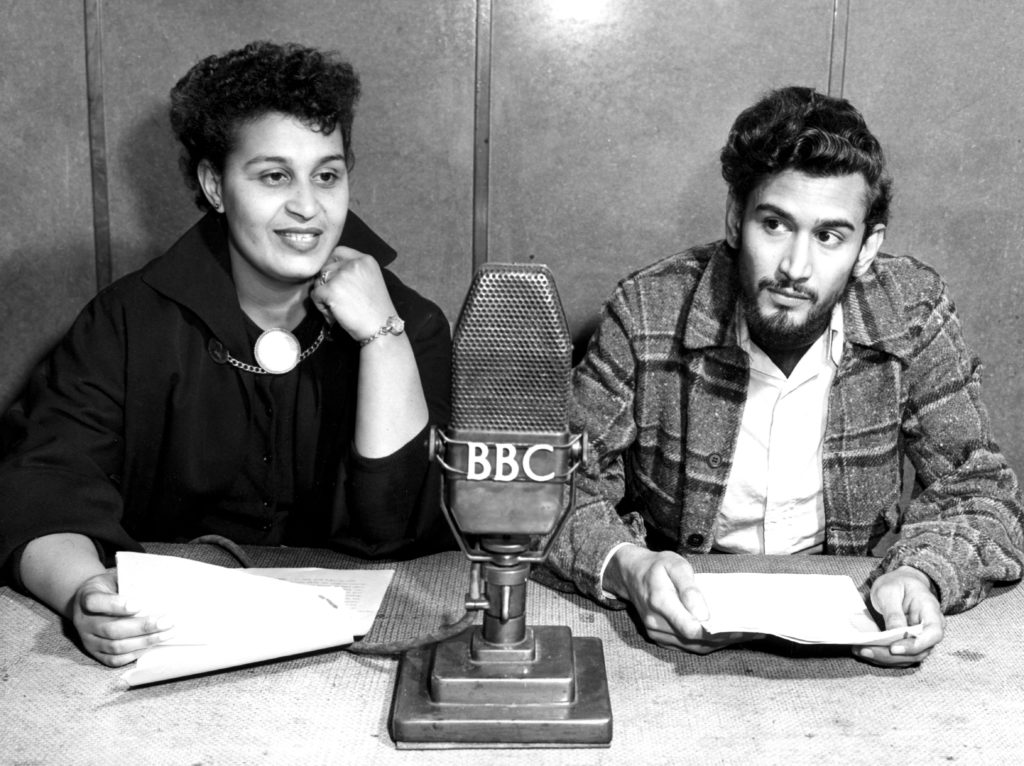 To mark seventy years from June 1948, when the Empire Windrush docked at Tilbury and King George formally ceased being Emperor of India, 'People, Nation, Empire' dipped into the archives to explore how the BBC has responded to a multi-cultural, post-Imperial Britain. It examines the representation of the immigrant experience on radio and television, and sheds light on the various ways in which broadcasters tried – and sometimes failed – to embrace diversity.
The selection of interviews from the BBC Oral History Collection features clips from: Cecil Madden, David Waine, Richard Francis, Robin Scott, Stuart Hood, Leonard Miall, Alan Bullock, Austen Kark, Charles Curran, Ian Jacob, Gerard Mansell, Martin Esslin, Ferenc Rentoul, Alexander Lieven, George Ivan Smith, Geraint Stanley Jones, Alwyn Roberts, John Snagge, Colin Morris, and Eric Fenn. Those from the BBC's Oral History of North Regional Broadcasting Collection include: Olive Shapley, Ted Wilkinson, Grahame Miller, Alfred Bradley, and Yvonne Adamson.

The absence in either of these collections of sustained and explicit discussion of issues around immigration, racial discrimination, or cultural diversity is striking – as is the almost complete absence before the 1990s of interviewees from ethnic minority backgrounds. Given this, 'People, Nation, Empire' has had to draw on a lot of other archive material – especially written records and programme footage – in order to explore the theme of multiculturalism. Content of particular note includes: downloadable documents from the BBC Written Archives Centre, including news bulletins from 1948 reporting the arrival of the Empire Windrush and plans for programmes for immigrants in the 1960s; extracts from pioneering television programmes such as Special Enquiry: Has Britain a Colour Bar? (1955), A Man from the Sun (1956), Morning in the Streets (1960), Make Yourself at Home (1965), Fable (1965), and Empire Road (1978); programme archive recordings that feature interviews with several leading writers and poets, including Louise Bennett, Derek Walcott, John Figueroa, George Lamming, Langston Hughes, and James Baldwin; and Mass Observation records that explore public attitudes towards minority communities.

Special features focus on, among other themes, the origins of broadcasting to Europe, the BBC in India, pioneering programmes to the Caribbean, personnel links between Australia and the BBC, the work of Una Marson, Langston Hughes' work for the BBC in 1964, the story of LGBTQ+ programmes on the BBC, the Black and White Minstrel Show, the pioneering access programme 'Open Door', representations of the North, religious broadcasting's approach to different faiths, and how programmes for children were conceived. In addition, 'People, Nation, Empire' featured an interview with the producer Tony Laryea, recorded by the British Entertainment History Project, and three new interviews – with Mike Phillips, Mark Tully, and Satish Jacob – recorded for the Sussex-BBC Centenary Collection.