As the UK prepares to leave the European Union at the end of January, University of Sussex Business School students reflect on their recent study trip to the heart of EU institutions in Brussels.
In December 2019, final year undergraduate students studying the 'Economics of European Integration', accompanied by their lecturer Frank Brouwer and Professor of Economics Gabriella Cagliesi, visited the European Commission and European Parliament in Brussels.
The varied programme of talks included a session on EU economic governance given by Sussex alumnus, Christian Buelens, an economist working at the Directorate-General for Economic and Financial Affairs.
BSc Economics student Jed Sexton enjoyed the off-campus learning opportunity: "The trip was excellent! Seeing inside the European institutions in Brussels really brought the course to life. I gained a better understanding how the institutions worked within the EU which was very beneficial to my understanding of the course as a whole. Being with other economics students when making these visits made it all the more interesting and helped us bond well."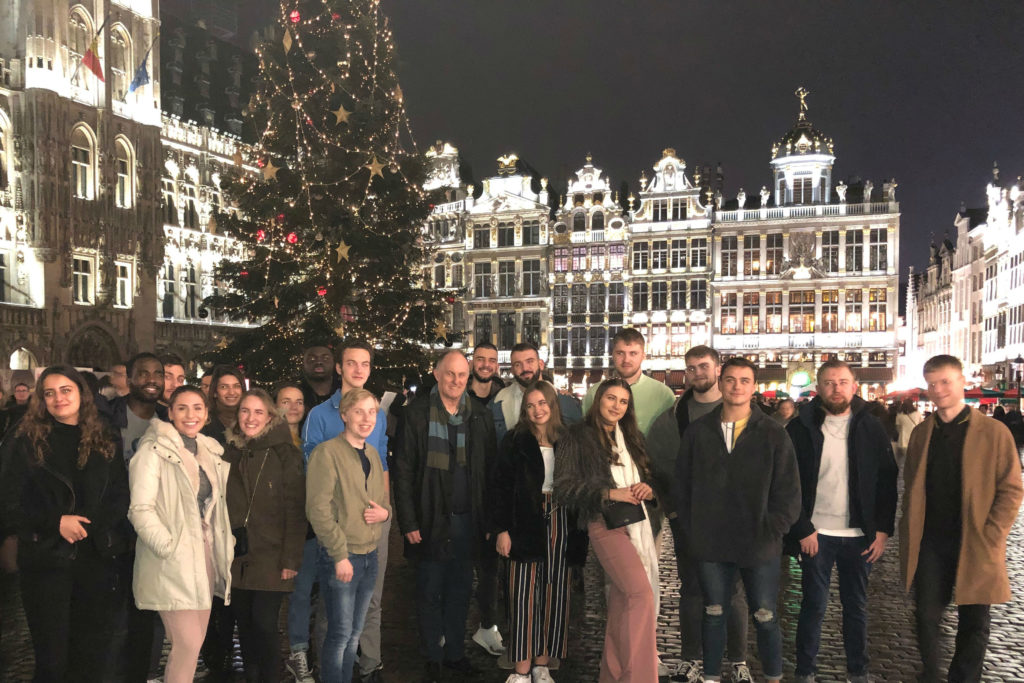 The speakers addressed the workings of the European Parliament and the strategy of the new European Commission, whose priorities include the European Green Deal, updating the Stability and Growth Pact, and developing a scoreboard to assess macroeconomic imbalances in the Eurozone.
Fellow economics student Habeeb Kamoju said: "My experience on the trip to Brussels was nothing less than outstanding. The visit to the European Parliament and Council was very insightful, not only from a tourist perspective, but from an academic aspect too. I gained a deeper understanding of how the European System works and all the fiscal and monetary issues the EU are currently dealing with. The information presented by the European Parliament and Council officials really helped me with my European Integration exam.
"I highly recommend this trip to anyone who is interested in exploring a beautiful city like Brussels and intrigued in gaining a deeper, first hand experience of the European system. Our faculty also helped turn this into a positive experience."
The group took the chance to explore the city with a walking tour of Brussels, as well as a visit to the Magritte museum.
Another visit is planned for 2020 as part of the economics offering at the University of Sussex Business School, by which time the UK will have left the EU.