JANUARY 10, 2019
Introspective, sometimes confessional, the 650+ filmed interviews with former staff in an ongoing oral history of the BBC contrast dramatically with the broadcaster's lustrous front face. But for anyone wanting to understand the policies, people, direction and self-image of a broadcaster so uniquely powerful and respected, they are a treasure trove.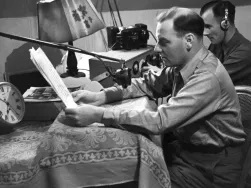 Former war correspondent, later BBC executive Frank Gillard's inspired decision in 1971 to interview retiring staff anticipated the rise of 'corporate oral history'. Today, recordings of the memories – and voices – of employees at all levels are recognised as valuable additions to the business archive, enhancing our understanding of a company's development and culture.
Oral history has often been seen as appropriate for community or family projects. and has distinguished itself as a method of choice for socialists, feminists, and working class historians, giving 'history back to the people in their own words', as Paul Thompson put it in The Voice of the Past. Rob Perks, the British Library's oral history curator, considers that oral history's radical origins have tended to make it 'ideologically averse' to business history. Yet the growth of corporate oral histories has extended the method's boundaries, both in the business world and in big public enterprises such as the BBC. It's obvious that businesses and big bureaucracies have their own stories to tell – from founder-entrepreneurs making good, to the politics of growth, acquisitions and mergers, to struggles for survival in a world of constant change, from internet shopping to austerity and globalisation. Yet when a business or enterprise hits its centenary, as the BBC will do in 2022, oral history can reveal the secrets of endurance, or help turn heritage into brand.
The BBC is of course an extraordinary corporation, with a compelling history. Advantaged through subsidy by licence, it has always needed to balance competing demands as entertainer, educator, journalist and civil servant. Oral history can convey what it has felt like to live with these exceptional responsibilities, taking us into the world of digitisation and the transformation of public expectations and demands. The pride, pleasure, anxiety and frustration of doing all of this and more, are audible in many recordings. Listening for these, particularly where they reflect organisational dissension and change – such as Director General John Birt's internal market reforms – helps us negotiate the risks of 'vanity' history when institutions interview their great and good. The Connected Histories of the BBC [CH-BBC] project is frankly exploring internal differences and minority voices, and the social contexts in which the corporation lives. This includes new oral histories, independent of the BBC's existing collection. An interview with Mark Tully, former Bureau Chief in Delhi, for example, who resigned in protest at Birt's changes, offers the perspective of a once powerful BBC insider.
Mike Phillips, spotted for Open Door in the 1970s as a commentator on Caribbean affairs, offers another angle, reflecting on the BBC's struggle to adjust itself to multicultural Britishness. Phillips supports the case that there were BBC people who pushed for greater equality in content, but also testifies to the deeply personal struggles this could entail. At times, BBC programmes on national identity were far more open and progressive than the conservative, inward-looking oral history interviews with top management.
Oral history's unreliability as retrospection drawn out through the biases of particular interviewers is of course a long-standing complaint made by traditional, document-based historians. Certainly, the CH-BBC draws on the rich store of letters, programme materials and related archival items to test and triangulate what is remembered and recounted. But oral history has an advantage as a medium of sound and feeling over the written record. Further, the mythologizing elements of memory – for example, the BBC World Service as a friendly Tower of Babel – can be pressed for analysis. At its peak, the World Service broadcast in 45 languages including a Welsh service transmitting to Patagonia, and Portuguese for Jersey, targeting the expatriate staff working in the island's hotels. Yet as this incredible service has been forced to retrench, in the context of the arguably greater babble of the internet, the meaning behind the fall of the Tower of Babel takes on more significance.
Thus the oral history of the BBC joins the emerging critical corporate history archive which includes Tesco, Barings, the National Trust and the British Book Trade. Common themes touch on personal careers as part of a collective development and culture, and illuminating too the larger context of 'long economic downturn' and financialisation, the speeding pace of production and audit trails. Yet the BBC's willingness to open up and work with historians and curators to share these voices is itself the best signal that this is a history of the future as much as the past. Here, through opening and connecting the archive, corporate memory will meet community memory, inviting us all to share our own stories of a business which remains a way of life as well as a cherished national institution.
Margaretta Jolly
CI to the project