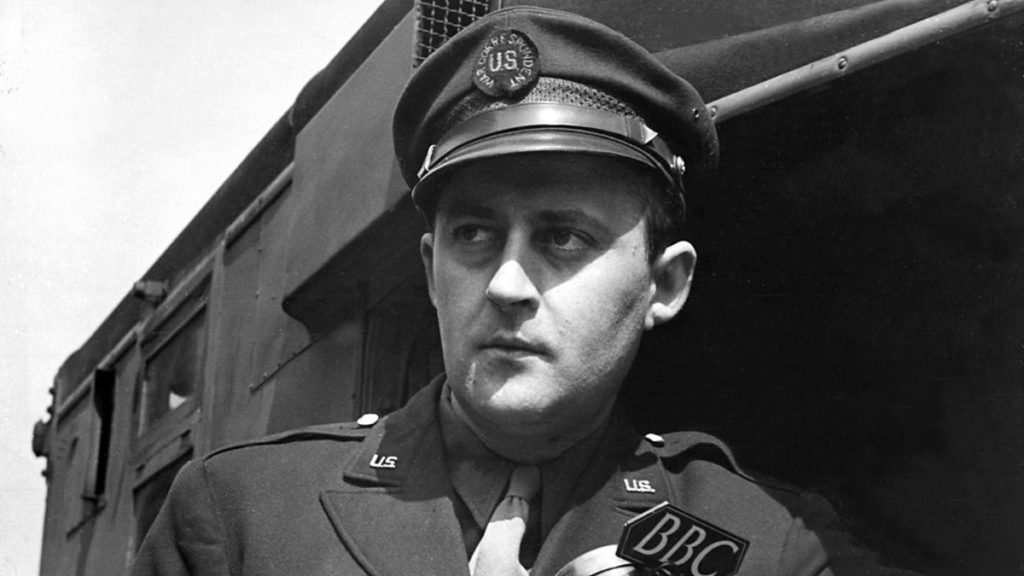 On 3 September 1939 Britain went to war with Hitler's Germany. In the fight against fascism, broadcasting played a starring role: as public informant, morale-booster, and propaganda weapon. 'The BBC and World War Two' draws on the Oral History Collection to explore how the BBC shaped the popular experience of wartime – and how, by 1945, war had transformed the BBC itself.
This selection of interviews from the BBC Oral History Collection features clips from: Harold Bishop, John Snagge, John Daligan, Clare Lawson Dick, Stuart Williams, Mary Lewis, David Davis, John Green, Charles Hill, Alec Sutherland, CHG Millis, George Budden, Elisabeth Barker, Francis McLean, Godfrey Talbot, Frank Gillard, Tony Bridgewater, Leonard Miall, Alan Bullock, Harman Grisewood, Owen Reed, Malcolm Frost, Audrey Russell, Cecil Madden, William Paley, Robin Duff, Norman Collins, and Susan Ritchie. There are interviews with John Ammonds and Olive Shapley from the BBC History of North Regional Broadcasting Collection.

Alongside a detailed insiders' account of the BBC's role during the opening weeks of the war, there are features on the 'Bore War', music and comedy programmes as morale-boosters, life inside the BBC during the Blitz, bomb attacks on Broadcasting House, the BBC's dealings with the Political Warfare Executive over propaganda broadcasts to Europe, coded messages being sent to resistance groups on the Continent, the BBC's relationship with Britain's allies, and the status of certain individuals – such as Churchill, De Gaulle and Petula Clark – as iconic wartime broadcasters.

There are several archive clips from broadcasts of the period. These include: Neville Chamberlain's announcement of the start of war, Government announcements about wearing gas masks, a 1941 programme about Mass Observation, Ed Murrow reporting on the Blitz, the hit comedy series ITMA, Priestley's Postscript, Workers' Playtime, Music While You Work, Front Line Family and The Man Who Went to War – both from the BBC North American Service – Charles De Gaulle's June 1940 appeal to the French, the announcement on 6 June 1944 that D-Day had commenced, commentary from the beach landings in Normandy, War Report, and special VE day broadcasts from May 1945. Documents from the BBC's Written Archives Centre include secret plans to relocate broadcasting away from London, censorship arrangements for News, planning for D-Day and coverage of the Second Front. 'The BBC and World War Two' features a large number of extracts from Mass Observation, including several wartime diary entries that vividly capture public reactions – both positive and negative – to BBC output.