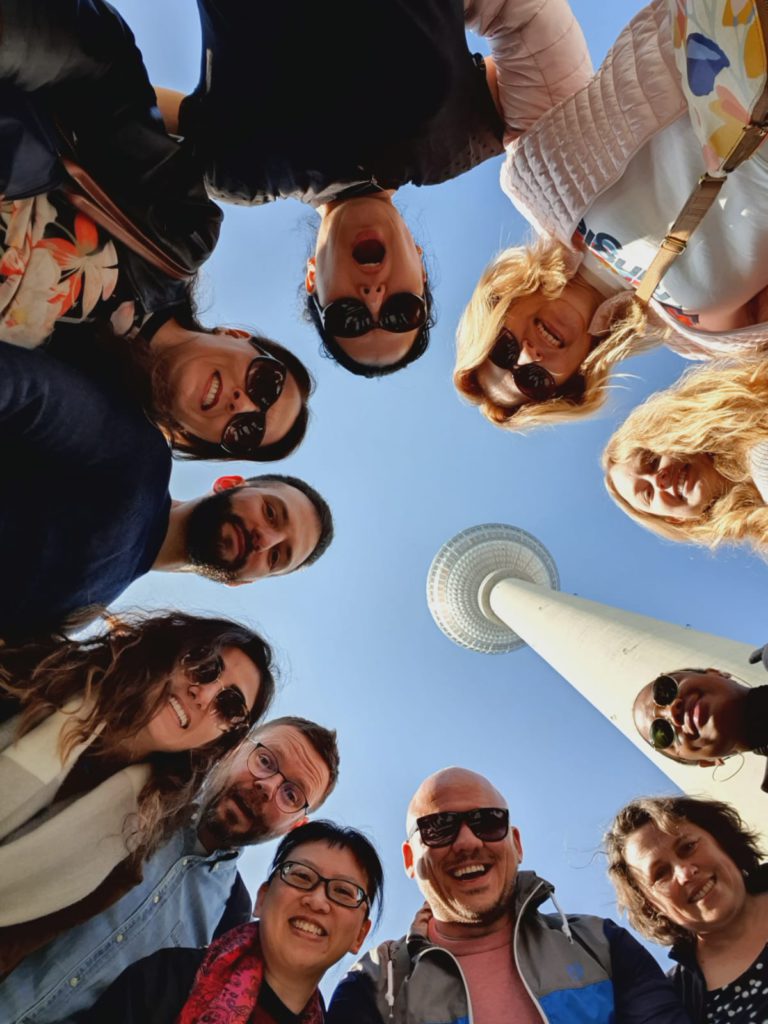 Sussex MBA students recently took a four-day trip to Berlin. The trip has helped them to understand Germany's multi-faceted history to effectively do business with Germans/in Germany, and be socially responsible employees and employers who focus on equalities, diversity and inclusion. It has also provided greater opportunity for the MBA students to network with each other, and enrich their time studying together.
Organised by MBA Course Director, Isabel Fischer, the trip had a varied programme with notable activities including trips to the BMW motorcycle plant, the Federal Institute for Risk Assessment (BfR) and Sachsenhausen (a former concentration camp). Students were also given the opportunity to go sightseeing, and experience German culture including a dinner with traditional German food being served.
Three MBA students on the trip have provided their thoughts on the experience:
"The trip covered different areas: from general German culture, through country history and business understanding to tangible business examples directly related with our MBA Studies. All these fitted in a planned schedule that also left us time to relax and have fun with course mates, socializing on a personal level.
In my opinion the three main insights directly related with the studies were:
Firstly, the visit to the BMW Motorcycle plant which was an excellent experience for the group, especially after completing our Operations Module. During the visit we could experience directly the implementation of all the systems and processes learnt during the course.
Secondly, the time we spent in the BfR, Federal Instituto of Risk Assessment. This experience not only gave us a clear understanding about how Food Safety is managed as a general level but we also practice a new skill during a fantastic workshop. "How to communicate Uncertainty" was the end learning objective and this was visualised through a Press Conference Simulation in which every member of the group participated. We could experience first-hand the risk of delivering the right message to the public when there is lack of information or certainty to support it. Big learning and a lot of fun working with the team.
Finally, the visit to the Federal Anti-Discrimination Agency which helped us to understand the actual position of the country when dealing with anti-discrimination issues and compare it with other European countries like the UK.
Excellent trip which opened lot of new areas for further investigation."
-Natalia Baldizzoni

"I was particularly impressed by our visit to the Federal Institute for Risk Assessment (BfR), where it was interesting to learn about how the Germans treat food safety. It is very similar to how the Singapore Health Ministry works but the lesson we can learn from the BfR is the emphasis and amount of research that goes into the long term effects of any action taken. For example, Dr Lars Niemann described how pesticides in the soil can find their way to our tables in so many ways and for many generations to come. The highlight of this visit was the simulation of a press conference by Mr Mike Kortsch where we were divided into the roles of the press and scientists. It made me realise how difficult it is to manage uncertainty and avoid panic in the general population. It was an eye-opener indeed."
-Adeline Lim

"Our study trip to Berlin was a delightful experience and I'm so glad I chose to take advantage. Having never visited Germany in the past, I welcomed the opportunity to explore a capital city and country with such history. The trip to Sachsenhausen concentration camp was very moving. However, the highlight of the trip for me was getting to know my coursemates on a social and personal level. The classes are quite intense and I find that after two days of teaching I'm too tired to socialise, so I felt this was my first real chance. It's bittersweet, as some of them will be completing their studies this year and I have another year as I'm studying part time but I'm trying to look forward to meeting and making even more friends."
-Samuel Holden