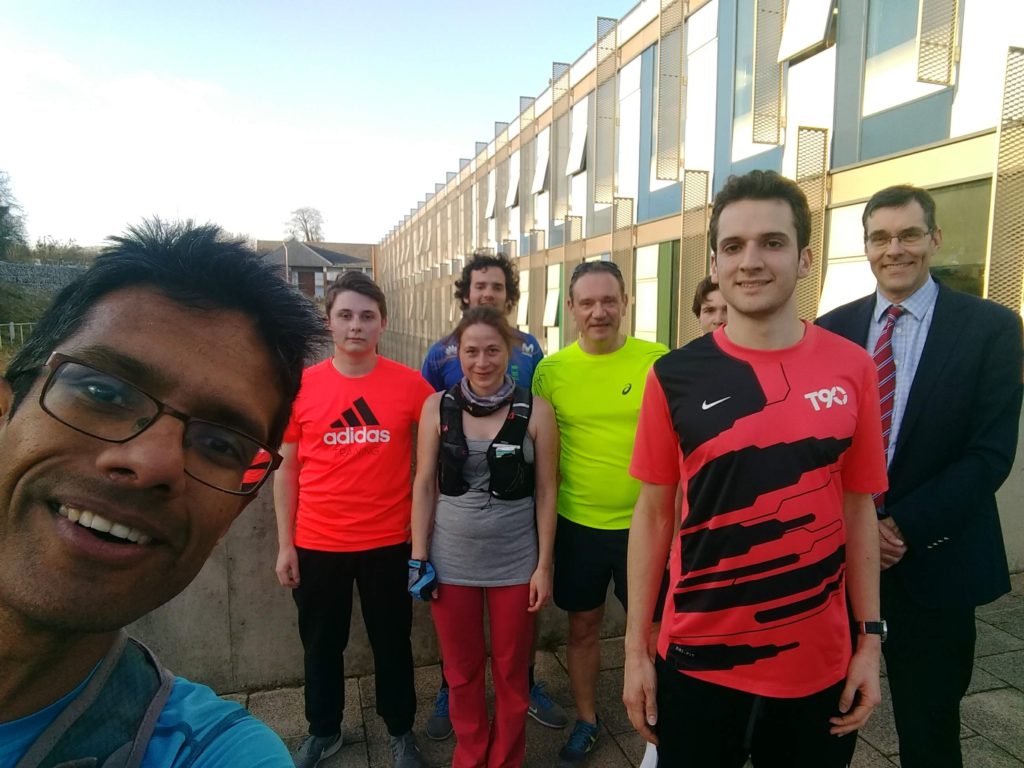 By Dr. C. Rashaad Shabab, Teaching Fellow in Economics
Examinations are stressful and the University of Sussex Business School's exams are no exception. Finding an effective tool to manage that stress can be the key to reaching one's academic potential. In this post, I outline why the stress-busting and attainment-boosting effects of running are especially suited to helping students during the exam season. I will then announce some initiatives that University of Sussex Business School is undertaking this assessment block to help students manage exam stress.
Running is not just for 'runners'
One of the most attractive features of running is how accessible it is. In contrast to many other sports, running requires no specialist skill, equipment, or facilities. All it takes to get going are a pair of sneakers and the will to put one foot in front of the other. Personally, I started running as an overweight, pack-a-day smoker, with high cholesterol, trying to cope with the stress of graduate school exams (so, if it could work for me…).
A time efficient form of exercise
During the assessment block students need to use their time as efficiently as possible. While it may be nice to have a friendly, five-a-side football match, the time needed to coordinate everyone's schedules, book a pitch, and travel to and from the venue, all eat into revision time. Running requires none of this additional overhead. If you live on campus, the Downs really are on your doorstep, and if you live in Brighton, the seafront, parks, and Downs are all a stone's throw away.
Cognitive function and retention
During revision, time is so limited that taking half an hour out of your day to go for a run can feel like an acute misallocation of a very scarce resource. But an overwhelming body of research has shown that physical activity enhances cognitive ability[1]. Memory function, the foundation of exam preparation, is especially enhanced[2]. Therefore, complementing your time in the library with a little time in your running shoes can help you get more out of each hour of reading.
Better sleep
The inability to get a good night's sleep can be a terrible drain on exam time productivity. On the one hand, we know that sleep is a crucial input to memory function[3]. Yet stress and exam-specific performance anxiety can disrupt healthy sleeping patterns at exactly the time when you need your mind at its sharpest[4].Exercise is an established nonclinical treatment for sleeping difficulties[5] and so can help students overcome this common barrier to reaching their full academic potential.
Mental health
Across the U.K. well-founded concern about the mental health of university students has been rising[6]. It stands to reason that mental health may be acutely at risk during exam time when academic workloads reach their peak. Exercise is widely accepted as an effective protection against and nonclinical treatment for a range of mental health conditions including anxiety, depression and sensitivity to stress[7], [8]. Running even a little (for example, one mile a day, three days a week) can help manage or ward off these difficulties.
Running Activities and the Business School
The University of Sussex Business School has a friendly community of runners and a vibrant portfolio of running activities.
The Monday mile:Every Monday during Assessment Block 2 (i.e. until June 14, 2019), we will be meeting at 4:00 p.m. to for "The Business School Mile" which is designed to help students #RunAndRevise. This will be a one mile run, starting and stopping in front of our own academic building, Jubilee. One mile is just long enough for you to reap the benefits of reduced stress and increased attentiveness, but short enough to be practical during the exam block. The distance is attainable for those who have never done any running before and is also enjoyable for more seasoned runners.
Our Facebook community page: "The Business School Runners and Ramblers" operates a facebook group with over 60 members. If the scheduled Monday Mile does not work for you, you can add yourself to the group and suggest a time for a run, inviting other members of the community to join you.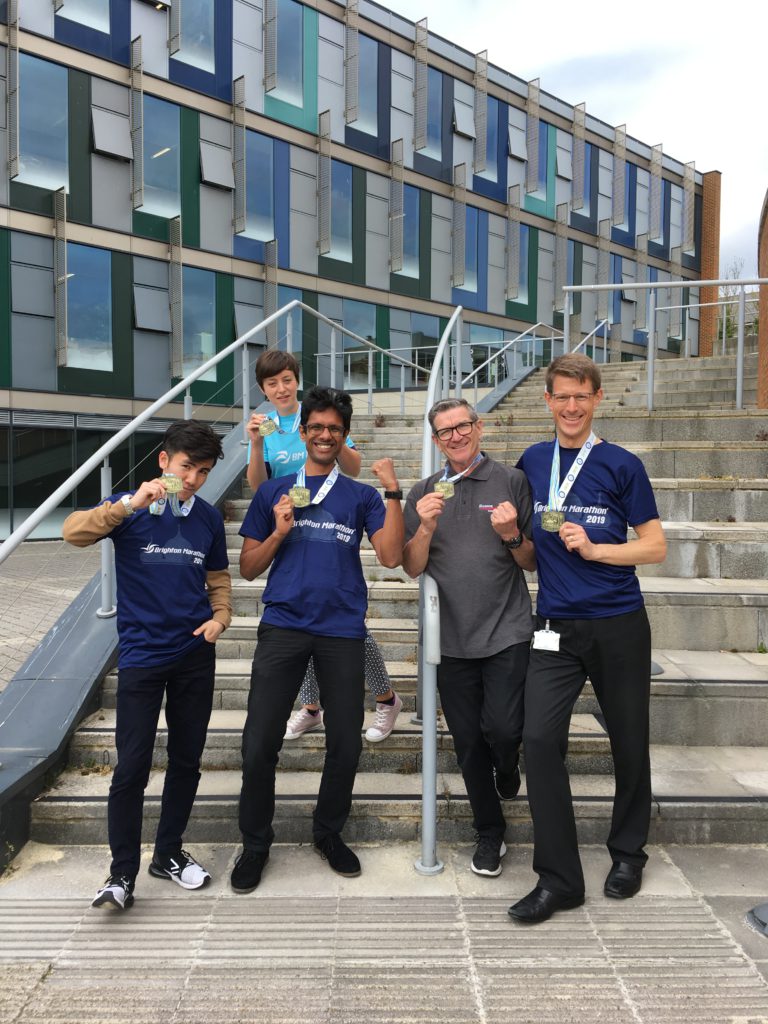 Term-time group runs: During term time, the Runners and Ramblers group meets twice a week for runs and walks through the Downs around campus. These runs are an excellent opportunity to get to know your faculty and classmates in a more relaxed setting. Specific days and times will be announced at the beginning of term.
100-mile ultramarathon attempt:On a personal note, on the 8th of June 2019 I will be running 100 miles from Winchester to Eastbourne along the South Downs Way to help raise awareness about mental health issues facing the university community. The race runs the length of the glorious South Downs National Park which surrounds our campus.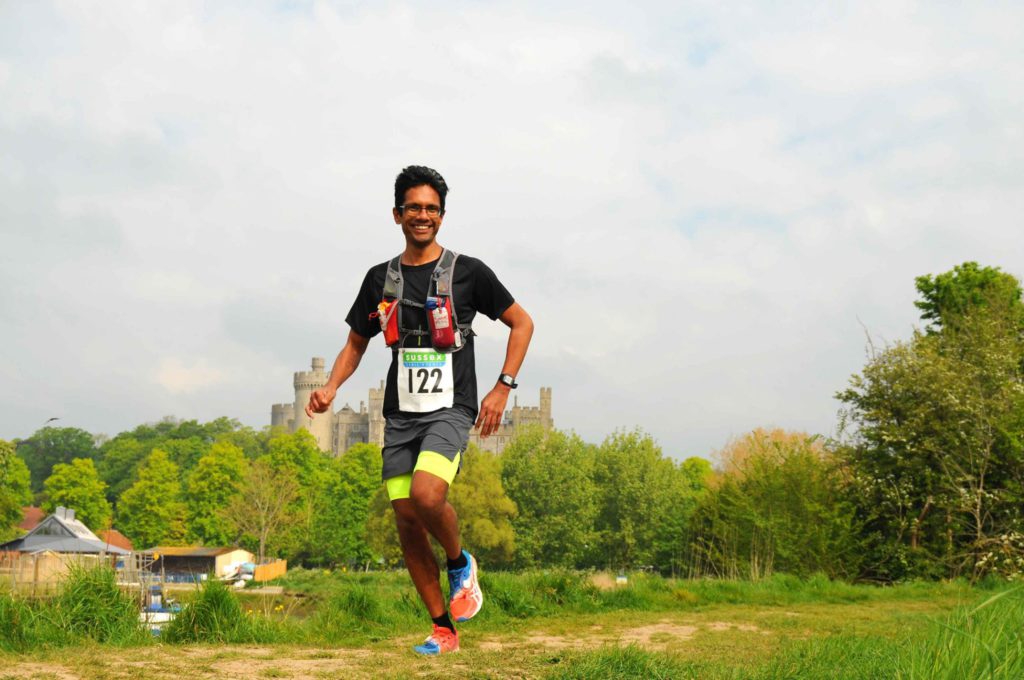 From our undergraduates to our professoriate, all members of our community are periodically under immense strain from tight deadlines, financial pressures and ever-increasing expectations of excellence. From England Athletics' #RunAndRevise campaign, to the professional help offered by the University's Student Life Centre, and a full suite of events run by the Business School's Student Experience Team, every member of our community should be aware of the support that is available to them.

---
[1] Chang, Y K, Labban, J D, Gapin, J I, Etnier, J L. The effects of acute exercise on cognitive performance: A meta-analysis. Brain Research. 1453: 2012 87–101.
[2] Haynes IV J T, Frith, E, Sng, E, & Loprinzi, P D. Experimental Effects of Acute Exercise on Episodic Memory Function: Considerations for the Timing of Exercise. Psychological Reports. 2018
[3] Stickgold, R. Sleep-dependent Memory Consolidation. Nature. 437, pages 1272–1278 (2005)
[4] Zunhammer M, Eichhammer P, Busch V. Sleep quality during exam stress: the role of alcohol, caffeine and nicotine. PLoS One. 2014;9(10):e10949.
[5] Lemma S, Sheila V P, Yared A. The Epidemiology of Sleep Quality, Sleep Patterns, Consumption of Caffeinated Beverages, and Khat Use among Ethiopian College Students. Sleep Disorders, vol. 2012.
[6] Brown J S L. Student mental health: some answers and more questions. Journal of Mental Health. 27:3, 2018 pages 193-196, DOI: 10.1080/09638237.2018.1470319
[7] Salmon P. Effects of Physical Exercise on Anxiety, Depression and Sensitivity to Stress – A Unifying Theory. Clinical Psychology Review, Vol.21, 1, 2001, pp.33-61. ISSN: 0272-7358
[8] Kvam S, Catrine Lykkedrang Kleppe, Inger Hilde Nordhus, Anders Hovland. Exercise as a treatment for depression: A meta-analysis. Journal of Affective Disorders, Volume 202, 2016, Pages 67-86.