By Nicole Waobikeze
BSc International Business with Spanish
Without a doubt, working and living in China was one of the most amazing experiences of my life!
After a 4-stage interview process for this four-week internship opportunity in the Summer of 2019, I was thoroughly excited to live and work in an unfamiliar environment with a completely different culture. Shenzhen, China exceeded all of my initial expectations. From the beautifully cooked variety of foods, to the kind and friendly people and their way of life; this was a whole other world from what I was used to.
Despite my anticipation, I completely adapted to new customs and, on returning home to the UK, I found myself experiencing reverse culture shock. This really shows how amazing China was – it came to feel like a home away from home.
Working in Tech and manufacture: Agilian Technology (Digital Marketing Intern)
Working in the technology and manufacturing hub of China enabled me to experience the live staging process of turning an idea into a product and finally see it on the shelf in a store.
Taking part in regular staff meetings surrounding the idea process, then taking trips to the factory to see where it was manufactured, gave me a deep appreciation for my belongings.
Having the opportunity to go 'behind the scenes' was enlightening and I am grateful as my host company regularly took me to visit their factory (roughly 1 hour 30 minutes outside of Shenzhen).
The experience of learning about the production and manufacturing process made me feel grateful for everything I own. Being able to see the effort and time put into making the smallest objects, allowed me to reach a new level of appreciation for them. I gained an understanding of supply chain management and supervised the manufacturing of several large international company's products.
Additionally, I was given full responsibility for creating content for my company's social media and delegated tasks to the rest of the marketing team who were overseas. I reorganised their Instagram page and added content which I captured and edited myself. I learnt the true meaning of being part of an organisation's team where my ideas were instantly valued and implemented into the company, despite my short time there.
Don't stop until you're at the top
A motto we all stood by whilst enduring a 10-hour hike up Tanglang Mountain. The thunder and pounding rain almost made the hike impossible. However, with the motivation and support of the other interns, we continued regardless.
This was definitely one of my highlights of the trip, as well as the FOOD.
Authentic Chinese cuisine is completely different to the usual western style, so this definitely took some getting used to. Initially, I did not anticipate the constant use of chopsticks instead of knives and forks. I remember many of us could barely finish a meal in our first week, as we kept dropping our food before it could reach our mouth. Until somehow, we all became so used to eating with chopsticks that it suddenly became part of our daily routine. When I returned to the UK, I found myself solely eating at Asian restaurants and surprising them with the question of "do you have chopsticks" (Nǐ yǒu kuàizi ma?)!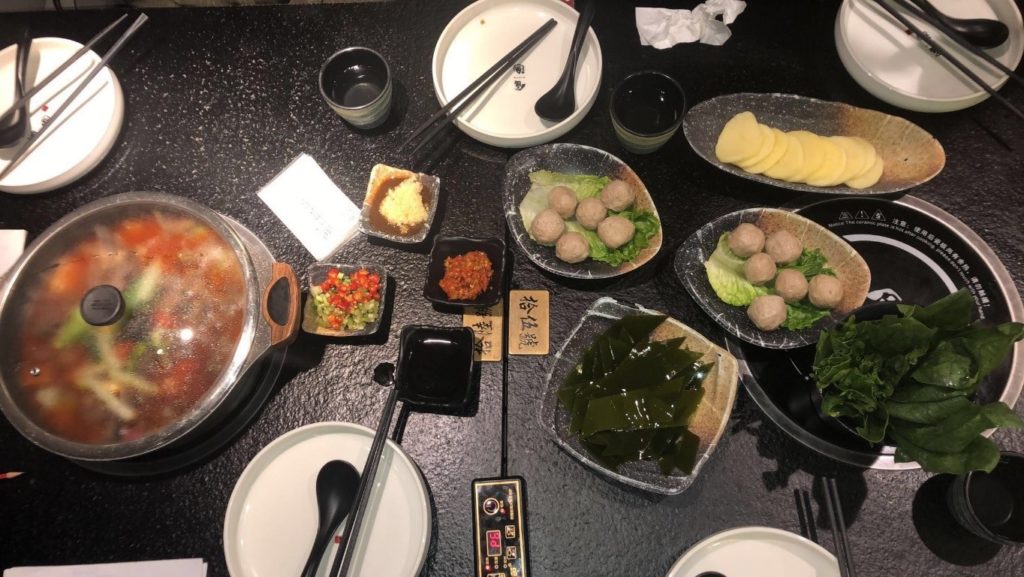 I'd love to one day return to China to explore other job ventures. Through embracing all difficulties and challenges and turning them into positive opportunities to learn, I was able to adapt quickly and appreciate everything about my trip. The Chinese culture is so beautiful and diverse, and I am so happy I was able to experience it.