By Amy Sweet, Business School Green Impact Team
Whether you're celebrating Christmas, Hanukkah or other festive celebrations this year, get some sustainability inspiration with these 21 waste-less ideas:
1. Re-wear last year's Christmas jumper, Santa hat and accessories. In need of fresh festive threads? Buy second hand, swap or upcycle for a 'new for you' look. Take part in Save the Children's Christmas Jumper Day and share your seasonal style on social media.
2. Like to dress up over the festive season? Rent or swap an outfit, or support a sustainable brand and invest in a timeless piece.

3. Real vs. fake Christmas tree? There's so much information on both sides of the debate, so here are some tips for both options. If you're in the real tree camp, try to source from a responsibly managed forest. Remember to recycle your tree at a Council recycling point afterwards. Zoos often accept Christmas trees as a great source of enrichment for animals – check with them before dropping it off! Buy or rent a living tree that stays alive for years to come – look for the FSC or Soil Association logo. Plastic trees are cheaper and might be your only option, or what you've already got. If so, use it every year. Don't throw away your plastic tree just because it's plastic. After all, the most sustainable option is what you already own. If you don't have a tree, opt for a holiday cactus!
4. Make your own wreaths, garlands and decorations using Christmas tree trimmings, pinecones, dried orange slices and cinnamon sticks – or support a local maker. Choose vintage, second-hand or sustainably sourced wood, glass or recycled decorations that will last a lifetime. Make some edible decorations and use or make a reusable advent calendar. Or try a reversible advent calendar: buy an item per day and donate to your local food bank. Check what they need first!
5. If you need to replace a broken set of lights, switch to LED lights and reduce your energy consumption.
6. Buying gifts can be stressful and COVID-19 restrictions might make it even more so. Try Secret Santa this year instead and get one person a nicer-than-normal present and something they actually want. It will make any postage costs less expensive too!
7. Gift consumables: food, drink or sustainable toiletries and candles in recyclable packaging – either bought or homemade. A great way to show the people in your life who have everything that you care. If making gifts is just too much right now, then buy your gifts from independent shops, charities and local makers instead. They need your support.
8. Gift experiences: do something different or adventurous later, make a slap-up meal, or create an 'IOU a day out'. Memories last a lifetime.
9. Gift vouchers: buy shop or restaurant vouchers so recipients can get exactly what they want. Vouchers could be appreciated by those who have had a tough time this year. Many vouchers are now card instead of plastic – even better!
10. Gift a pre-loved, second-hand or handmade gift: browse charity shops, vintage shops or pass on a gift you didn't use. Try your hand at making candles or curating photobooks.
11. Charities have struggled this year, so show your support if you can. You could give your donation as a thoughtful gift too. Switchboard is Brighton's oldest LGBT organisation, take part in their raffle to raise funds for vital support services.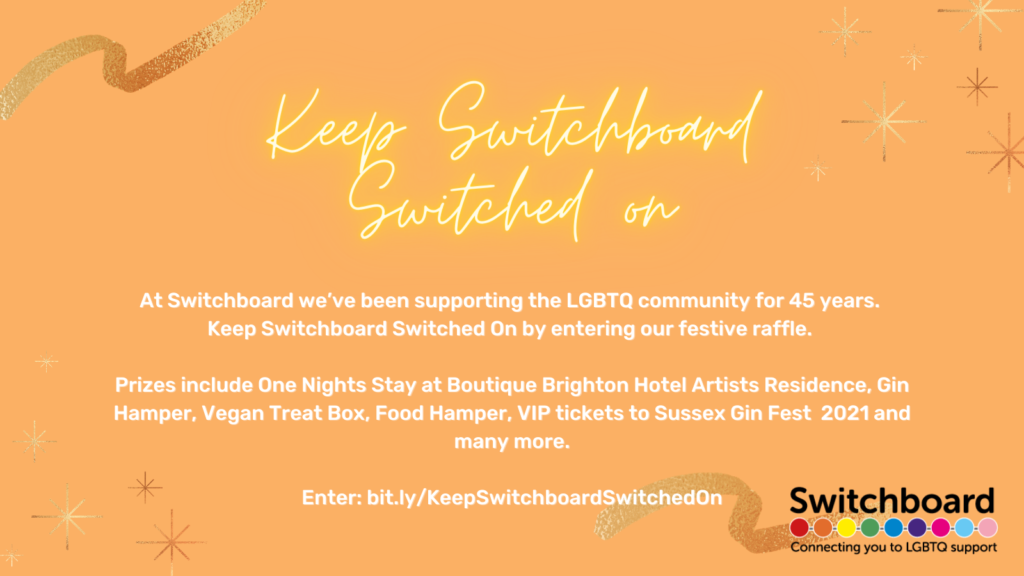 12. Don't want to spend a fortune at the post office this year? You could pop a raffle entry in a Christmas card, order a letterbox gift or a hamper online and get it delivered straight to them. You'll save a trip out to the shop and the post office, and save on postage costs too!
13. Wrap presents in last year's paper and gift bags or use cotton bags, brown paper, newspaper, magazines and comic strips. Learn Furoshiki, the Japanese art of wrapping using cloth such as vintage scarfs. Use a sprig of holly, mistletoe or eucalyptus instead of a bow, and secure with string and use recyclable paper tape.
14. Need to get a gift for an eco-lover? Before you buy that shiny reusable bottle, check what they already have. Reusable products use more energy to produce so have to be used many times to offset it. For the eco-lover who doesn't need a thing, gift wildflower seeds for pollinators or dedicate a tree.
15. Rather than paraffin candles for your Hanukkah candles or your table centrepiece, use soy wax or beeswax. You could even try your hand at making your own.
16. The big tech ads in the lead up to Christmas have already started (ahem, iPhone 12). Instead of being pushed to upgrade your phone, try a refurbished one instead. If you get a new or refurbished phone, sell, gift, donate or recycle the old one.
17. Write a wishlist so you only receive what you really want or need. You won't need to make a trip to the charity shop in the New Year or guiltily cling on to something for years to come.
18. Exchange a card with a call, email, e-card or send a festive photo of yourself (or your pet!) on social media. However, maybe this is the year to send a Christmas card – especially after the year we've had. Support an artist on Etsy, buy plantable cards, choose cards from your favourite charity, or at the very least, cards that are made from recycled paper or sourced from responsible forests. Avoid glitter and plastic bits that can't be recycled. Repeat tips above for thank you cards!
19. Try vegan, vegetarian or low-meat food this season whether you want to save money, try plant-based options or start Veganuary early. Nut roast needn't be dry, check out The Guardian's top 10 nut roast recipes that won't let you down.
20. Reduce waste and save money by buying vegetables loose or in minimal or recyclable packaging. If possible, buy locally grown food. If you shop at the supermarket, check the labels for where your food is from. Plan what you are going to eat over the holidays in advance to avoid unnecessary food waste, and store leftovers well.
21. Responsibly declutter unwanted items. Don't overburden charity shops with things they can't sell. Sell or give away items on Gumtree or Facebook Marketplace before donating, and check out Brighton & Hove City Council's A-Z guide for recycling.
We can all agree this year has been hard. If sustainability is not a priority right now, pick one thing from this list to try. Remember, be kind to yourself and don't beat yourself up over a little extra packaging or a leftover Brussel sprout. Most importantly, enjoy!