Dr Youngha Chang, Lecturer in Innovation Management, SPRU, University of Sussex Business School, applied his own innovative thinking to overcoming the initial challenges of moving to a blended teaching environment at the start of semester one 2020. Youngha realised he was not alone and that colleagues right across the sector were all having to grapple with the same technological and teaching questions. Here he shares his experience with the practical steps he took to create the best blended learning environment he could for his students.
Blended learning: would it be possible?
Over the summer of 2020, I had concerns, or even doubts, as to the transition to online teaching beginning from the start of the 2020–21 academic year. I kept asking the question: "Will all teaching going online be possible?"
Given that the teaching environment needs to be interactive, especially for seminars, as a lecturer I was even a bit sceptical. A new approach called 'blended teaching and learning' — where one subgroup is taught face to face whilst the other subgroup is taught online, alternating each week — added more dimensions to consider. Therefore, I had to have a lot of thought experiments during the summer, thinking about a new way of teaching in a very new circumstance – the global pandemic.
A sector-wide teaching challenge
At the start of the semester, 28 September, I held my first blended Managing Innovation lecture. Using Zoom, around 50 students joined online from across the world. Twenty or so students came to the lecture theatre in person, sitting in a socially distanced manner.
During the lecture, I was able to implement some relatively new and innovative ways of teaching – the outcomes of my thought experiments in summer – and then posted a brief summary of this session on LinkedIn just after the lecture. Surprisingly, this post reached nearly 3,000 views within two days.
While navigating through the unprecedented times of 2020, which is a difficult time for all of us, apparently we had the same question as to the delivery of teaching; I was not alone!
Creating an interactive blended space for lectures
In this blog, I'd like to share how I have conducted blended teaching, which I didn't share in detail in my previous LinkedIn post.
An additional webcam
I have been bringing an additional webcam to lecture theatres during this semester. Normally, there is one default camera in a lecture theatre; however, it is very 'static'. By connecting my webcam to the lecture theatre desktop computer, I added another 'dynamic' camera to the Zoom session.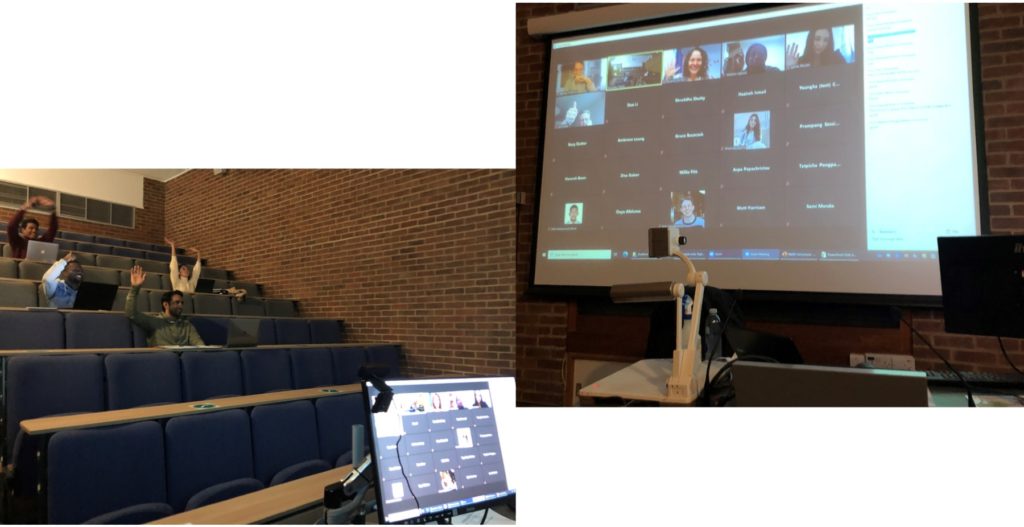 This additional, freely moveable webcam allowed me to broadcast the video live from the lecture theatre to the students joining online. For example, depending on the situation, in the Zoom session I shared either the video of the students attended in person (during an ice-breaking chat and in-class discussion; see Image 1) or myself during my talk. This method was also quite effective in generating a better (clearer, friendly, etc.) interactive view of Panopto recordings (see Image 2).
Connecting both a laptop and desktop PC to the Zoom session
I brought my fully charged laptop to lecture theatres as well (or, you can bring a laptop adaptor if your energy allows).
Using the laptop, I joined the same Zoom session which I already joined using the desktop computer in the lecture theatre. (Note: To do this, I created an additional testing account on Zoom using a different email account. If you log into Zoom on your laptop with the same Zoom account you used to log in Zoom on your desktop, all of your Zoom control will move to your laptop, which isn't ideal to teach.)
Next, I changed the view option on Zoom to 'Galley View'. This enables me to have two screens –
(1) the main screen (connected to the desktop) where I can see lecture slides and Zoom control menus along with a students' chat window and
(2) the secondary screen (the screen of my laptop) where I can see all students joining online (with their faces if they turn on their camera).
In the context of blended teaching, we lecturers should not forget the fact that we are dealing with two different spaces – the physical space (a lecture theatre) and the online space (e.g. a Zoom session). While explaining lecture content, I kept eye contact with a small number of students attending in person and also, by looking at the additional screen, with a larger number of students joining online.
As an example, a video I recorded during my last week's lecture (Teaching Week 8) shows the setting of my blended teaching environment with the additional webcam and my laptop (see Video 1). In this video, socially distanced students in the lecture theatre and those online are watching together a YouTube clip of an interview of a venture capitalist at Google. This was followed by an in-class discussion with all students (both taught face to face and online), which is not included in my video, though.
So what? It's not just about operation and technology – it's about building relationships for growth
As the end of teaching in semester one approaches, I often ask the question again, "Will all teaching online be possible?" My answer is now "Yes".
Blended teaching and learning can be very interactive as well. However, it needs to be well thought through as to its design and operation. In particular, on-site preparation and checking before the start of a teaching session is crucial (e.g. sources of a microphone, speaker, and camera on Zoom, etc.). Also, a lecturer needs to develop their skills to operate IT systems and software as smoothly as possible.
However, it is not only about operation and technologies. In hindsight, I felt that my efforts partly explained here have been quite effective in building a close and friendly lecturer-student relationship, which is much more important in the context of online learning. As to teaching with a blended approach, we are not trying to be good 'YouTubers'. Instead, I believe that we are aiming to be a person standing in the middle of the two different spaces – physical and online – who tries to help our students to grow through knowledge, regardless of how physically distanced we are.
---
If you have any feedback or thoughts on my blog, please contact me through my Twitter (@YounghaChang) or Instagram (@dr.ychang).