Robert Barrington, Professor of Anti-Corruption Practice at the University of Sussex, writes about a new book written by staff, students and alumni from the Centre for the Study of Corruption.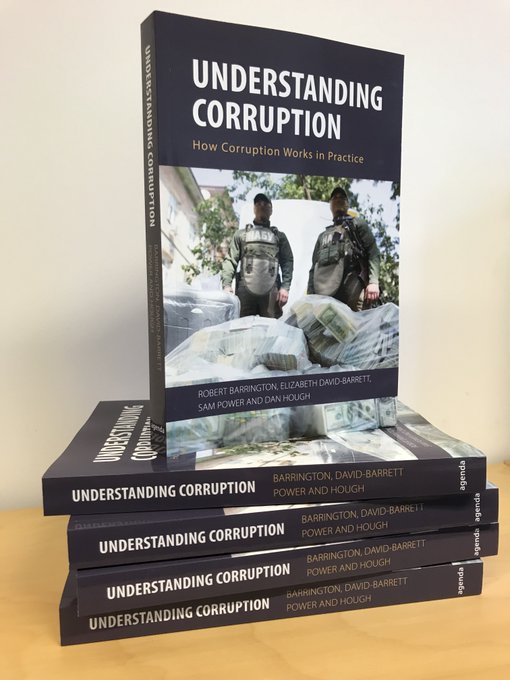 'Understanding Corruption: how corruption works in practice' is a new book written jointly by the faculty of the Centre for the Study of Corruption. It tells the story of how corruption works in practice, through a detailed analysis of eighteen emblematic cases, covering bribery, kleptocracy, political corruption and corrupt capital. The case studies span the world from the UK, France and United States to Equatorial Guinea, Malaysia, Turkey, Brazil and Azerbaijan. As well as giving one of the most complete descriptions of corruption available, the book offers a toolkit to examine new cases through introducing the CSC Case Study template.
Although the book was not specifically written with current events in mind, it is very topical. Professor Liz David-Barrett, Director of the Centre for the Study of Corruption and one of the lead authors, notes: 'We can see a direct link between our research in this book and what is happening with Russia and Ukraine. Our case studies examine how former Soviet Union countries have been captured by corrupt elites, how they launder their money and reputations through centres such as London, and the impact on the victims. Corrupt kleptocrats and oligarchs keep their wealth and power through repression. Pro-democracy and anti-corruption movements that challenge those in power must be ruthlessly put down. Meanwhile, those who benefit from such regimes enjoy their corruptly-obtained wealth in centres such as London and Paris, aided by a willing cohort of professional enablers.'
As well as Professor David-Barrett's work on Kleptocracy & State Capture, the book contains chapters on 'The secret world of corrupt capital' by Professor Robert Barrington and 'Professional enablers in London' by Ben Cowdock, a senior researcher at Transparency International. Dr Sam Power looks at how lobbying, the revolving door and political party financing can lead to political and policy capture in global financial centres such as the United Kingdom and United States.
To cite the book:
Barrington, R., Dávid-Barrett, E., Power, S., Hough, D. (2022).  Understanding Corruption: how corruption works in practice.  Newcastle upon Tyne: Agenda Publishing.
To buy the book with a 25% discount: Use the code AGENDA25 here: https://www.agendapub.com/books/157/understanding-corruption
Reviews
"The contributors are all current faculty members or recent students at the Centre for the Study of Corruption (CSC). Such a concentration of expertise underpins CSC's status as the UK's foremost centre of academic research on the topic of corruption." – Paul Heywood, Sir Francis Hill Professor of European Politics, University of Nottingham
"This is an important and original book, laying out what corruption is, how it works, and how it should be tackled. I wish it had existed when I was a student." – Oliver Bullough, author of Butler to the World
"The book leads the reader on a tour around the world to describe in a simple and clear way how corruption operates in practice. The collection of case studies shows that corruption is a global, complex, and context-sensitive phenomenon that does not allow for one-fits-all solutions. Excellent teaching material." – Delia Ferreira Rubio, Chair, Transparency International
"This book uses a storytelling approach to explain complex corruption cases, making it an easy read. Not only does it show how corruption occurs, but it also exposes the reader to different approaches to tackling corruption. I liked that the book identified the victims in each case. Using case studies is a brilliant way to increase the understanding of corruption which is necessary for motivating people to act against it. I highly recommend this book." – Onyinye Ough, Executive Director, Step Up Nigeria

"Understanding Corruption illuminates the corruption problem in its many different manifestations covering, importantly, not only the more commonly understood phenomenon of bribery, but also the more complex forms such as political corruption or state capture. The case study approach of the book makes it a fascinating read for both veterans and new entrants to the anti-corruption world." – Gretta Fenner, Basel Institute on Governance
"A generation's research and reform experiences have taught us much about corruption, its consequences, and possible approaches to control, but much of that knowledge is scattered across many sources and discussions. Understanding Corruption offers a valuable overview and synthesis of what we do – and do not – know, examining major trends in thought and practice while carefully dissecting a variety of cases. It is an essential work for students and teaching, and will help guide the research and debates to come." – Michael Johnston, Charles A. Dana Professor of Political Science Emeritus, Colgate University, USA
"Almost 30 years since anti-corruption became part of the global development agenda this is a crucial collection of essays exploring and deepening understanding about the multitude of ways corruption continues to impact lives across the planet; and how corruption itself has morphed over the decades. Essential reading." – John Githongo, The Elephant and CEO, Inuka Kenya Ni Sisi!
"This book with its deceptively simple title offers readers a rich variety of case-study material that sets out very clearly why those of us working in the anti-corruption field – whether policy-makers, practitioners or academics – need to go beyond existing assumptions about what corruption is, why it happens and then what to do about it. By being more open and more consistent in our diagnosis of the problem, the volume shows how this can help us better think about both the potential benefits and the potential harms of various strategies and interventions, and why this matters." – Heather Marquette, Professor of Development Politics, and Director of the Serious Organised Crime and Anti-Corruption Evidence research programme, University of Birmingham