by third-year student Bethany Adams
*The views in the following article are the personal views of the author and are not an official position of the School.*
In Southern Vietnam, climate breakdown and structural issues are driving migration as well as heightening gender inequalities, and children are drowning in the midst of it all.
A Google search of Southern Vietnam will tell of the vibrant floating markets tourists like you and I can visit for an unparalleled cultural encounter. But these nescient and romanticised illustrations of the Mekong delta are far from the ongoing realities of the Vietnamese people living there. These people are not floating; they're drowning.
What we are witnessing in Vietnam are the opening scenes of a global tragedy. There are few places in the world that are as vulnerable to climate breakdown as the low-lying delta in Southern Vietnam. Emerging through the Cambodia-Vietnam border, the verdant Mekong river is very important for the livelihoods of people who live on and around it, and it produces over 50% of the country's staple food[1]. Flooding is usually welcome in the fertile rice paddies of the delta, but steadily rising sea levels have polluted freshwater.
It has become more widely appreciated[3] that people's mobility or immobility due to environmental changes cannot be separated from their social, political and economic contexts. In other words, we cannot allow the climate-migration nexus to be politicised, as this allows institutions and corporations to get off scot-free. By ignoring the complexities surrounding people's migration and solely blaming climate change, structural issues are ignored and thus, the root of the issue is left unresolved. In the Mekong delta, the reduction of soil fertility can be traced to the construction of an upstream dam[4] which has impacted the movement of sediment, ultimately leading to lower yields for farmers[5]. Clearly, decisions are being made from the top down which are inadvertently triggering economic migration of people in the delta, but because corporates pin the blame on the ominous 'climate change', they get away with destructive activities. With this in mind, we can say that climatic changes are not the root cause, but are exacerbating existing trends[6] of internal economic migration. So, who wins and who loses? In what ways are farmers forced to migrate?
Repeated flooding, varying rain patterns and continued crop loss are adding pressure to already economically constrained families thus causing people to migrate from the Mekong delta[7]. There are around 5000 seasonal migrants[8] from the delta who most commonly go to the nearest city of Ho Chi Minh. Money is remitted to allow families at home to secure food in flood season[9]. While migration is viewed as preferable, moving to the city requires a certain economic and social prowess, so it isn't accessible for all.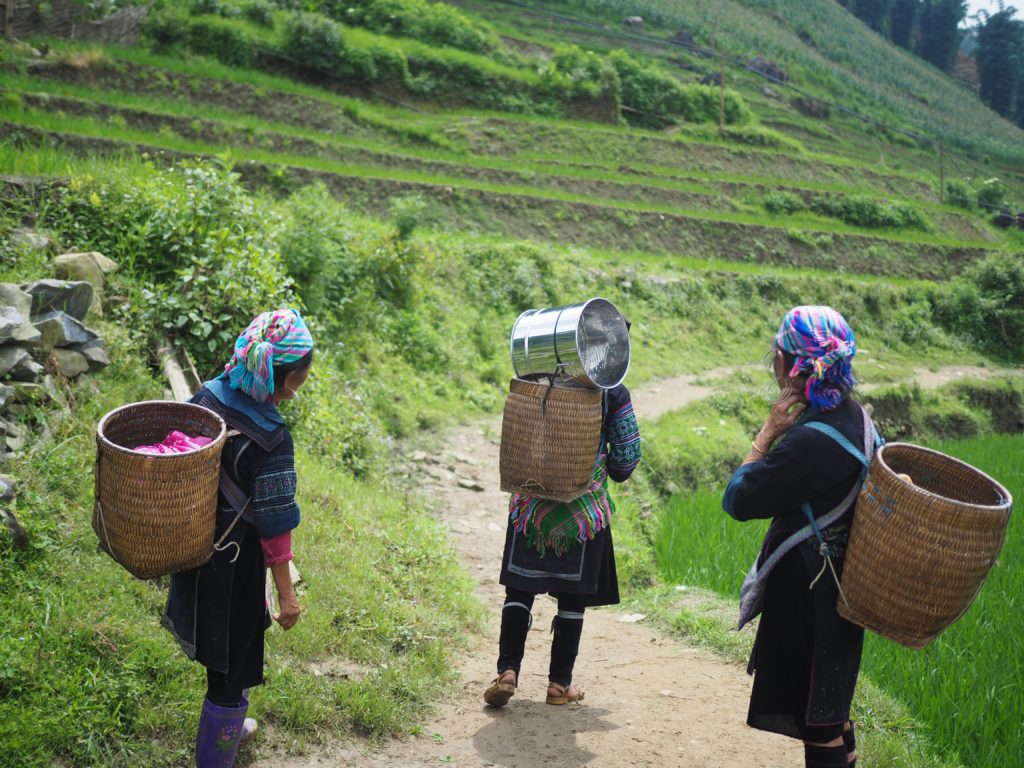 Poor communities in the Northern villages have the least resources to migrate so are often described as the trapped population3. Women can also be considered a trapped population for whom migration makes their situation worse. As men are viewed as breadwinners[10] in this region, they are chosen to migrate with the aim of remitting capital to their family left behind. The de facto head of the house are then women who are left to manage the farm on top of their household responsibilities10.
Some believe10 that the absence of men makes gender roles more fluid as women are able to take on managerial roles in the agriculture sector from which they would be otherwise excluded. However, while these women are empowered to make more decisions, structural issues persist which limit them. Because of their gender, women are unable to access resources like seeds or fertiliser from the government10. Also, because unequal gender relations are structurally embedded, women don't have the same access[11] to education as men and boys. Consequently, when they are dumped with the additional responsibilities of farm management, they are ill-equipped to take on managerial roles[12].
The other disregarded impact of male out-migration is the psychological and emotional toll on women left behind. In a series of interviews, women said they felt abandoned and found it difficult to discipline their children10. In fact:
"During interviews, female respondents broke into tears when revealing their personal problems"10
Therefore, it can hardly be said male out-migration is improving women's lives in the delta. In these mothers' daily struggles for survival, children are also affected. As women have to fish and work the paddy fields often, they have to leave their children unsupervised10. This is by no fault of their own. It is clear that interlocking structural issues force mothers to make this decision in order to provide for their family. But the impact on these children is fatal, they are drowning[13]. Three months ago, five children drowned in a pond in the delta[14].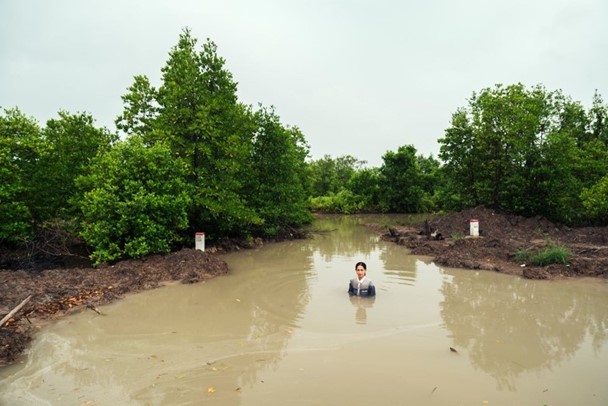 Overall, male seasonal migration doesn't empower women because many structural gender inequalities are still unaddressed and their lives are made more difficult. Ultimately, migration has fatal consequences for children, which will only increase as climate change intensifies other factors and causes more men to migrate.
Hence – not floating, drowning. With climatic changes multiplying a range of structural inequalities, women are struggling to stay afloat, juggling their many responsibilities, and children are literally drowning. We must choose to tackle structural issues at every level to stop this fatal cycle.
---
References
[1] https://onlinelibrary.wiley.com/doi/pdf/10.1111/j.1468-2435.2010.00646.x?saml_rFfloaeferrer
[2] https://theconversation.com/climate-change-is-triggering-a-migrant-crisis-in-vietnam-88791
[3] https://journals.sagepub.com/doi/10.1177/0309132518781011
[4] https://theconversation.com/climate-change-is-triggering-a-migrant-crisis-in-vietnam-88791
[5] https://link.springer.com/article/10.1007/s10584-016-1684-3
[6] https://academic.oup.com/rsq/article/30/3/1/1566102
[7] https://onlinelibrary.wiley.com/doi/pdf/10.1111/j.1468-2435.2010.00646.x?saml_rFfloaeferrer
[8] https://www.jstor.org/stable/pdf/26269346.pdf?ab_segments=0%252Fbasic_SYC-5187_SYC5188%252Ftest&refreqid=excelsior%3Afc3d63c62a01bbe6e284e2dae5e5d948
[9] https://www.tandfonline.com/doi/full/10.1080/21632324.2015.1022973
[10] https://www.tandfonline.com/doi/abs/10.1177/097185241001300201
[11] http://www.thanhniennews.com/education-youth/in-the-mekong-delta-poorest-homes-education-takes-a-back-seat-54242.html
[12] https://onlinelibrary.wiley.com/doi/full/10.1111/1758-5899.12400
[13] https://www.jstor.org/stable/pdf/26269346.pdf?ab_segments=0%252Fbasic_SYC-5187_SYC5188%252Ftest&refreqid=excelsior%3Afc3d63c62a01bbe6e284e2dae5e5d948
[14] https://e.vnexpress.net/news/news/five-children-drown-in-mekong-delta-pond-4161190.html
[15] https://www.abc.net.au/news/2016-05-22/perth-swimming-teachers-tackle-vietnamese-drowning/7422714