Karolina Szpyrko, PhD researcher at the School of Media, Arts, and Humanities, writes:
"I loved getting involved in this pre-holiday showcase of ethical, feminist business at the University of Sussex.
Our Fab Feminist Festive Fair brought together educational and sales stalls (The Feminist Bookshop, The Craft Society, The New Internationalist, The Careers and Entrepreneurship Centre, Leave No Trace Society), and I designed a follow-on Crafty Workshop with activist badge-making and festive crafts.
The Students' Union kindly supported the fair, hosting it in Falmer House Reception. Its lively, central feel worked very well with our fair, making it into a little neighbourly market with snacks, activist-inspired gifts, crafts and other curiosities as well as chats about ethical business, feminism and winter holidays.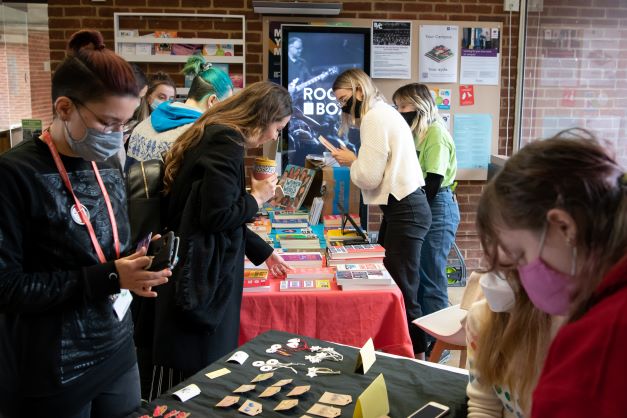 Our aim was to generate interest in inclusive, ethical, women's and feminist enterprise and trade, and to promote local, businesses. Several student-run bodies (Student Union, student societies) were involved.
The Crafty Workshop, where we made feminist, temporary tattoos, activist badges and holiday cards, added a creative follow-on activity, and we thank the Brighton Resource Centre for loaning us an excellent badge-maker. (See me using it here!)
The intersection of activism and commerce can spark tensions and ambiguities, some of which I have been exploring in my own doctoral project on activist labour and perceptions of its value in the context of Polish feminist activism. On one hand, there is a danger of activist/fem/green–washing of capitalist profit-driven activities. On the other it can revive traditional, communal exchange of mutual interest, recreating multidimensional space where several social needs are met. Here are some comments from some of the fair's stallholders:
"It has been fabulous, honestly. I love it. It has been great fun. There has been plenty people coming and going, and it is all for a great cause. (…) I didn't know what I would sell, but I thought I would bring some of this stuff, you know, to see what we can raise for the craft society and stuff. All the expectations were blown away and I left with a nice badge as well. What more could you want?"
"It was really nice atmosphere today, getting me into the Christmas spirit as well.(…) Here with the New Internationalist we did very well today. Everyone in Sussex always alights well with us and our values and mission, we got a lot of people signing up and supporting us, which is really important as well."
All in all, an inspiring, sparkly day!"
Karolina Szpyrko, University of Sussex