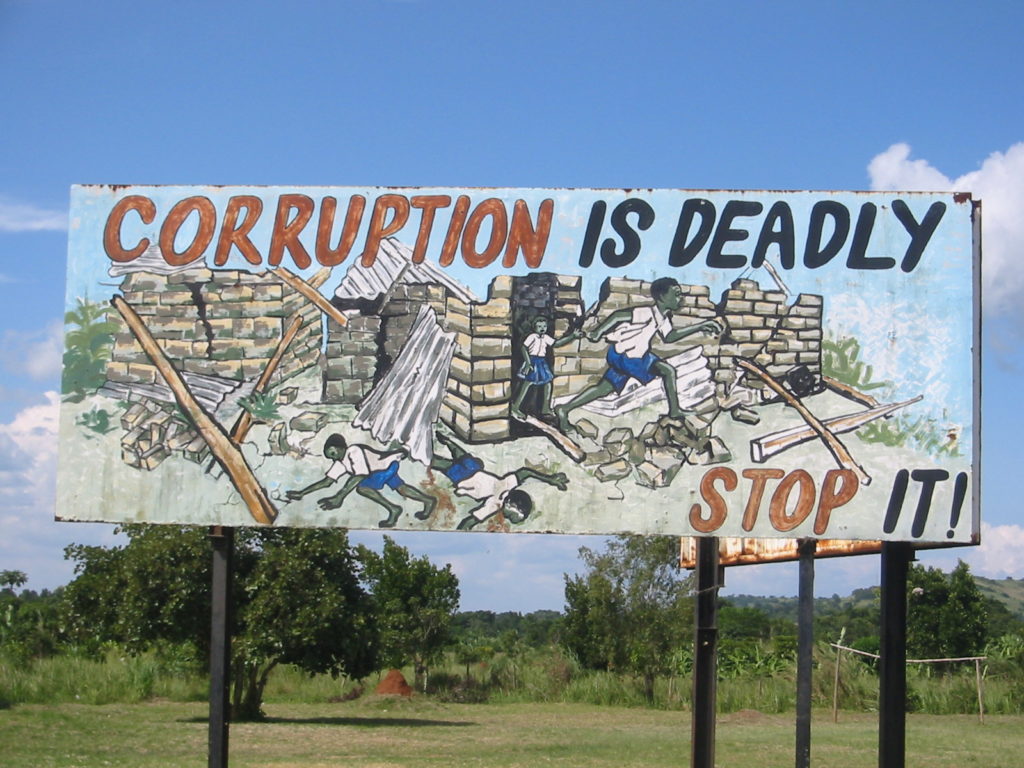 Corruption is one of the most significant obstacles to Africa's future development. Dan Kuwali, Extraordinary Professor of International Law at the University of Pretoria, highlights the factors that allow corruption to flourish in African and presents a ten-point "commend and condemn" strategy for proactive prevention.
Africa is the poorest region of the world and also the only one with poor prospects for the future. Corruption is one of the most significant contributors to the under-development and impoverishment in many African states, as it fuels inequalities, undermines access to public services, scares off investors and discourages further development. Although the African Union (AU) designated 2018 as the year for "winning the fight against corruption", and considering that corruption is a punishable offence in nearly every country on the continent, Africa is still widely considered as the world's most corrupt continent. Of the 10 countries considered most corrupt in the world, six are in sub-Saharan Africa. The continent ranks lowest amongst global regions in the Corruption Perceptions Index (CPI). Countries in Africa average 32 out of 100 in their CPI scores (where 0 is most corrupt and 100 least). About one billion people (90%) of the continent's 1.2 billion strong population live under very or extremely corrupt governments, a rate that exceeds most of the rest of the world. Over $50 billion worth of stolen assets flow out of Africa every year.
Therefore, ending corruption is a top priority for peace, security and prosperity on the continent. The AU Convention on Preventing and Combating Corruption (AUCPCC) was adopted in Maputo, Mozambique on 11 July 2003 and came into force in 2006. The AU has established an Advisory Board on Corruption, which is an organ tasked to advise on, and address the problem of, corruption on the continent. The Board is also mandated to rally for the ratification and implementation of the AUCPCC by member states. To date, the Convention has been ratified by 44 out of the 55 AU Member States, which explains the slow pace of fighting the vice on the continent.
Factors that Promote Corruption
Factors that promote corruption include: greed and opportunity; absence of institutional ethical codes of conduct; lack of effective supervision and oversight mechanisms; outdated policies, procedures and regulations; bureaucratic delays and red-tape in provision of services and delivery of goods; discretionary powers minus accountability; monopoly in provision of services which lead to unabated overpricing as a result of lack of competition; unhealthy competition or peer pressure which lead to living beyond one's means; organisational culture that tolerates corruption; and lack of effective punitive sanctions and penalties for offenders.The proliferation of alternative currencies may make it easier to transfer and retain funds anonymously and, therefore, more difficult for anti-corruption agencies to trace and seize dirty money. Fast-paced innovations in Internet gaming and software make it easier for criminals to launder funds across jurisdictions without leaving any footprints. A lack of transparency coupled with secrecy leave room for corruption in the defence and security sector.  
Challenges in fighting corruption in Africa
Corruption is extremely pervasive in Africa and is a direct consequence of poorly conceived legislation, policies and institutional arrangements that have promoted rent seeking and other forms of opportunism. Some of the obvious obstacles to overcome corruption include:
Corruption is invariably committed by persons in positions of power, making it difficult to prosecute such cases without external interference. Therefore, only the "small fish" are targeted.
The weak tone and tenor of national anti-corruption legislation such as the Nigerian Corrupt Practices and Other Related Offences Act does not scare potential perpetrators. South Africa and Zambia, however, have progressive nomenclatures. The gold standard in nomenclature is the AUCPPC, which clearly declares the continental body's abhorrence of corruption.
The nonexistence or docility of national systems to promote ethics and integrity where the law is not sufficiently supported by mechanisms that promote integrity and ethical values in order to eradicate moral decadence.
Lack of vigilance of sectoral anti-corruption initiatives where fighting corruption is seen as the responsibility of the anti-corruption authorities alone, and not the citizenry.
Perceived tolerance of anti-corruption by citizens, especially where there is impunity despite credible information from whistleblowers, as citizens may rather turn a blind eye than risk their lives for what they perceived to be futile endeavours.
Arresting corruption in Africa
While there cannot be a one-size fits all approach to combating corruption, the purpose of corruption prevention should be to minimize, as much as possible, its crippling effect on the economy, human rights, national security and social welfare. Corruption prevention requires a robust system to detect and eliminate the causes and conditions of corruption through the development and implementation of appropriate measures for deterrence. Below is a ten-point strategy on how to prevent corruption and mitigate its effects in Africa:
Promote financial probity and professionalism in handling public resources to encourage public involvement in public finance management. Kenya and Tanzania have good examples of legislative and institutional frameworks which promote integrity and transparency at national level. Tanzania and Kenya have entrenched guiding principles for ethical conduct, leadership and integrity.
Enhance transparency and access to information to promote public participation in public finance management in order to increase the responsiveness of public bodies; and provide support to watchdog institutions in their pursuit of all corruption cases.
Promote efficient and effective service delivery by removing bureaucratic bottlenecks which incentivize clients to use kickbacks to cut corners.
Embrace smart technology to encourage arms-length relationships between officials and the public and promote footprints in financial transactions.
Adopt integrity checks (and lifestyle audits) including mandatory declaration of assets for public officers so that their credibility can be assessed, and the probability of corruption reduced.
Empower citizens to hold their governments accountable and encourage whistleblowers in order to build mutual trust between citizens and government.
Inculcate a culture of integrity and honesty to promote ethical conduct, especially among the youth.
End impunity through the promotion law enforcement and an independent judiciary in order to deter potential perpetrators, including use of corporate criminal liability, public interest litigation, civil litigation and asset recovery.
Formulate a commend and condemn policy to provide incentives for ethical conduct, and increase the cost of being corrupt. It is also necessary to pay civil servants adequately to prevent them from supplementing their income in "unofficial" ways.
Ensure continuous monitoring and evaluation of anti-corruption strategies to make sure they can be easily adapted as situations on the ground change.
Conclusion
The fight against corruption is the responsibility of everyone through active participation in the implementation of anti-corruption legislation and strategies, and demanding justice. While law enforcement is a vital component of any effective anti-corruption effort, it may be short-term, hence the need for proactive prevention strategies which commend merit and condemn mediocrity. This transformation may help to spur economic development on the continent of Africa, which is the poorest and least peaceful continent in the world.
Dan Kuwali also holds the role of Adjunct Professor at the Malawi University of Science and Technology and is a Fellow at the Harvard Kennedy School of Government as well as the United States Army War College.