Writes International Development student Hannah Gardner 
*The views in the following article are the personal views of the author and are not an official position of the School.*
I absolutely love Christmas! But hate the waste it brings. Want to enjoy Christmas without the waste? Read on…
Appeasing the societal pressure
With so many years of commercialism heaving down on the holiday, it's easy to feel the pressure to buy gifts for your loved (or less loved) ones. Not that gift-giving is inherently wrong, it's just that when we're not sure what to get someone, (and I'm speaking for myself here) we can often buy them something just for the sake of it, to appease the societal pressure.

Something my sister does is *not* giving Christmas gifts if she can't think of anything meaningful to get for someone. Instead, she gives gifts randomly, when she sees something a certain person would like or need. This makes gifts much more special, loudly conveying a depth of thought.
However, I know this may not be the most conventional approach, and many of us will still feel the pressure to follow the norm. One way to avoid buying arbitrary gifts, is to turn to charity gift cards, such as those offered by Oxfam. Oxfam sell various gift cards, from "Food for a Family" for £10, to a larger gift like "Safe Water for a Community" for £50. Check out their ethical gift guide. Another way of thoughtful gift-giving, is to make waste-free Christmas treats, like gingerbread. Baking for friends, family and colleagues saves you from the trap of capitalism, and keeps the money in your wallet!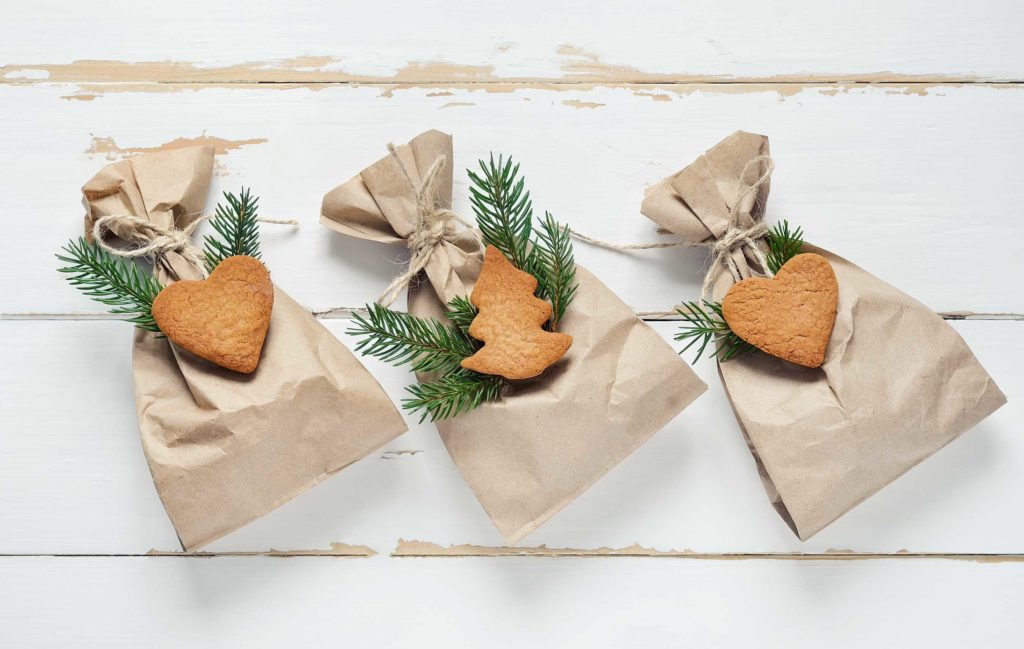 The wrapping paper trap
When we do have gifts to give, the next trap we often fall into is the issue of wrapping paper. While a fun way to present your gift, wrapping paper usually ends up in landfill.
Although, again, we might feel some sort of societal pressure to present gifts in a certain way, wrapping paper isn't an imperative part of gift giving - you can give naked gifts! 
Alternatively, some ways I've wrapped gifts in the past included using the patterned loo-roll paper from Who Gives A Crap. And lastly, there's never really a need for sticky-tape, use twine or ribbon. My sister wraps gifts in scarfs sometimes; that's a win-win as you get to keep the scarf too!
Hopefully these tips have been helpful, but if nothing else, one way to keep it greener this Christmas is to ask yourself if there's a more sustainable way to approach the situation in every decision you face. Little changes make all the difference – be proud of yourself for even the smallest of switches!