writes Law with International Relations student Kuljit Kaur

*The views in the following article are the personal views of the author and are not an official position of the School.*
India is the world's largest "democracy", where human rights hold no importance. It is known that the Indian government responds with violence which includes but is not limited to police brutality, extrajudicial killings, disappearances, third degree torture, rape, and various other inhumane treatments.
This week marks 38 years since the attack on Darbar Sahib. Sikhs worldwide remember 1984 Sikh Genocide as they demand for justice till this day.
In June 1984, the PM of India, Indira Gandhi ordered an attack on the Darbar Sahib (known as the Golden Temple), including the destruction of the Akal Takht – the centre of Sikh sovereignty. This attack was backed and planned with the support of Margaret Thatcher, then PM of United Kingdom.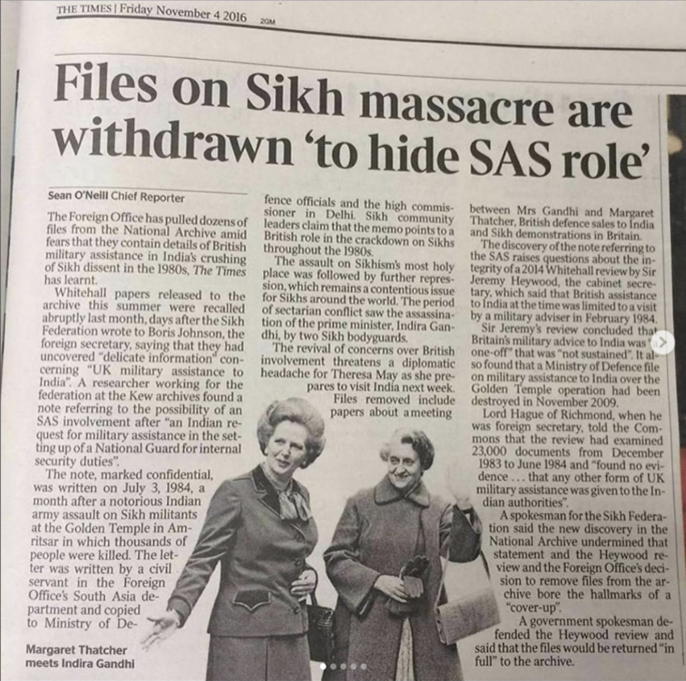 Planning for the military action had begun two and a half years prior to the attack, including an invasion on a replica of Darbar Sahib. Sikhs from across India came to Darbar Sahib to commemorate the martyrdom of the 5th Guru of Sikhs, Guru Arjan Dev Ji. Knowing that the congregation would have been expected to be high in numbers, 150,000 of Indian army troops were deployed to kill innocent Sikhs resulting in the biggest massacre of Sikh Pilgrims. Forty other Sikh shrines were simultaneously attacked.
On 13th June 1984, the Guardian reported that "it was a virtual massacre. A large number of women, children and pilgrims were gunned down".
The Indian Army gained control of Darbar Sahib, with the help of a media blackout to cause maximum casualties. Innocent children were killed, the youngest, Manpreet Singh – only 18 days old shot by the Indian Army. Thousands of Sikh men were tortured and burnt alive. Code-named operation, Operation Shudikaran was ordered by the Indian state for the Indian army to rape thousands of Sikh women so they can, and this is a direct quote from Brig. RP Sinha Indian Army: "we're going to take all the women to our camp and there we're going to create a new breed for Punjab." This was quoted on March 8 1991, International Women's day.
Human rights violations and atrocities continue to occur throughout India. In an attempt to silence minorities' voices, and the truth, India infringes on the Right to Freedom of Expression and the Right to Freedom of Press by threatening to arrest those that speak against the government of India. The censorship and harassment of media outlets includes numerous social media accounts being shadow banned, deleted or restricted within India.
For Sikhs, their struggle is one of self-determination. Khalistan is the name given to an independent Sikh state, a democratic sovereign country – not only a homeland for Sikhs but a sheltering place for the oppressed. The Indian state media has demonised Khalistan, labelling anyone that speaks against human rights atrocities within India as terrorists. It's important that minorities don't play into the fear mongering of Indian state media and push back against the demonisation of Khalistan by challenging the Indian narrative.
A campaign launched by Sikhs for Justice (SFJ), an international advocacy group, aims to liberate Indian occupied Punjab through a non-binding Punjab referendum by gaging the will of the Punjabi people with regards to re-establishing Punjab as a nation state. The voting for the referendum began from London, in October 2021, at the Queen Elizabeth II Centre, and moved to Italy in May 2022, with various other locations to be covered in the coming months. It was recorded that over 30,000 people came to vote in London.
Until independence is obtained, Sikhs including other minorities will be subjected to genocidal violence under Indian occupation.
Self-determination is a right.
Occupation is a crime.