What is the Partner Network Day I hear you cry?
The Partner Network Day is an annual event organised by ADQE (Partnership) and attended by staff at partner institutions, Partnership Tutors and senior members of the University. The aim of the event is to provide an opportunity for networking and reflection.
2016 Partner Network Day
The 2016 Partner Network Day took place on 28th September in the Conference Centre, Bramber House. The theme for this year's event was The Changing Landscape for Collaborative Provision. The aim was to explore how the University and its partners will navigate the rapidly-changing external regulatory regime. The focus was on both quality of teaching and experience for students at partner institutions, and how to continue to manage risk in the context of the new external arrangements.
49 people were in attendance at the Partner Network Day, a 26% increase compared to the 2014 Partner Network Day. Professor Adam Tickell, Vice-Chancellor, and Professor Clare Mackie, Pro-Vice-Chancellor (Teaching & Learning), were also in attendance.
Guests speakers were invited to the event and covered a range of topics. The speakers were:
Dr David Cairns, Academic Audit Associates, on Sustaining partnerships in interesting times;
Mr Chris Wellings, Head of Academic Development & Quality Enhancement Office, University of Sussex;
Mrs Alice Robertson, Academic Registry Compliance Manager, University of Sussex, on Implementing CMA advice on course information; 
Dr David Walker, Head of Technology Enhanced Learning, University of Sussex, on Curriculum design and learner transitions: from programme entry and progression to entering professional practice; 
Dr Fiona Minors, Head of Croydon School of Art, University Centre Croydon, on Change, the TEF…an Art & Design response to the Teaching Excellence Framework; 
Dr Mark Irwin, Dean of HE and Mr Tom Hinks, Academic Development & Quality Assurance Administrator, BIMM, on Revising complaints and appeals procedures following entry to the OIA. 

Professor Clare Mackie, Pro-Vice-Chancellor (Teaching & Learning), welcoming attendees.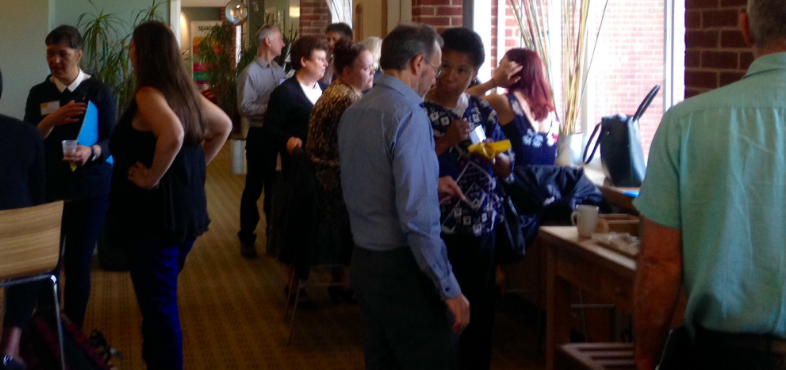 Attendees networking at lunch. 
Quotes from attendees
A Partnership Tutor said:
'the event was very well organised. The Sussex staff were very friendly and made all partnership staff feel very welcome. The event was set up with a positive air of inclusivity throughout the duration of the day. The Sussex team moved around the tables and captured the thoughts and ideas well. This was a brilliant day and I look forward to participating at future events'
A member of staff at a Partner Institution said:
'thank you for the warm welcome and a very engaging and informative day'
Another member of staff said:
'the presentations were well received, informative and opened up dialogue with other Partner Institutions for further discussions'
The Partner Network Day was a great success, providing partnership tutors and partner institutions with an opportunity to network and gain a greater insight into the changing landscape in higher education.