From first contact with SAGE's Little Quick Fix series, I was immediately drawn in. I had previously seen a picture of the books, and honestly I rolled my eyes at the thought of having to look over four books when I can barely get my own readings done. But when I opened the package for them, I was pleasantly surprised by their size (I guess they don't call it a mini series for no reason). As a third year student who works and plays sport, you can imagine that free time isn't currently a luxury I have at my disposal, so reading usually comes down to skipping past the fluff to get to the good bits. These books however have already done this for you; they're designed to be read in about an hour and are perfect for anyone undertaking research, looking for some guidance or even to refine their skills.
Layout
The design and structure inside the cover of these books couldn't be more refined if you put it through a steel mill. The page following the contents gives you a two-minute summary of all the sections covered in the book so you can decide which chapters are the most relevant to you before you dive in. At no point in the book could I find an unnecessarily long piece of text, there's even 10 second summaries of their 1 minute summaries! Every bit of information was concise, informative and easy to read. And what's more is that each book is bright ad full of colour thorough. Which is a nice change from the constant black and white of research articles.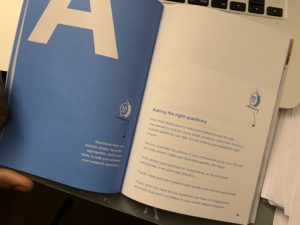 Content
I must admit I did not read all of the Little Quick Fix (LQF) books, but only because my presentation standard is way up there (tooting my own horn), and I already have a research question. But when I skimmed over the books I did spot some really helpful nuggets of information.
The LQF – Research Question book will really come in handy for anybody struggling to get started with their topic, and how to build on a strong question that will help you produce some good quality research.
The LQF – Present Your Research book covers some really important aspects of improving your presentation skills, similar to what I covered in my vlog on presentations, such as knowing your audience, getting your point across and confidence.
The other two books in the LQF mini series Write A Questionnaire and Do Your Interviews, are really going to come in handy for me over the next few weeks, as I gather my research for my dissertation. What I like the most is about these books is they get you actively thinking about how you are going to go about completing those respective tasks.
An example of this which I really liked, is in Section 3 of the Write a Questionnaire book. This section helps you identify what makes a good question by having you pick apart what is wrong or what can be improved by the questions they have asked, this sort of active learning is engaging because it allows the reader to apply the information in the book, which I think helps it be remembered. These books are more than just a mini textbook, they're workbooks too that are designed to develop your skills and help develop your research, with check points that support the consolidation of your learning.
As you learn what is required to generate good quality research data the book encourages you to implement the information its giving you into the design of your research, leaving you with a draft of what you plan to create at the end of it. What a way to kill two birds with one stone!
I have to say, I am a big fan of these books. They're manageable, to the point and exactly what they say on the cover. Little Quick Fixes.