'Students have access to unprecedented amounts of information online and need to move beyond consumption to more critical, organised and productive use of digital materials, tools and platforms.'
That was the opening sentence of our blog post on Learning through finding, choosing, sorting and sharing published in 2015. Since then, the need to develop critical skills has become even more important, so this post will look again at this topic and suggest some current digital tools and strategies to help.
Creating or Curating?
Increasingly students are being encouraged to create digital artefacts as part of their learning, whether that is by blogging, podcasting, creating video etc. which is great for developing digital capability. However, curating content which involves 'sorting through the vast amounts of content on the web and presenting it in a meaningful and organized way around a specific theme' (http://www.bethkanter.org/content-curation-101/) can be very useful for developing critical thinking alongside digital capabilities.
Part of the curation process is identifying which tools work for your context and which sources are useful. For example, Twitter is useful for finding relevant material and discussions, LinkedIn offers opportunities to get involved in subject-specific communities and RSS readers such as Feedly or Inoreader allow you to keep up with many blogs easily and share content.
When using any of these tools the first step is choosing who to 'follow'. It is important to critically 'curate' people/institutions so that relevant, reliable information is surfaced in a timely and usable format. For example, Twitter lists allow you to organise content from accounts you don't necessarily 'follow' which can help with managing the flow of content.
Student activities could include:
Make sense through choosing, sorting and sharing
When you choose particular items to be collected and shared you are making a judgment about their relevance or usefulness in a particular context. Often tutors will want students to explain their reasons for choosing items and most of the tools for capturing online content to save and/or share also allow for adding comments.
Digital note-making tools such as OneNote or social bookmarking tools like Diigo could be used for collecting, sorting and sharing, but other platforms are more focused on content curation, combining collecting, sorting, annotating and sharing functions.
When the original post was published in 2015 the popular tools in this area were Scoop.It, Pearltrees, Pinterest and Flipboard.
There are now more options, and two in particular are worth exploring in more detail.
Padlet
Padlet can be thought of as a virtual wall where users can post content and comments. Most types of digital content can be added to a Padlet (directly or as a web link) and there are many options for layout, commenting and collaboration. The University of Sussex has a Padlet Backpack licence and you can read more about Padlet on the TEL website.

Here is an example of a Padlet where I have collected some interesting news reports and blog posts around various aspects of immersive technology. In this case I have added the options to add a response in the form of a 'thumbs-up' or 'thumbs-down' but other options are available. I could also have chosen to allow comments.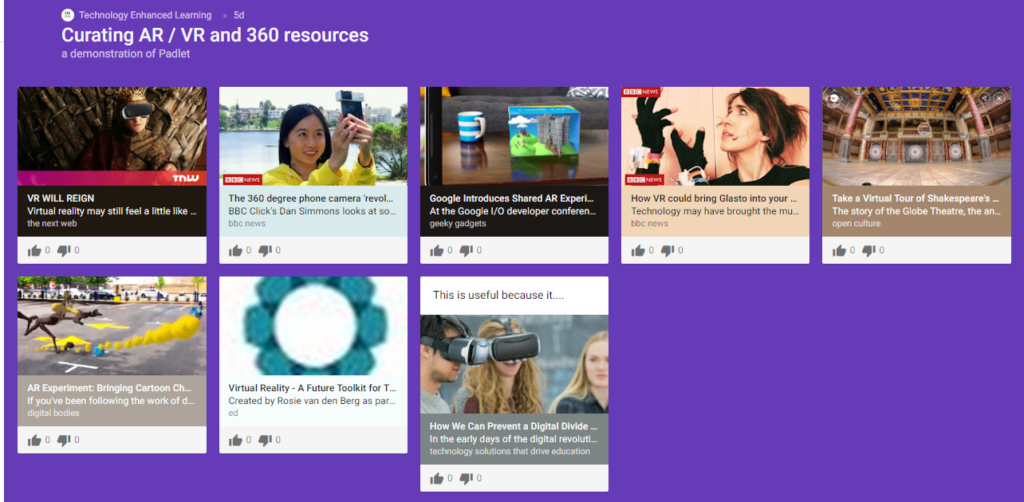 Students could each have their own Padlet or collaborate in groups. Padlets can also be embedded in a Page or a Discussion in Canvas for students to share their collections.
Wakelet
Wakelet is a fairly new tool that many people began using to collate tweets when Storify was closed. You can now use it to collect a wide range of digital content such as:
a website
tweets (selected by searching for a hashtag or user)
a YouTube video
an image
links to content you have already used in Wakelet
a PDF
some text of your own, including some simple formatting and weblinks.
Here is an example of a Wakelet collection showing these different types of content and below is a Wakelet collection showing similar material to the Padlet above.
With a range display options, all of which can be embedded in Canvas or shared by a link Wakelet is very versatile and visually appealing. Wakelet is developing quickly and there is a new feature which allows multiple contributors to a collection (though this feature is still in Beta so may not be robust yet). There are no built-in commenting features at the moment, so if allowing other students to respond to curated material is important then Padlet might be a better choice.

You can find out more about Wakelet on their website or in their blog post 'Content Curation: a beginner's guide'.

How can I get started with content curation activities?
The first thing to consider is what will best fit with the learning outcomes of your particular module. If a curating task would be useful, then which tool(s) you want to use will depend on the activity. For example:
If the aim is to identify a list of possible web resources around a topic then students could collect and share bookmarks using Diigo. Here is a Diigo Outliner (list) I made.
If more multimedia materials are to be collected then students could use Padlet or Wakelet, either individually or as a group.
If responding to, or commenting on, each other's collections is important then Padlet might be best option.
If you would like to explore further how you and your students could use curation for learning, help using any of the tools mentioned here or how to embed them in a Canvas module, please contact tel@sussex.ac.uk