Tutors want to divide up students for a range of purposes, from the administrative to the creative. Canvas has two tools for this which work in distinct ways providing lots of opportunities, but sometimes causing some confusion. This post will explain how Sections and Groups work and offer some ideas for how you might use them.
What are Sections and Groups in Canvas?
Sections are created automatically from the data in Sussex Direct and divide students into teaching and assessment groupings so that e-submissions can be managed. Each Canvas module site will contain a number of these sections and extra ones may be created during the year for things such as resits. Although Sections are created largely for administrative purposes they can then be used to manage some activities within a module.
Canvas Groups are not created automatically and should be thought of as primarily student-led spaces within and alongside a module. When Groups are created within a module, each group has its own group space, like a mini-module within which students can work together. Once Groups have been created, by tutors or students, they can be used to manage some activities.
How can you use Sections to facilitate online learning?
Sections are primarily used to manage e-submissions and marking. If you want to create a formative assignment for one or more seminar groups you can choose which section(s) you assign it to.
When it comes to marking you can filter by sections if you need to mark a particular seminar group's work. There is guidance on this on the TEL website, see e-Submission and e-Feedback: Guidance for staff.
You can also use Sections to create Announcements and Discussions that are visible only to selected Sections. This would be useful for sharing a Zoom link for an online seminar or setting up a pre- or post-class Discussion. For either of these activities just choose the Sections you want in the 'Post to' field when creating your Announcement or Discussion.
If you want all the students to discuss the same topic, but only with others in their seminar Section you can duplicate a Discussion and post each copy to a different Section.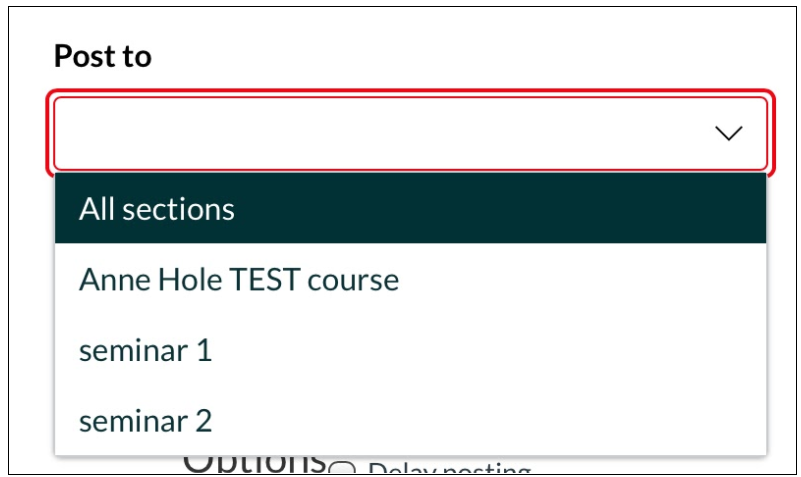 How can Canvas Groups be used in online learning?
When staff or students set up a Group in Canvas a separate mini-module is created which can be accessed either within the module or from a student's Groups item in the global navigation menu. The group space is controlled by its members so it is more a peer collaborative space than a 'teaching' space. You can read more about Groups in Canvas Highlights – Groups.
If Groups have been set up in a module, they can also be used in other activities such as Assignments and Discussions. When creating a formative assignment you can choose to make it a 'group assignment' so that one member can submit for the whole group. This could be useful for students submitting group presentation slides or for an asynchronous version of a small group seminar activity.
Setting a Discussion as a Group Discussion will create multiple instances of the same discussion topic, with each student only seeing their own group's version, but the tutor having access to all of them. This could be a good asynchronous online alternative to the sort of small group discussions you may have in a face-to-face seminar.
Guidance and support for Sussex staff
The Technology Enhanced Learning team are running webinars on this topic as part of the current programme of workshops and there are lots of useful guides on topics such as constructing collaborative activities, setting up online assignments and building communities online in the Teaching Online Learning Anywhere site. You can also email us at tel@sussex.ac.uk to discuss how you might use these, or any other Canvas tools in your teaching.