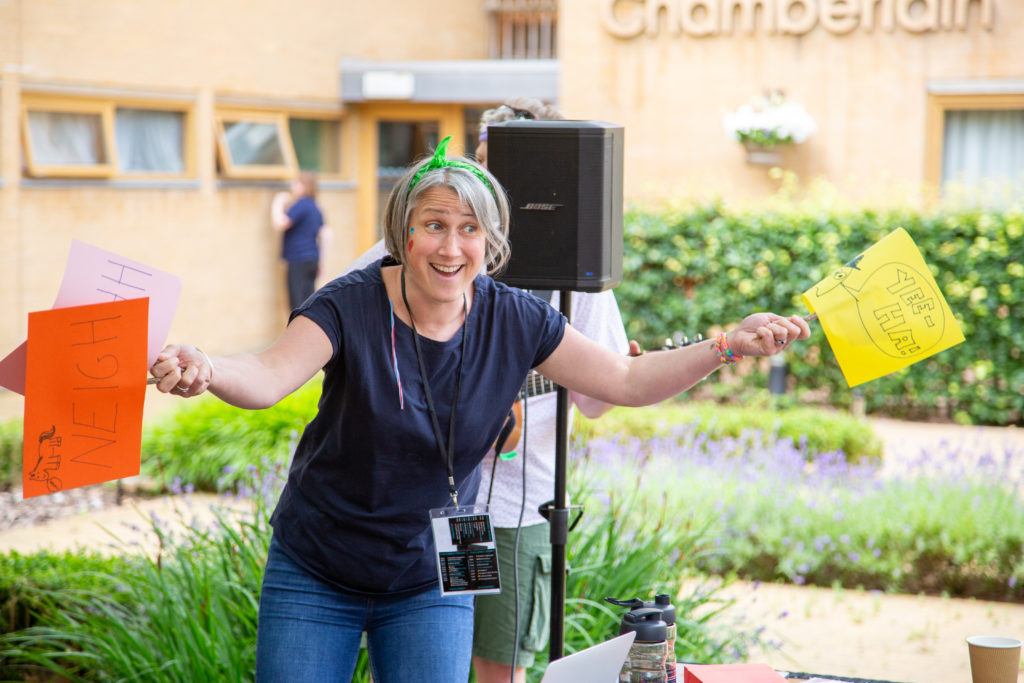 In July I was lucky enough to attend the Playful Learning Conference at the University of Leicester. This is where people who are passionate about incorporating play into Higher Education gather to share ideas, experiences and, most importantly, their failures.
Full disclosure: my notes from the train on the way up to Leicester read 'I'm feeling nervous… I don't think I'm very playful.' But I always try to make my own teaching sessions as active for my learners as possible, and wanted to pick up some ideas to make my own sessions more engaging, so I grabbed my recorder, slapped some sparkly stars on my face and joined the party.*
To forge a sense of belonging, we were put into campfire groups. And I was lucky enough to be in a group with some amazing, supportive, inspirational, very playful people. Like Professor Pen Holland, who co-developed the Catastrophic card game at the University of York to support core Biology learning during the transition to Higher Education. And Professor Nicola Whitton, who has worked on several books and articles on Playful Learning (including 'Using games to enhance learning and teaching : a beginner's guide [1] which is available via our library). And Giskin Day from Imperial, whose conference keynote shared several wonderful ideas, my favourite being Imperial's genius Breaking Bag, which is an escape room in a backpack designed as an engaging way for GCSE maths and science students to consolidate their learning. And… so many more inspiring people. And all of them seemingly so much more playful than me.
So, I got to thinking… OK. I'm not at their level. But what can I try to start me on my journey? What can I share with other Playful-curious newbies out there?
One of the conference sessions asked people to share their playful 'breadcrumbs': easily accessible ideas to add a dash of play to your teaching. These included adding photos of students' pets to the bottom of Canvas announcements (students shared their photos with the lecturer and there was a real buzz as to whose pet would appear each week); adding silly things to the end of Panopto recordings, to reward students who actually watched the video; or hiding 'easter eggs' in online module handbooks.
A few of the speakers shared their ideas for adapting well-known UK TV shows for use in their teaching. Such as information literacy 'Would I lie to you', where students were presented with a statement and then asked to vote whether the statement was true or false. And a diabetes version of Play Your Cards Right, which asked whether the answer to a question was higher or lower than the number on the card. I've done something similar in the past to jazz up the dull but essential topic of data protection (so maybe I'm more playful than I think?).
With my Learning Technologist hat on, there are some easy ways to get a bit more playful using the digital tools we have to hand here at Sussex:
Explore competition mode in PollEverywhere to create your own version of your favourite TV game show, to check students' understanding in an engaging way.
Play with the different formats in Padlet that could lend themselves to play, such as using a Wall with Sections option (previously called Shelf) for a simple card game (even better if your students develop it themselves).
Consider making an escape room in OneNote, as proposed by Nina Walker in the Active Learning Network's 100 Ideas for Active Learning Even something as simple as the appear animation feature in PowerPoint can be used to make a trusty Play Your Cards Right game, should you too need to jazz up something as fun as data protection.
Whatever you want to try, I and my colleagues on the Educational Enhancement team are here to help you get started. You can contact us on tel@sussex.ac.uk
And what's next on my own journey? Well, I'm going to start with the books written by my conference campfire mates. And I'd love to learn from colleagues here at Sussex who use a playful approach in their teaching, so please do share with me any examples you have. And make sure you watch the next video I make for marking in Canvas or module rollover… maybe there'll be a hidden treasure for you.
*This year's conference had a festival theme which involved face painting, campfires, cowboys and lots and lots of games.
---
[1] Whitton, Nicola (Editor) and Moseley, Alex (Editor) (2012) Using games to enhance learning and teaching: a beginner's guide,