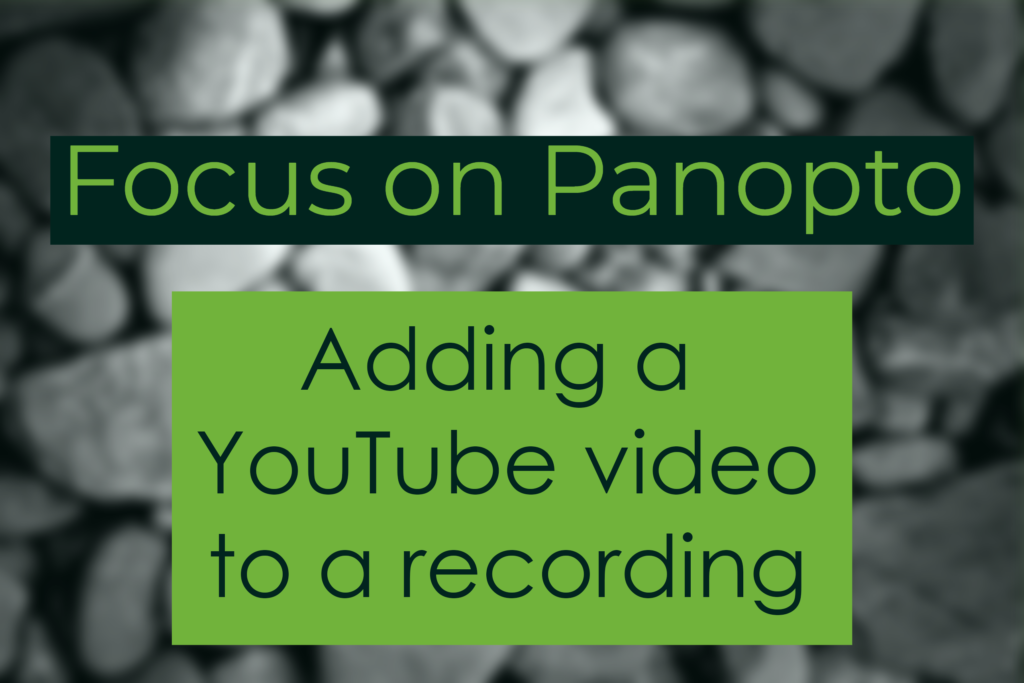 You may wish to add a YouTube video to one of your Panopto recordings. If you have shown a YouTube recording during a lecture you will need to have paused recording to avoid breaching copyright, but , Panopto allows you to link out to YouTube at a certain point in your recording. To the viewer through this will appear as though the YouTube video is part of the Panopto recording.
To add a YouTube video you need to edit the recording. In the edit screen select the location on the timeline where you would like the YouTube video to appear. On the left you will see the Insert YouTube button.

After clicking the Insert YouTube button you'll be presented with a new screen which will have a number of fields asking for information about the YouTube video you wish to add, the most important is the first one which says Link, where you can add the link to the YouTube video.
Go to the YouTube video and copy the URL of the page and paste it into the Link field in Panopto. You will then find further options to change the start and end times of the YouTube video. Once you are happy with the settings, click Done. Now the YouTube video will be added to the recording and will appear to the viewer at the point you specified.
For further information see Panopto's guidance on  Adding a YouTube to a Panopto recording or for help with using Panopto in your teaching contact tel@sussex.ac.uk.
Please note: As of the time of writing users accessing Panopto from China will be unable to access YouTube due to restrictions in place by the Chinese government. For a full list of banned sites please see the Wikipedia page on websites blocked in mainland China