by Rachel Bramley
Last month I realised that we'd approached an important anniversary. No, not the Beast from the East (thank you Google), but Reference Only books. In the spirit of good project practice, and customer service excellence, I thought it would be fun* to have a review of the outcomes, one year on. But first, some background.
* I don't get out as much as I used to.

Cores and Effect
Many University libraries are having to balance a valuable and well-used physical collection with increasing demands for study space, and we're no different. As I'm sure many of you remember, we decided to move our distinct Core collection from its separate room, and interfile it with the general collection in the summer of 2017. With all good intentions, we'd wanted to create more study spaces for the autumn term. There were consequences.
Once interfiled, there were many documented examples of users facing confusion about what Core items were (the 'canon' or key texts for a subject?), which revealed a lack of awareness about both the loan length (overnight) and circulation rules (1 renewal, no requests) of this collection AND the fines attached to it (£3.00 p/day). Most of you will be very familiar with these issues and won't thank me for the painful reminder.
The characteristics of Core items being Essential texts on reading lists meant that they were in high demand, attracting large fines if returned late. However, losing their specific location meant they no longer appeared as a 'distinct' collection. You'll remember as well that during the previous year we'd introduced 'rolling renewal' with the then new Alma LMS, so users had just learnt they could borrow from the general collection for extended periods.
As a result of this perfect storm, there was a very unfortunate 400% rise in complaints and disputes with regard to Core books, in the first couple of months of term! There had been many loans in error which resulted in poor user experience, and of course, a substantial amount of staff time was being spent resolving these issues.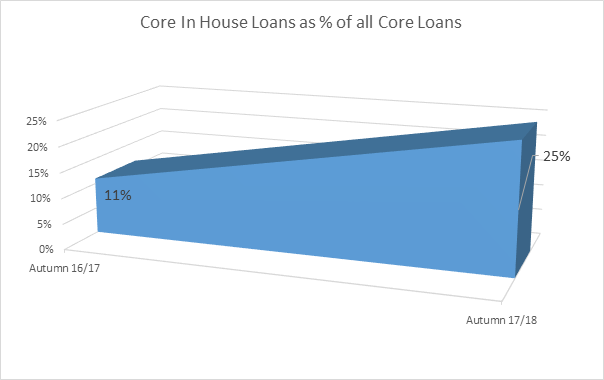 Interestingly, as the collection evolves and becomes progressively more digital, stock data showed that fewer items had been added to Core that autumn than the previous year, because Ebooks, electronic articles, digitisations and streaming video holdings increased. Statistics also revealed usage of Core increased overall since interfiling, but interestingly, it was in-house loans which actually rose. In fact, since interfiling these items with the general collection, the number of normal loans (ie the amount of borrowing) had decreased, but the number of in-house loans increased by 125%.
Were people not borrowing these items because they'd become aware of the fines? Was there a natural move towards using the resources purely as reference? We wanted to find out what was going on & provide the best solution for users to urgently reduce dissatisfaction. But once the books had been interfiled, did we dare to change the Core collection again, in an attempt to clarify its meaning?
Project: Core
Team Core was set up by the Library's senior management, and was asked to look at the Core collection in terms of its purpose, usage and operation, and to come up with recommendations for possible improvements.
The project aim was to make recommendations on the future development of the Core collection, paying specific attention to the questions:
Do we need a Core collection?
What should it look like and how should it operate?
Team Core – or the 'Core Collection Working Group' – was made up of members of the Academic & Frontline Services departments, to cover issues of collection development and management, as well as circulation, customer service and liaison, and members of the Systems team were also consulted regarding impacts on and possibilities of the LMS and circulation equipment (and for many Alma reports).
There were two main areas of activity: analytics & liaison.
Analytics:
The Collection Development team provided statistics on the size of Core/number of items added to Core, and their borrowing/usage data, revealing fewer items had been added, but in-house loans had increased. Frontline Services provided statistics on fines collected/waived and queries about Core, both of which had risen steeply.
Liaison:
Internal liaison sought the views of both students and staff. Student voice was drawn from a focus group, our Post-Graduate Collection Advisors and quick questionnaires at self-issue machines, as items were being borrowed. Library Rep/academic tutors' opinions about their perception of the Core collection were gleaned from the Library Consultative Group, interviews and email questionnaires.
Knowing this had been done before, we sought out the experience of others via jiscmail groups (LIS-LINK, LIS-COLLECTION-MGMT, LIS-TALIS-ASPIRE); queries were posted and archives were trawled. Four similar queries had been passed around the sector at roughly the same time, showing it to be a current and common concern. We searched other university library websites for collection/loan policies and made good use of any networking activities, by asking around and sending colleagues to find out what others did, at any visits or events.
We took stock of all the evidence, anecdotes and indicators we could, and came up with four options:

Stay the same – 3 day – Ref only – bookable loans.
There were pros and cons to each, but Reference Only seemed by far the best option, on balance. This satisfied our Reading List objective the best, in terms of providing access to Essential books.
Core Outcomes
On Monday February 5th, 2018, we changed the loan policy of 6,453 items from overnight loan, to 'Not to be borrowed', and started the process of restickering all those books.
We made a huge effort to communicate the decision clearly, with a positive headline that sold the benefits ("Improving Access to Essential Texts"), and used 'Reference Only' as the label, which had been offered by students as the clearest terminology.
We also kept Library colleagues in the loop, via the working group and department meetings; we informed managers and security staff and left flyers on everyone's desks. Each academic we'd interviewed or emailed was informed of the outcome of the consultation and there was a 'news item' that most departments put on their internal web pages. We contacted our focus group participants and NUS reps and gave it as much visibility as we could in the Library: on flyers, posters and plasma screens.
After one term it had been overwhelmingly positive.
A few times a week people asked if they could borrow these books, but they genuinely didn't seem to mind when they were told no. (This is in comparison to people complaining loudly, 4 or 5 times a day, about fines.)
One student said that other, more solvent, students, would previously have just kept the Core books, because they could afford to pay the huge fines. The student also said they didn't mind if the book was in use when they came into the Library, because they knew that at least it wasn't "missing for days".
A subsequent focus group also gave pleasing feedback, with the majority of participants saying: "Yes it's a good solution", and that "Core didn't make it clear it was 24-hr borrowing, so fines racked up. 'Ref Only' is clearer." One participant said "Students are quite happy with the Core collection being changed into reference only and it will now be available to more students".
Final SCore
So how does it really look, one year later? Statistics show that the in-house loans of Core items have continued to rise year on year.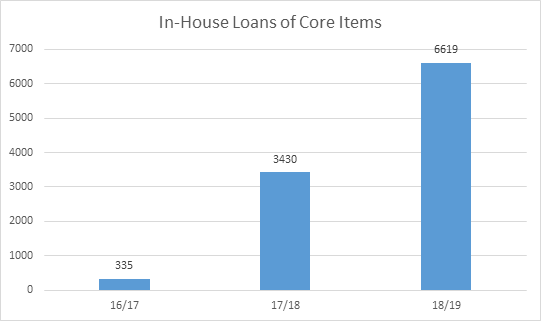 To avoid making assumptions from this purely quantitative data, the Frontline Services department were also surveyed for their experiences with students.
Over 80% of staff members asked said that they thought the reference only books were being well used, and 77% said that making them reference only has improved access.
It was expected that there'd be occasions where students wanted to borrow books and were unable to. We were prepared for there be some upset, but it transpires that this is rare occurrence, and the vast majority of students understand the meaning and purpose of 'Reference Only' without further intervention. Overall, the results are better than we might have hoped.
Some final words must go to our own Mike Smith, Frontline Services Supervisor, who sums this up nicely.
A video of Mike Smith, Frontline Services Supervisor, providing his thoughts on the move from the borrowable Core Collection to Reference Only.
It turns out that for our users at least, the only way is Reference Only. Although we couldn't have predicted this level of success, we grew to realise that rather than a retrograde step, this hardcore solution would actually better satisfy our students' expectations of 'on-demand' resources, and genuinely improve their access to Essential texts.