Looking after your mental health & wellbeing is something we all try to do, and there are services for students across campus, but…what about staff? We decided to try putting workplace wellbeing at the heart of the Library's culture…
In August of last year, Lucy attended a training course provided by MIND, the mental health charity, on Mental Health Awareness. Her feedback garnered interest from colleagues, and a loose initiative was formed, with a simple aim: to create awareness of mental health in the workplace, and to encourage Library staff to consider their wellbeing as part of working practice. The forming of the nascent Library EDI group provided an official channel for the project, alongside the emphasis on kindness and wellbeing in the University's Sussex 2025 strategic plan.
The idea was simple…but putting it into practice proved a bit more difficult. There is an incredible amount of information out there, and navigating it took a lot of time. Organisations like MIND, Time to Change, Mental Health@Work and others all provide untold resources for workplaces like ours to use, with the express aim of getting the message out: 'however you do it, start a conversation about mental health'.
So, we started small. February saw the annual Time to Talk day come around, and so our first event was transforming the staff room for an hour, and encouraging all staff to come along to start the conversation. The event was very well attended, with staff from across grades and offices (including the Careers & Employability Centre), all contributing to an atmosphere of openness, transparency and interest. We provided tea / coffee & biscuits, and set up an online quiz, conversation starter packs, Lego, and other games to help conversation along. We collected feedback and suggestions throughout, and encouraged staff to submit ideas for future events: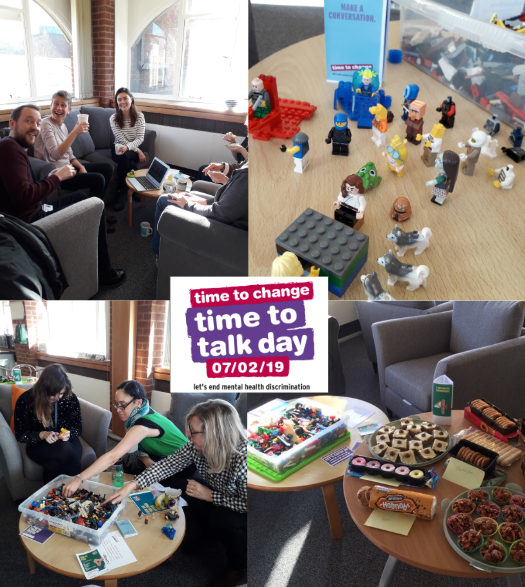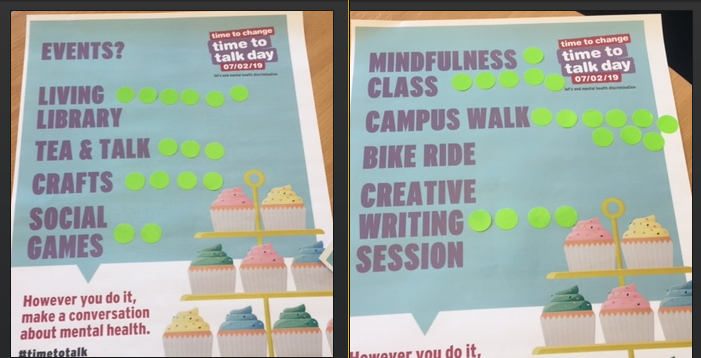 The response to the Time To Talk day was very positive. Some sample feedback included: "Brilliant, got people talking", "So lovely to talk to people I don't usually cross paths with!", and "Can we make this a regular thing?!" So we decided to mark out a calendar of Library events to match national initiatives throughout the year: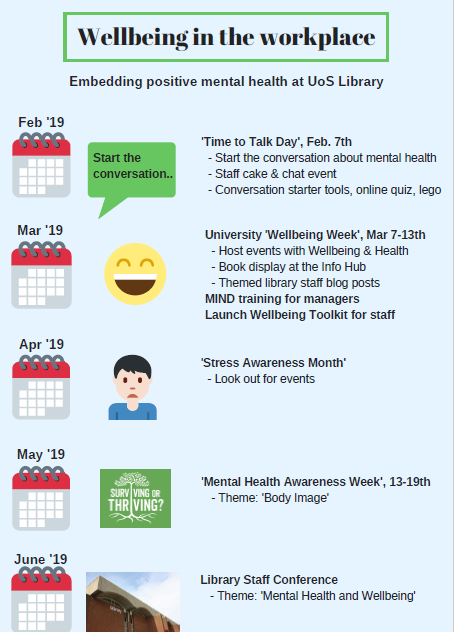 March saw University Wellbeing week, for which we organised a games morning, a series of campus walks, creative writing & desk yoga sessions, as well as encouraging staff to attend Mindfulness sessions run by the University chaplaincy. We also themed our Bookstand display, and followed this pattern for future activities.
In April, we invested in a training course from MIND called 'Managing mental health at work'. With this, our aim was to provide a shared base of knowledge across the workforce, from which further experience and understanding could stem. Supervisors learned about a multitude of conditions and approaches, heard (and shared) stories of experience, and learned techniques from course leader Tania about how to approach the topic with staff. The session was greatly over-subscribed, and we hope to run another one in the future.
April was also Stress Awareness Month, for which we provided staff dedicated time and resources to learn more about stress, including podcasts, a stress quiz, and information on a selection of apps to aid in various aspects of mental / physical health.
Gearing up to the Library staff conference in June (whose theme is also Wellbeing), May was dedicated to promoting the conference and highlighting activities that were already happening on campus during Mental Health Awareness week, such as Mindfulness sessions, and Sussex Sport's Wellbeing Wednesdays. We also organised another lunchtime walk, all with the intention of getting staff in the mood for what the conference will explore.
Throughout these activities, we were always conscious to promote all the wonderful resources that are available online, and stressed the benefits of taking the time to learn more.
In future, we hope to explore the possibility of having Wellbeing Champions across the Library, find out more about Mental Health First Aider training, look into whether the Library could take the Time to Change pledge, and to encourage some of the Library's initiatives across other departments on campus who have shown an interest.
We hope to embed the practice of openness and transparency around the subject of mental health into existing procedures like appraisals and 1-1s (e.g. by investigating the possible use of WAPs, and to develop a wellbeing Libguide).
If you have any questions about the work we're doing, or you'd like to get involved, then please do get in touch (or leave comments below).
Lucy, Sam & Gemma.