By Karen Watson and Adam Harwood
Back in February, myself and Adam agreed to write a blog post about meetings, drawing together all the information, skills and ideas gained from creativity training and out in the world. Lindsay produced a great infographic that you can see here: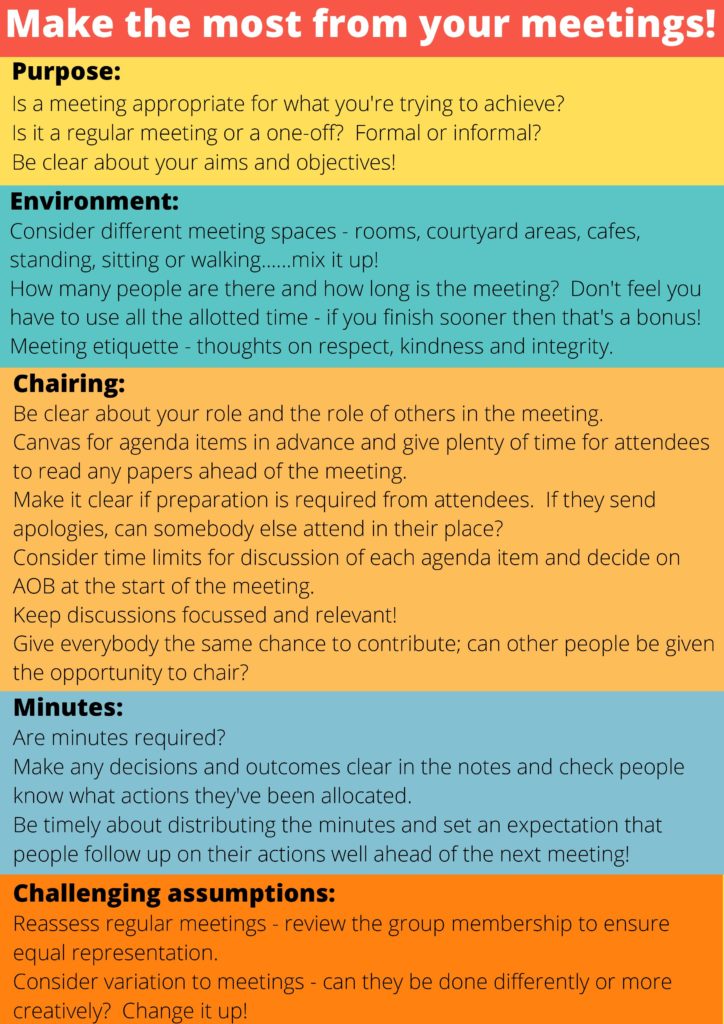 We were going to put this together with some general thoughts we had about attending and chairing meetings. When we chatted about this earlier this year, we were really thinking about the format of meetings. Do we need to sit round a table? Can we go for a walk and talk? Is it OK to move about during a meeting? Move forward a few weeks and here we all are forced out of our meeting rooms into our homes. Having meetings from bedrooms, lounges, kitchen corners.
As our previous idea for a blog post didn't seem so relevant anymore we thought we might adapt it for the new kind of online meetings that we are doing. The fundamentals are still the same – is the reason for the meeting clear? Are the right people present? What is the goal of the meeting (discussion, action, update)? But having a meeting online presents its own challenges and opportunities. JISC have produced an online meeting survival guide which you can read here.
This blog post is a few thoughts that Adam and I have had over the past few days.
Karen's thoughts
As we write, we are less than a week into official work from home, but we've both had a few MS Teams meetings and some catch ups on Zoom. This blog isn't about what tech is best or using the tech specifically though that can seem daunting. Usually the first 5 minutes of any meeting using online platforms is spent checking microphones and video. I have a few posts-it to hand with "CAN YOU HEAR ME?" and "I CAN HEAR YOU" written on which I show to the camera if needed.
It is definitely different talking to work colleagues in their own homes and we think it's perfectly OK to comment on backgrounds at the start of the meeting as it gets it out the way and gives everyone an opportunity to chat and relax at the start. Lampshades are proving very popular. That said, if you don't want comments about your home décor make sure you've got a neutral background or are sitting with your back to a wall. Here is a recent article in the Guardian all about TV and Radio news broadcasters working from home.
With there being a small delay with sound, if I want to agree with something, I've started using a thumbs up – it's quite a KW thing to do, but it's more visible than a nod and doesn't make noise over the person talking. I'm also doing an exaggerated shrug for "I don't know". Basically, becoming a human emoji.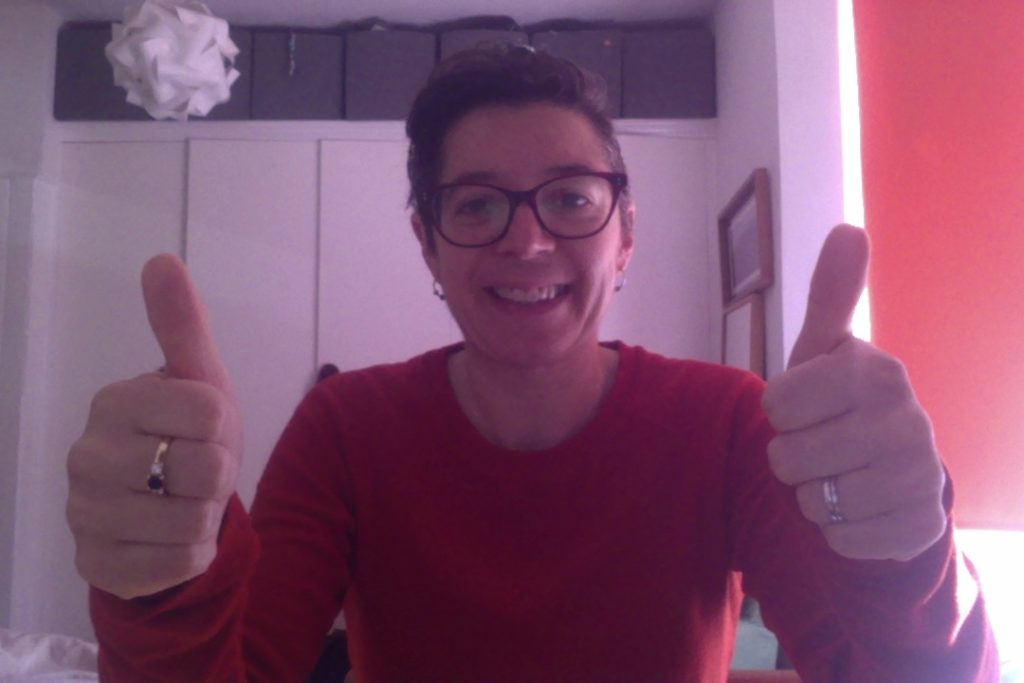 I did notice that I lent in when being asked a question, which can look a bit odd on the webcam so I'll have to be aware of that. It can also look quite strange if someone is taking notes as you often can't see the notebook and they are not looking directly at the camera. Note taking is standard behaviour in a "normal" meeting but might come across as disengaged online.
Adam's thoughts
I've found that having meetings from home can have its advantages. A couple of days ago I had a meeting on Teams with some Library colleagues and an academic who was based in America. If we were all in the Library and the academic in America had joined remotely I don't think it would have been as easy to communicate with him. Because we were all at home looking at our computers it didn't matter that this academic was in America – we were all on equal footing. So in a way online meetings can be a great leveller!

I've had a few calls that have been a bit choppy. All in the meeting agreed to turn off video and that seemed to help. I've also noticed that video calling can be a bit choppy if a couple of other devices in the household are streaming video, so if you can coincide video calls when other people are offline, that can help.

It can sometimes be useful to use the chat window to make a comment or 'raise your hand' if you want to speak. This can be a problem when people don't have the chat window up in Teams – they can't see that you're putting your hand up. If you all agreed at the beginning of the meeting to have a system for raising hands using chat, this can help make the meeting a bit more orderly – especially if there are a lot of participants. This means that the chair has to be especially vigilant to make sure everyone is heard. It strikes me that using chat might actually be a better way for some people to contribute to a meeting if they don't feel they would like to talk. You can make your point in the chat window and the chair could read out your comment.

Teams has a feature where you can blur your background if you don't want people to see the state of your front room! Just click on the 3 dots on the console in the middle of the screen and click 'blur my background'. I heard that green screen support is coming to Teams very soon that would allow you to put up pictures as your background. The possibilities could be endless!

While it all feels very strange right now, I think we'll all get used to this new way of meeting pretty fast. We're all in the same boat trying to figure out how this new way of interacting with each other will work, so it would be great to hear from everyone how you are getting on with it.

Stay safe everyone,

Adam and Karen.