What is Canvas Commons?
Canvas Commons is a repository or resources and activities that you can draw upon to use in your Canvas module sites. Commons contains learning objects that other Canvas users, both at the University of Sussex and other institutions, have created and shared for wider use. You can use keywords and to apply various filters when searching to help you find resources relevant to you. You can choose to filter resources by content type (Assignments, Discussions, Images, Pages, Quizzes, etc.), level of study and who the content is 'Shared with' enabling you to view resources created only at the University of Sussex should you want to.
Commons Favourites
Within Commons you can choose to 'favourite' individual learning objects to provide quick access to these resources later on. To add something to your favourites first go to Commons by clicking the Commons button in the Global Navigation Menu on the left of your screen (you may have to allow Commons access to your Canvas account the first time you use it). Next locate and access your chosen resource, then click the 'Add to favourites' button on the right hand side of the screen. You can then access all of your 'favourited' items at a later date by returning to Commons and clicking Favourites at the top of the page.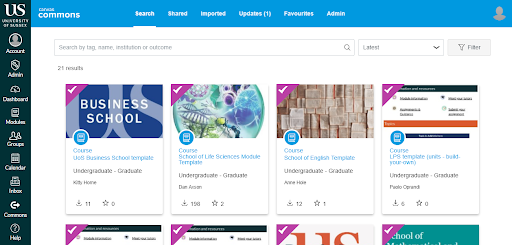 To learn more about Canvas Commons Favourites see How do I add and manage Favourites in Commons?
Commons Favourites in the Rich Content Editor
The new Commons Favourites button in the Rich Content Editor allows you to quickly access and import your favourite resources and activities straight from Commons without having to navigate away from the module you are editing.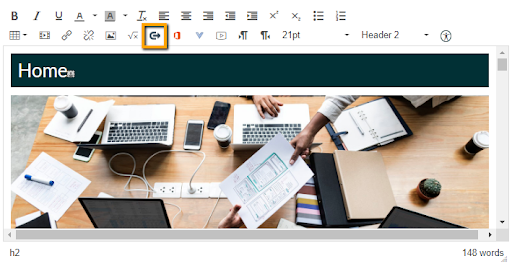 The Rich Content Editor is used almost anywhere that you can edit text in Canvas. So whether you are editing a Canvas Page or creating for example a new Discussion or Quiz, you can always access your Commons Favourites. The Commons Favourites button supports the importing of documents, videos, audio recordings, and images. Click the button and then either browse all of your saved elements or use the search function to search for keywords or filter by resource type. Then simply click on the element that you want to use and it will be imported into the content that you are currently editing. Depending on the size of the learning object, this can take a couple of minutes. For a step-by-step guide see How do I import Commons Favourites in the Rich Content Editor in Canvas?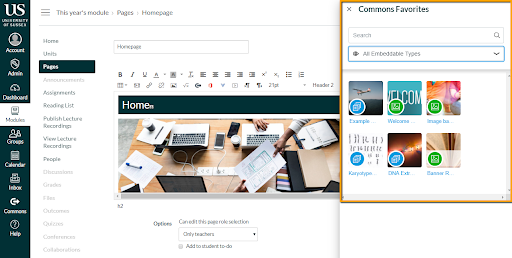 Don't forget that you can also share your own resources and activities to Canvas Commons if you have created any learning objects that you would like to share with your colleagues or the wider Canvas Community. If you would like more information about Canvas Commons see the Canvas Community Instructor Guides which contain FAQs and step-by-step guides. The University of Sussex is using Canvas Commons to share School modules templates, if you would like help importing and using your School's template please contact tel@sussex.ac.uk or visit our Eventbrite to see if there is a support session for your School.