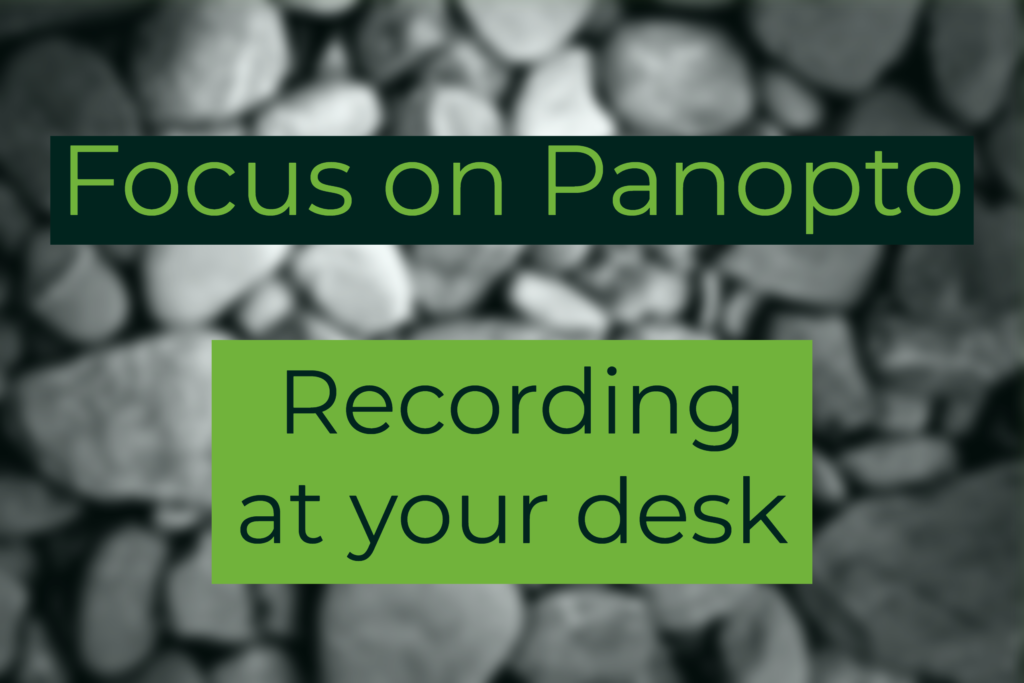 Panopto's headline function is lecture capture but you don't have to be in a classroom to record a Panopto video. The ability to record at your desk or elsewhere using your own laptop opens up a range of other use cases. Here are a few ideas for how you can use Panopto for more than recording a lecture.
Short introductions or summaries.You can make a short screencast presentation to share with your students. This might be an introduction to a module or some concepts you'll explore further in class (as with flipped learning), or a condensed version of your lecture designed as a more effective recap.
Manual (eg lab) processes. In many subject areas there are simple practical processes that students need to learn. You can create a short video to explain this and students can revisit it as and when they need. This approach particularly lends itself towards short processes that change little over time. Here is an example of a setup for recording in a lab.
Student screencasts. Rather than you doing the recording, let your students capture and share their presentations. This can be a great way to summarise project work and give students practice at real work life skills.
Marking and feedback. Written feedback for assignments can often be difficult for students to understand. Screen capturing the marking process and providing this to the students as a Panopto video can be a good alternative or addition. This might involve working through common issues on a sample paper or marking actual student papers and restricting the access to the video to just the relevant person.
Field trip recordings. Field trips may be inaccessible to a number of your cohort. Capturing the trip and sharing via Panopto can help to plug the gap for those who were unable to attend as well as providing a good record. Here is an example of using Panopto in the field.
How to get started
To record a Panopto video you need the Panopto recorder app. You can install this on your work PC from the software centre.
You can also install the Panopto recorder on your home computer or laptop:
From your Canvas module select the link to Panopto recordings.
Select Create
Select Record a new session
You should now see an option to download the Panopto recorder.
Panopto will also allow you to upload video created from other sources. So you are not just limited to what you can capture from your desktop or laptop.
Remember to add captions. From September 2020 all pre-recorded videos will need to provide captions so do make sure you add them to your videos. Guidance on how to add and edit captions is available on the Panopto website.
More information on recording a Panopto video is available on the TEL website or contact your learning technologist via tel@sussex.ac.uk.