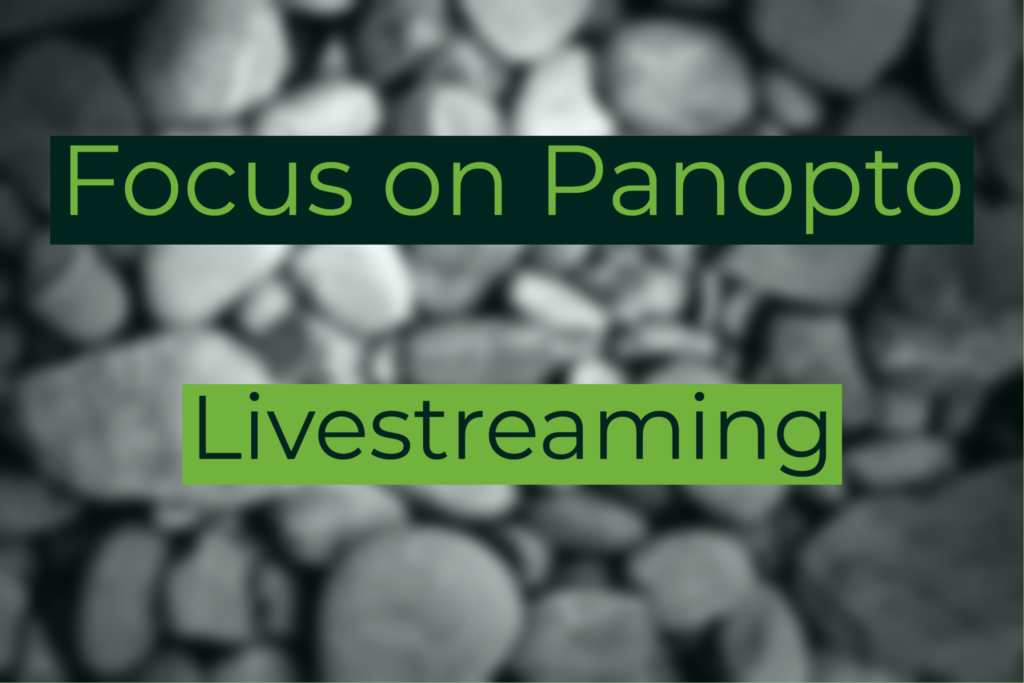 With Panopto you have the ability to livestream any recording you make through the Panopto recorder app on Mac or Windows. This lets you In doing so you can share your recording with any audience you wish by sharing the private link. Panopto refers to this as a webcast.
Scenarios where Livestreaming could help
There are many teaching and learning situations where livestreaming would be useful. Here are just a few examples:

Accessibility. If a student is at home or unable to be on campus for any reason. You just tick the button, share the link and they can watch and take notes as if they were there.
Research seminars. You may wish to open the audience of these by allowing remote viewers to take part and submit questions.
Teaching across campus or institutions. If you have a module that is being taught across institutions and the same lecture you give here is relevant there. You can set up a live stream and give a simultaneous lecture.
Lab demonstrations. where there might not be enough space to safely demo, students can observe from a distance.
How to set up a Panopto webcast
There are two ways to set up a webcast; you can do this in advance, or at the time of recording. Both these routes give you a viewer link. Share this link via email or perhaps as an Announcement in a Canvas module.
Creating the session in advance, gives you the benefit of being able to share the link before you start recording and to add things like a description and Preview image. Setting a webcast up at the time of recording is a one click process, you just then need to share the link.
See below for a step by step guide on how to set up a webcast via each route. For more detailed guidance please see the links to Panopto support at the bottom of this post.
Setting up a webcast in advance
Go to Panopto Recordings from a Canvas module and click the Open in Panopto icon
Give your webcast a title, choose the recording Folder and add a description (optional).
Click Create
When your webcast is created you will see the usual Overview window, where you can add a Preview image if you wish.
Below this you will see the Viewer link, this is the link to share with your viewers.
When you are ready to stream, go back to the recording, click Settings and under Actions, click Record.
This will open Panopto from where you can manage the captured sources and click the red Record button when you are good to go.
Setting up a webcast at the time of recording
Start the Panopto recorder by going to a Canvas module. Click on Panopto recordings > Create > New recording or launch Panopto directly on your computer.
Set your sources, name your session and check the folder you are recording to.
Tick the Webcast box
Once you start recording a Viewer link will be created at the bottom of the recorder window below the discussion posts.
Where can I get more help and support?
As ever, if you want to chat further about livestreaming with Panopto for teaching and learning, or need support in setting it up, get in touch with us by email tel@sussex.ac.uk. Or contact your learning technologist directly.
Below are links to the support pages on Panopto, with more detailed guidance.