While more teaching and learning is happening remotely, Canvas is increasingly central to engagement with students. As we have been using Canvas for nearly two years now we thought it was a good time to remind you of some features you may not have explored yet and share some of the TEL team's favourite tips.
Connecting
When students are learning at a distance they can feel isolated and it can feel impersonal, but adding a human touch can help. This could be something as simple as adding a photo to your Canvas profile so that any announcements or discussion posts you make are accompanied by your friendly face. For step-by-step instructions see the Canvas Guide How do I add a profile picture in my user account as an instructor?
To help you stay connected with your students you will want to check and perhaps update your notification preferences. This will allow you to be alerted when posts are made to Discussions, messages are sent to your Canvas Inbox and more. These settings will apply to all the modules on which you have a role. To review and amend your notification preferences click on Account in the global navigation menu and select Notifications. Here you can choose which notifications to receive, how often and via which communication method. Your Sussex email will already appear in the options, but you can add other emails, mobile phone numbers etc. by going to Account and selecting Settings then +Contact method. For step-by-step instructions see the Canvas Guides:
Discussions are a good way for you to stay connected with your students and for them to connect with each other without the need to all be online at the same time. You can create Discussions for separate seminar groups by choosing which 'section(s)' a Discussion is available to. In the Discussion settings choose the seminar group(s) in the 'Post to' box. If you have a Discussion you want to make available to different sections you can duplicate it and change the 'Post to' setting for each copy.
Announcements are a great way to alert students to new things going on. To maximise the impact of your Announcements you can set your module to show announcements on the home page. For step-by-step instructions see the Canvas Guide How do I show recent announcements in the Course Home Page? You may also want to advise your students to update their own notification preferences (above) so that they are notified about any announcements.
You can also schedule Announcements in advance, so if you want to remind students about a scheduled event on the day you can specify a date and time when your announcement will be posted. For step-by-step instructions see the Canvas Guide How do I delay posting an announcement until a specific date in a module?
Staying organised
In difficult times some basic organisation and structure can be a great help. You can save yourself some time and stress by making a few small changes in Canvas, starting with your Dashboard. To get the sites you use most often where you can easily see them, click and drag any of the module cards on your dashboard to rearrange them. You can remove or add cards to your dashboard by going to Modules, all modules and clicking the stars to select or deselect modules. You can also give the cards 'nicknames' which could be useful if you have several with similar names. Only you will see the nickname you choose. For step-by-step instructions see the Canvas Guide How do I view my favorite courses in the Card View Dashboard as an instructor?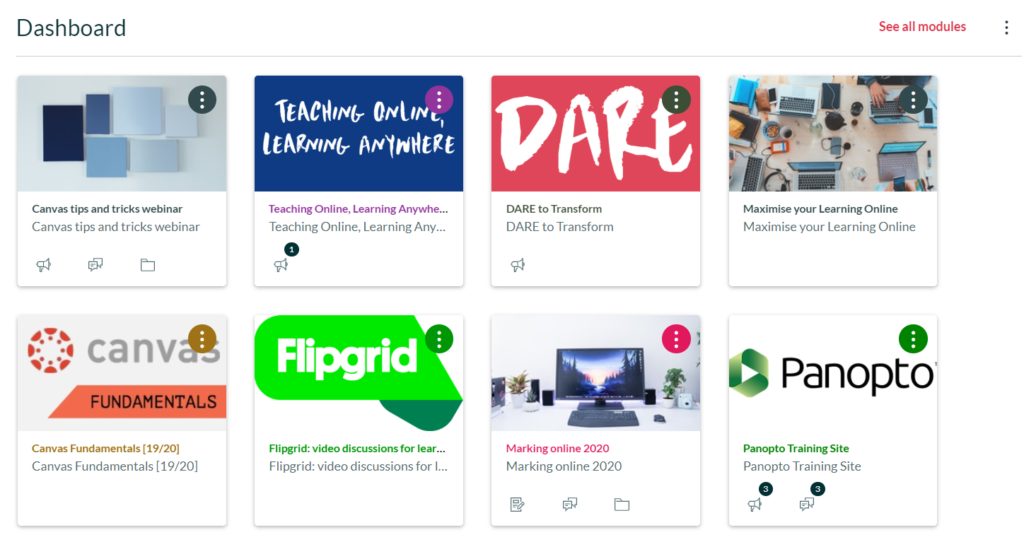 Over the course of a year, your files area of your module site can get a bit cluttered and it can be hard to locate the files you want. It can be a good idea to set up a folder structure to organise your files, perhaps matching your units structure. This way each time you upload a new file you can put it in a location that will be easy to find again. It's also a good idea to use naming conventions so you can quickly see which version of file you are using and what it is for. For step-by-step instructions see the Canvas Guide How do I move and organize my files as an instructor?
Panopto makes it easy to ensure your recordings get to the right students. When you launch Panopto from the Canvas module, the module you are in is automatically selected as the destination folder for the recording.
Updating
As you update your Canvas sites there are a few useful tools you may not have used yet. A recent blog post introduced the enhanced Rich Content Editor (RCE) and the new Direct Share function. Both of these are available for staff to try now and the Rich Content Editor will replace the existing RCE in June 2020. You can find lots of step-by-step instructions in the Canvas guides to the New Rich Content Editor.

One of our favourite features of Canvas is a great safety net when you are updating Pages. Every page has the option to see all the previous versions and revert to one of them if you want to. So if you accidentally delete something important or mess up the layout of a page you can easily restore a previous version. If you are making lots of edits on a page it is therefore a good idea to save often so that you can easily undo any errors without losing too much work. For step-by-step instructions see the Canvas Guide How do I view the history of a page in a course?
If you are copying and pasting into Canvas, then wherever you are using the Rich Content Editor (e.g. Pages, Discussions, Announcements) you can use the keyboard shortcut Ctrl+Shift+V (Command + Shift + V on a Mac) to paste text without including any of the formatting of the original text that you copied. This helps you to keep your content neat and legible for students.
The rich content editor (RCE) allows you to embed all sorts of rich media content, including Panopto recordings, YouTube, Twitter and more into Pages. How you do this depends on whether you are using the updated RCE or not. In the old version click the blue down chevron, in the new click the icon that looks like a plug.
Whatever you are adding to your Canvas module don't forget to check for accessibility. If you are creating Pages, Discussions, Announcements or anything else that uses the Rich Content Editor you can use the built-in accessibility checker which will look for colour, logical order of heading styles, alt text and tables. It then gives you options to make adjustments as needed. For step-by-step instructions see the Canvas Guide How do I use the Accessibility Checker in the Rich Content Editor as an instructor? and check out the TEL Digital Accessibility toolkit for more great tips on making your content accessible.
You will also want to make sure that any links to external sites or files are working properly and Canvas can help you with that. From the Settings menu item you can access the module link validator which searches module content for invalid or unreachable links and images. It will show you which links on which pages are broken so you can quickly fix them. For step-by-step instructions see the Canvas Guide How do I validate links in a course?
Help and support
If you would like further help you can: