This short video will take you through four quick top TEL tips which can help you improve the quality of your videos when you're recording yourself.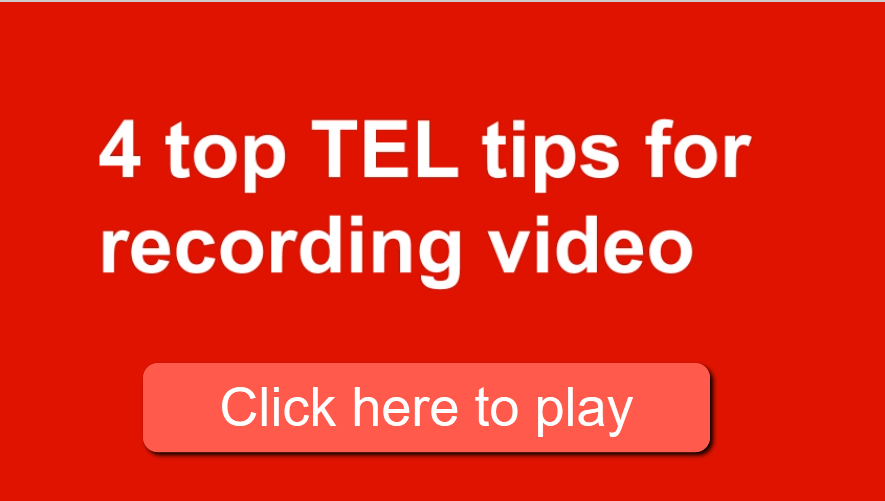 Tips include:
Positioning. Ensure you are in the centre of frame of your camera and that you're not positioned too close or too far away.
Beware of background noise. It can be wise to pay attention to what sort of background noises appear in your video, often these are noises we hear every day and so we don't pay attention to them, but for students watching our video these sounds can be distracting. It can be wise to try and find either a quiet area or to use an external microphone which can help to isolate sound.
Ensure you're well lit. Make sure that you've got as much light on you as possible when recording, if you're too dimly lit it'll be hard for students to see you. Also make sure that strong light is coming from either the side or in front of you, if strong light comes from behind you it can again make it hard for students to see you.
Be mindful of what's in the background. Ensure you've given some thought to what's in the background of your video, you don't want anything too distracting to appear, nor do you want anything appearing that you don't wish for your students to see. It's also wise to not have too cluttered a background or too blank and clinical a background as these can be either distracting or intimidating, it's best to try and strike a balance where the background isn't overly distracting but it still shows you as human and approachable.
There are more useful resources for staff at the University of Sussex in the Teaching Online Learning Anywhere Canvas site and you can contact tel@sussex.ac.uk to discuss ways to use video and other learning technologies in your teaching.