Podcasts are increasingly popular and many people are keen to adopt and adapt the medium for education. A previous post on this blog looked at ways that you can power up your pedagogy with podcasts but it may be that you don't want a formal podcast, just one or more audio recordings that students can listen to when and where they want.
This post will outline how Panopto and Zoom can be used with Canvas tools to share audio recordings with students.
Audio in Canvas Pages, Discussions or Announcements
The Rich Content Editor (RCE) in Canvas allows you to add media recordings (video or audio) to anywhere it is used. This would be useful for short recordings that you wanted to add to a Discussion or Announcement, for example. Recordings made directly into Canvas in this way cannot be edited, which is why this method is best used for short informal recordings.
In the RCE, select the Record/upload media icon.

You can then either record straight into Canvas or upload a recording you have already made.
Solo podcasting with Panopto
For a more substantial recording by a single speaker, for example a module convenor introducing a topic, then Panopto can be used to record audio only. Recordings can then be shared just as lecture videos are, in Canvas. If you don't want your recording available to students as soon as it has processed, choose 'My Folder' before you start recording.
To record audio only via Panopto, turn off the video and secondary sources (screen, slides) when starting your recording and only the audio will be captured.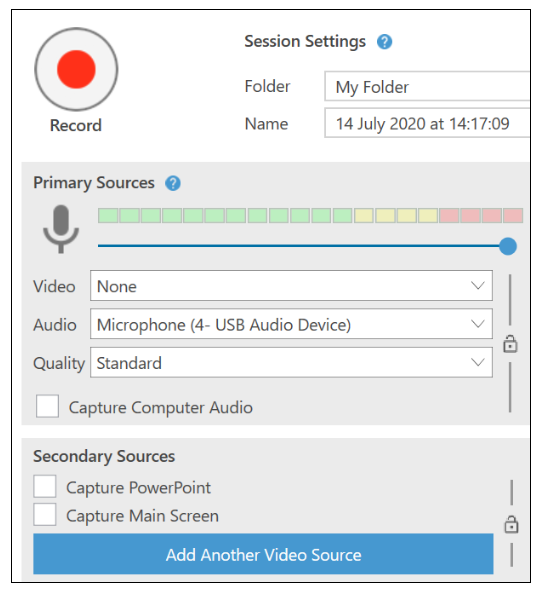 If you forget to turn off the video, or have an old recording that you want to extract the audio from, you can download just the audio from Panopto and add it to Canvas as shown above. Go to the settings for the recording, choose Outputs and Download Audio Podcast.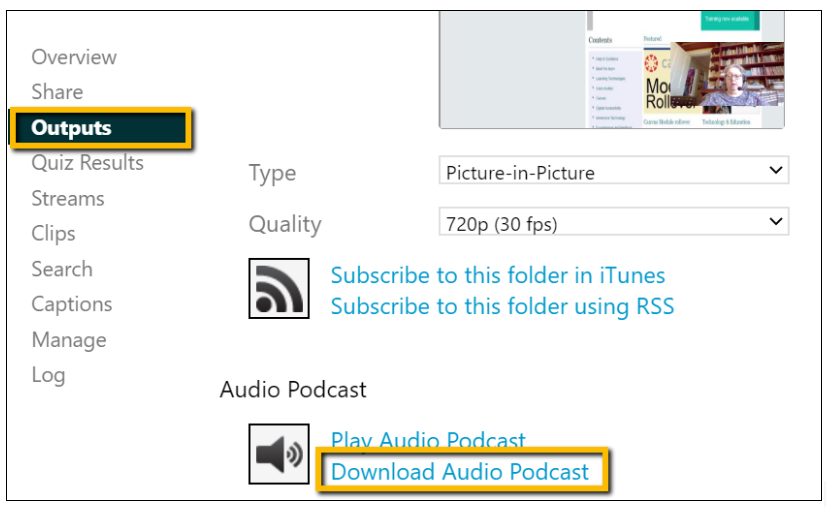 Interviews and conversations with Zoom
An interview with an external expert, or a conversation between members of a teaching team could make a great addition to a module. For a multi-speaker recording, Zoom will be a good option.
When setting up your Zoom meeting in your account at https://universityofsussex.zoom.us/ check that it is set to record the meeting to the cloud.

When you start your meeting, make sure that everyone's video is turned off in order to only record the audio.
After your 'meeting' the recording will be processed and uploaded to your 'My Folder' in Panopto, in a sub-folder called 'Meeting Recordings'.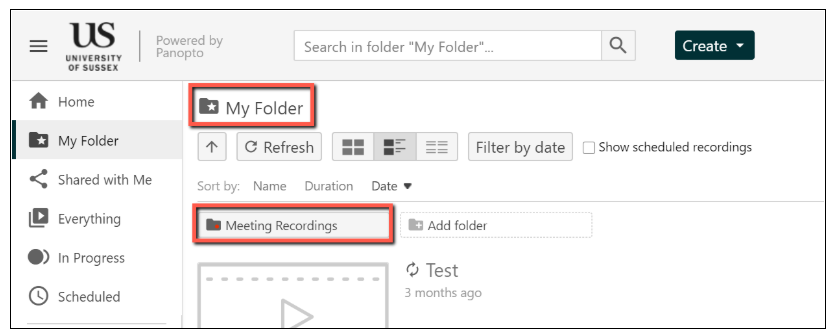 Editing and sharing
While your Panopto recording is in your 'My Folder' you may want to trim the start and finish (see Focus on Panopto: Editing recordings) and add a meaningful title and description before sharing it with students.
Captions
You may also want to add closed captions. A recording made in Panopto has the option of having Automatic Speech Recognition captions added (see Focus on Panopto: adding ASR captions) and Zoom recordings will automatically have captions added as the recording is processed.
Sharing via Canvas
You will then want to share your recording with your students. To do this you can move the recording to the Panopto folder for a particular module. You may also want to embed the recording in a Page so that you can add some context and related files. Moving and sharing options are outlined in our previous post: Focus on Panopto: Sharing recordings.
Mobile downloads
To make your Panopto recordings more like a podcast you may want your students to be able to download them on their mobile devices to listen to wherever they are. This can be done in the Panopto folder settings.
Click the cog icon.
Select Settings.
Tick the 'Enable podcast feed' box.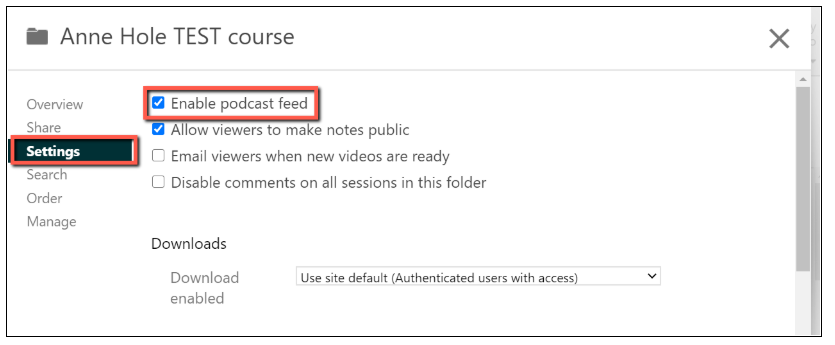 Help and support for Sussex staff
If you want help using Panopto or Zoom in your teaching, there are some great online workshops coming up. You can see the full list and book online via the TEL website and there are lots of useful new resources available on the Teaching Online Learning Anywhere Canvas site.
As always, the Technology Enhanced Learning team are here (wherever we are) to help and support staff so please do email us at tel@sussex.ac.uk.