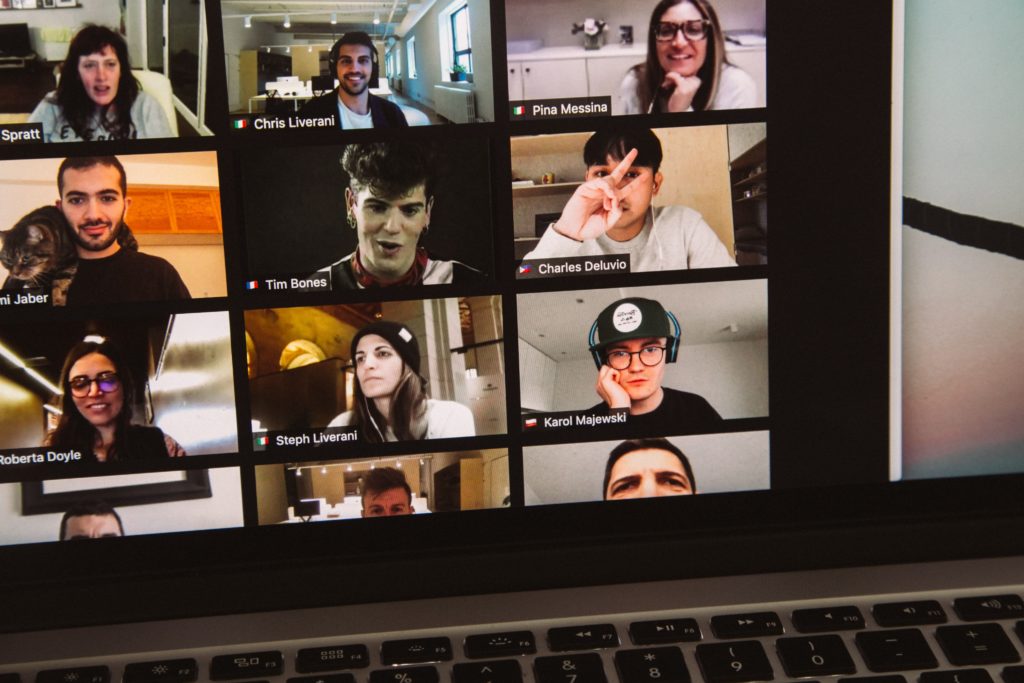 Have you ever wanted to pose multiple choice questions to your students during a Zoom meeting? You can do this with Zoom's inbuilt polling option which allows you to create single or multiple choice polling questions and then pose them to everyone in a Zoom meeting. You can then view and even download a report of the students' responses.
What's a Zoom poll?
Each poll consists of up to 10 single choice or multiple choice questions and each question can have up to 10 potential answers. You can create up to 25 polls per Zoom meeting. Zoom polls do not have all the features of a dedicated polling platform like Poll Everywhere, but they allow you to ask questions within Zoom easily.
Why would I want to use a Zoom poll?
There are a number of reasons that a Zoom poll can be a useful addition to your teaching sessions:
Engagement. It can be hard to concentrate on and engage with someone speaking for long periods of time. A good way to break up periods of talking can be to include a short activity allowing learners to engage and think about what they are learning. A quick poll can be a great way to wake everyone up and allow them to interact and be active rather than passive learners.
Identify knowledge gaps and comprehension. You can use Zoom polls as an informal formative assessment within a session by polling students with a few multiple choice questions based on the topic they've learnt. Their answers can help you to identify their comprehension of the topic and any knowledge gaps they may have, you can then use this information to tailor the rest of your session by focusing on where students are weakest.
Surveying. Polls can work well for surveying your class quickly, for example letting the class decide as a group which topic to focus on next in a session from a list of options, or getting their opinion on a topic i.e. 'Do you agree with statement A? Yes or No' .You can even use a poll for feedback on how they feel the session is going or to ask if they'd like a break.
How do I create a Zoom poll?
Some key things first, we recommend that you set up the Zoom polls ahead of the session itself rather than during the meeting.
So with that in mind first go to the Zoom web interface at https://universityofsussex.zoom.us/ and log on. After you've logged on, ensure you select Meetings in the side menu to be shown a list of all the Zoom meetings you've created, then find the relevant Zoom meeting where you wish to add a Poll and click on the meeting name.
You'll now be on the meeting information screen. Scroll down to the bottom to find a section named Poll and below that you'll find an Add button, select this to add a poll.

You'll then be presented with the poll creation screen, from where you've got a few different aspects to consider.
This is where you can put a title for your poll to identify it.
Choose if you'd like the results to be anonymous or identifiable.
This is where you can write your questions and answers. You can choose to make them single or multiple choice and you can have up to 10 potential answers per question, though ideally you would not want more than 5.
Click the Add a question option to add another question to the poll. You can have up to 10 questions per poll.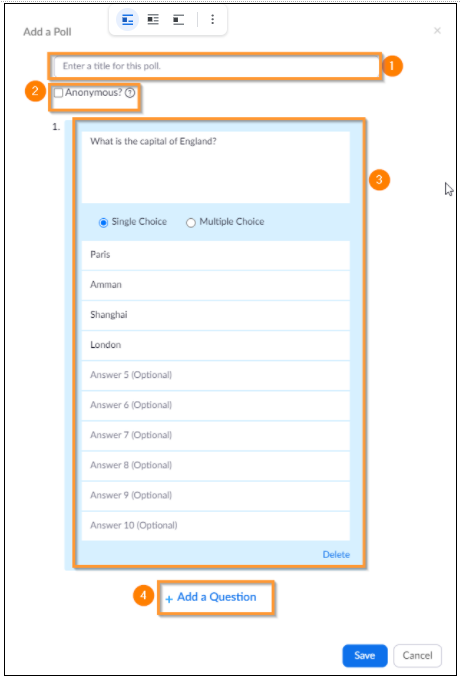 Once you've added your questions click Save to save the poll. You can add multiple polls to the same meeting by repeating this process
How do I run a Zoom poll?
Once you've created your poll, you can run it during a meeting by clicking the Polls option from the Zoom toolbar.
You can then run your poll by selecting the Launch Polling option.
You'll then be able to see students' real time responses to the questions as well as a tally of how many have voted. It's worth noting that students themselves won't be able to see others responses at this stage. Whenever you'd like to conclude the poll select the End Polling button.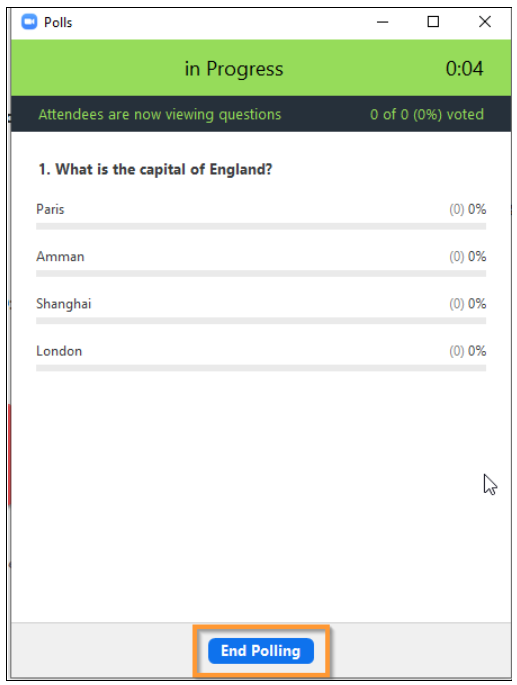 You'll then be shown the final responses and can choose to either keep this private or share it with everyone else in the meeting by selecting Share Results.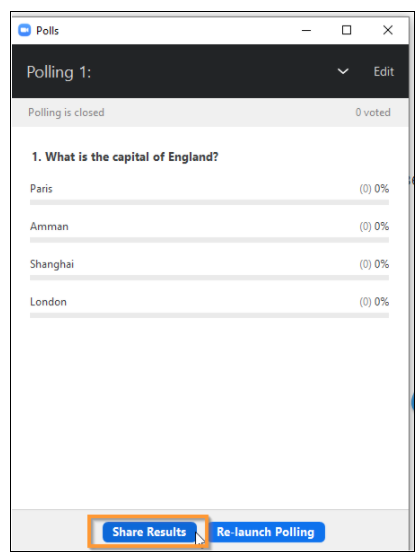 Those are the basics of running a Zoom poll, for more in-depth guidance please see Zoom's guidance on Polls.
Hopefully this has been a useful introduction to a new tool for you to try out in your next Zoom session. Why not give Polls a try? If you'd like any help setting up your Poll or have any questions then please get in contact with TEL at TEL@sussex.ac.uk