Over the last few years closed captioning has come on in leaps and bounds; Zoom's built-in closed captioning service can provide instant, accurate captions that are useful for students and staff alike. Whilst closed captioning is helpful for providing a speech to text service, from, what if we could translate these closed captions into different languages? That's where Microsoft Translator comes in.
Created as a 'Garage' project, an initiative Microsoft implemented so that their staff could get some funding for their own, off topic ideas, Microsoft Translator started as a small idea and has recently hit the mainstream market.
Microsoft Translator is a free service which transcribes text to audio and changes the output into a multitude of languages, instantly and accurately.
Imagine you are presenting a PowerPoint presentation, over Zoom, in English, while a student in Greece is seeing the presentation transcribed in Greek, a Norwegian student is listening to the same presentation, enjoying the instant Norwegian captions, and a Chinese speaking student is watching the same video, taking notes from instant Chinese captioning. One presentation audio but multiple closed captioning languages. Sounds good right?
Getting started with Microsoft Translator
So how do we go about getting it all set up? Thankfully, it's a super simple setup. Head over to the Microsoft Translator website and choose 'Start the conversation'.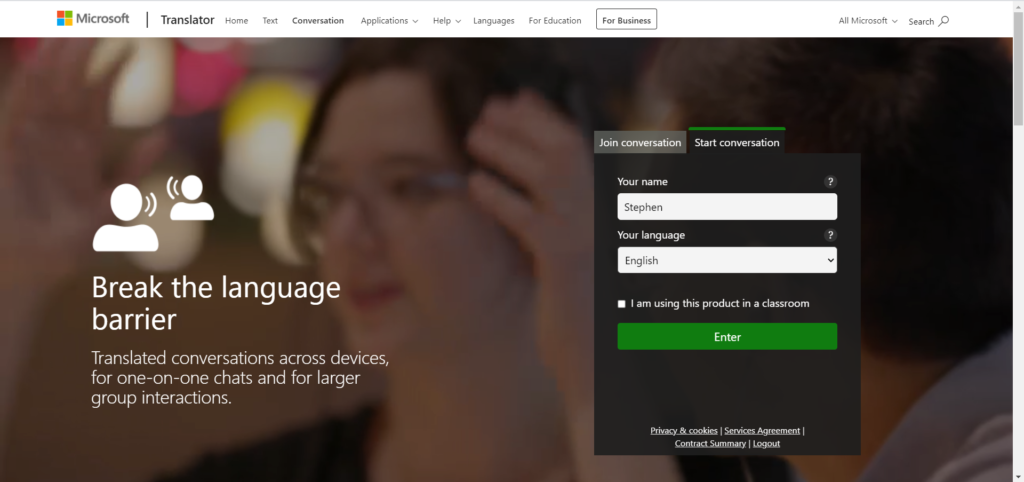 Choose your name, language you will be speaking in, and tick the 'I am using the product in a classroom' checkbox. You should then be taken through to your conversation homepage.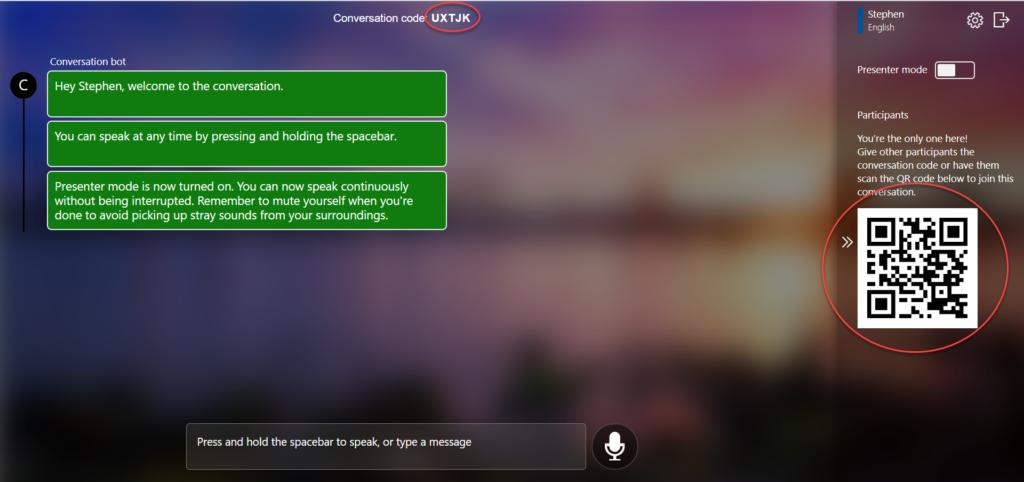 You'll notice a few features similar to other pieces of software, for example at the top of the page you can see the 'Conversation Code'. This is the code you give to the participants in your presentation so they can join and receive the translations. On the right of the screen is a handy QR code which you can ask participants to scan so they can join the session.
When participants are ready to join, either by using the QR code or by going to Microsoft Translator and entering the conversation code. They will be met by the screen shown below. It is important that on this screen, they choose the language they would like to display the text in.
Now, when you speak into the microphone, you will see the transcript of what you are saying and the participant will see this translated, real time, in the language of their choice.
Translator can work with numerous languages, including Arabic, Chinese, Italian and French, with surprisingly good accuracy. Perfect for lectures, seminars, or even online meetings.
Participants within your meetings or lectures can now view the live transcript in their own language alongside their video call software.

Microsoft have created a great piece of software, breaking down translation barriers and making it available to everyone. The software can be accessed in your browser, so you don't have to download anything in order for it to work.
More options and information
Microsoft Translator can be downloaded as an app, if participants want to look at the translations on a mobile device, keeping their computer screen free for notetaking or research.
You might also like the live subtitles option in PowerPoint that was recently highlighted on the IT Services blog.
Microsoft Translator has a built-in, basic audio translate feature, although it comes with fewer languages, that can provide text to speech in your chosen language, providing more accessibility options for you and your participants. For example, you can be on campus, speaking in Chinese and a participant in India can have you translated and voiced in Arabic instantly.
And for the more adventurous, it even translates into Klingon, if that is your thing of course.
You can learn more on the Microsoft Translator website.