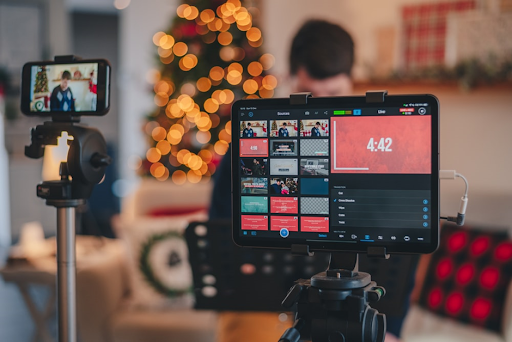 Looking back on the last few years of the TEL blog, the topic of multimedia enhanced teaching and learning was amongst the top posts for viewer engagement, and we thought this topic deserved a refresh.
What is multimedia enhanced teaching and learning?
Multimedia can be characterised by a combination of text, pictures, audio, video, graphics and animation (Phillips, 1997). Words can be spoken or read, pictures can be static or dynamic and even incorporate computer simulations e.g. virtual reality. Since the 1990s, the fields of educational and cognitive psychology have given concerted research effort that appears to show knowledge acquisition can be improved significantly when applying multimedia to learning (see Dunlosky and Rawson, 2019). Multimedia enhanced learning occurs when words and images are selected and organised into a coherent structure within a learner's working memory and integrated with prior knowledge. To learn effectively, active processing must take place to organise the information and achieve understanding (Mayer, 2009). Therefore, unless active learning strategies are applied, simply adding infographics/video content will not necessarily result in a richer learning experience.
Why use multimedia in teaching?
The benefits of multimedia enhanced teaching and learning are:
It engages the learner in a more immersive environment. Selected content can be multi-sensory, interactive and dynamic, allowing better visualisation of theory and concept.
The use of a wide variety of media can help to vary and enhance the learning process and can therefore lead to better knowledge retention and a deeper level of understanding.
The increased use of visual content and therefore visual processing (images, video and animations) can lead to improved problem solving and develop the ability to turn abstract concepts into applied knowledge.
Student attention, stimulation and motivation can be heightened which leads to greater engagement with the content.
It can help to present complex theories and a lot of information often with less effort and time than text-based alternatives.
As visualisation is a crucial part of memorisation, the use of multimedia in innovative and interactive ways can aid this process.
How to incorporate multimedia your teaching
Multimedia is everywhere and can easily be incorporated into your teaching. Below we have suggested various tools, activities and methods that can be used to successfully enhance student learning.
Multimedia-based teaching tools
At TEL we are always encouraging the use of engaging teaching tools, and many of these have built-in functionality to allow a wide range of media.
Provide watching lists
We're all very familiar with reading lists but what about watching lists? You can enhance a student's learning by providing set watch-lists or incorporating short clips into seminar preparations. YouTube is an open source video platform that allows you to create and manage playlists and share these with others. The rich content editor on Canvas allows you to embed YouTube and TEdEd videos directly onto a page.
Apply an active learning task to the content
There has been a lot of emphasis on the importance of active learning in recent years (see this recent blog on active reading strategies). Rather than simply providing students with different forms of content, give them a task to work through that keeps them actively engaged and helps them progress towards their learning outcomes. An in-class example would be a discussion followed by using the PollEverywhere survey tool to gauge opinions and engage in reflection. An example of a pre-sessional task would be a short multiple-choice Canvas quiz to test comprehension after watching a set video.
Audio or video feedback
Encourage students to engage more fully with their feedback by incorporating multimedia. In written feedback you can send students to relevant seminar recordings or directly to recorded lecture material through use of hyperlinks. Within Turnitin, the option to leave a voice recording is available in Feedback Studio. Canvas SpeedGrader gives you the option to record a media comment using either audio or video. You can start the recording directly in Canvas SpeedGrader using your device's microphone and/or webcam, or upload an audio/video file.
Resources, guidance and support
The application of multimedia can be used as a vital instrument for transforming the traditional paradigm of teaching and learning. For more information on using multimedia to enhance teaching and learning, visit www.sussex.ac.uk/tel, e-mail tel@sussex.ac.uk, or contact the learning technologist or academic developer associated with your School.
References
Abdulrahaman, M. D., Faruk, N., Oloyede, A. A., Surajudeen-Bakinde, N. T., Olawoyin, L. A., Mejabi, O. V., Azeez, A. L. (2020). Multimedia tools in the teaching and learning processes: A systematic review. Heliyon, 6(11), e05312. https://doi.org/10.1016/j.heliyon.2020.e05312
Dunlosky, J. Rawson, K (eds). 2019. The Cambridge Handbook on Cognition and Education. New York: Cambridge University Press.
Mayer, R. E. (2009). Multimedia learning (2nd ed.). Cambridge University Press. https://doi.org/10.1017/CBO9780511811678
Phillips, R. 2014. The Developer's Handbook of Interactive Multimedia. Routledge.