The key learning technologies in use here at Sussex are regularly updated in response to customer feedback. In this post we've cherry-picked some of the most recent updates you may find useful.
Canvas
Canvas have recently introduced a feature that many people have wanted to see. You can now schedule when pages will be published, which saves you having to remember to do so as the term progresses.
To schedule publishing of a page, first check that the page is unpublished. Then edit the page and use the Publish At box to specify the date and time when the page should be published.
This video demo shows how to schedule a page to publish at a later date.
Panopto
Improvements to Panopto since our last update will save time when checking captions. There are four significant new features for captions: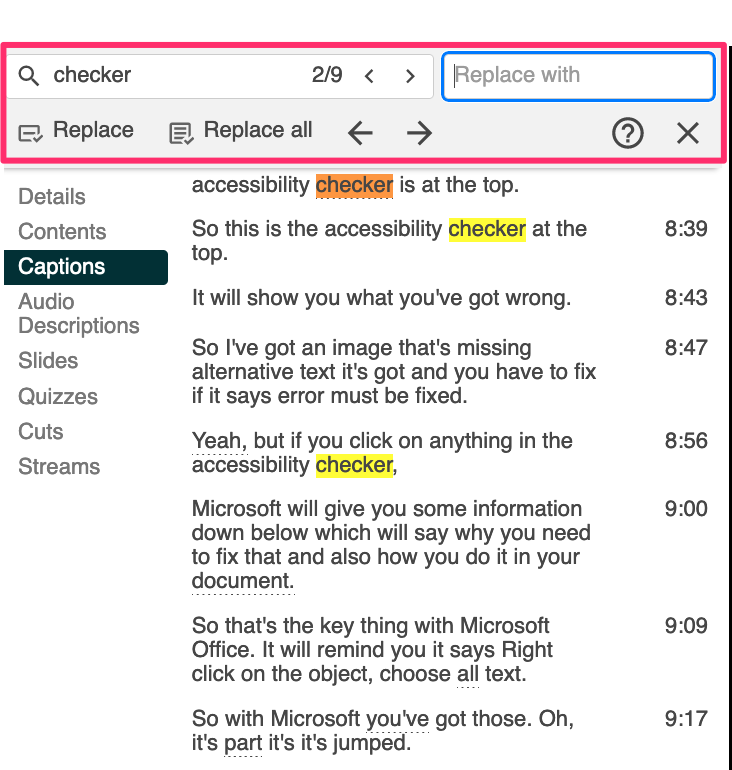 Find and replace: You can now find all instances of a mis-transcribed word and replace them in one hit.
Confidence Highlights: In the caption editor, Panopto will underline any words that it suspects have not been transcribed correctly. You can then click on these and use the Find and Replace function to update all instances.
Custom Dictionary: If you find that Panopto regularly mis-transcribes words you use often in lectures, you can submit them to Sussex's own Panopto custom dictionary. To submit words to the dictionary, email tel@sussex.ac.uk
Caption end-times: you can now specify an end time on captions so that they do not remain on screen for too long.
See this page on the Panopto website for more information on the new caption tools.
Padlet
Receive email notifications about updates to your padlets (or don't)
Padlet will now send you real-time email and push notifications (if enabled on your browser) when someone posts or comments on a padlet that you follow. If there's a lot of activity on a padlet, you will be sent a summary email. You should receive no more than three notifications per padlet per day. For some of us, that's still too many emails, so you can turn off or change your notifications via the new notifications page in Padlet. To do this, from within Padlet, click on the three dots (…) in the left-hand menu to open the user menu, then choose Settings.
In the left-hand menu, click Notifications. Then use the checkboxes to the right to choose your notification preferences.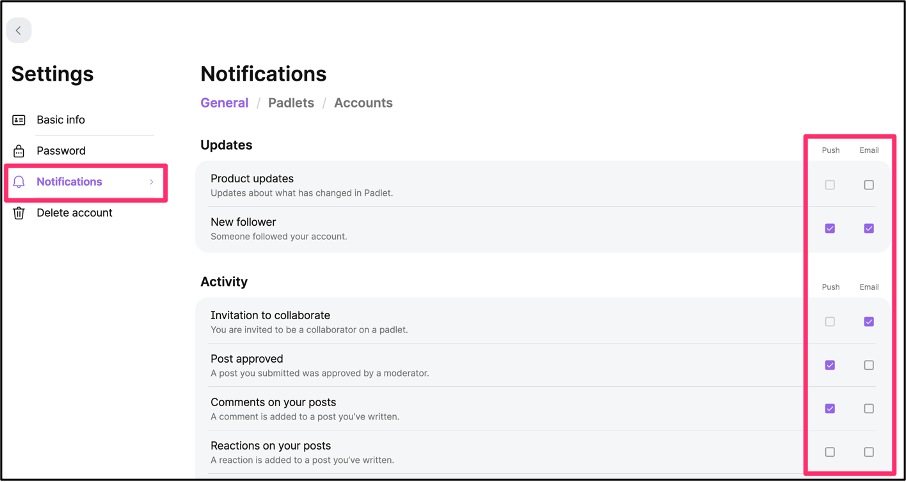 You can also use the activity panel on any padlet you follow to see the most recent activity in chronological order. To access this, click on the Open Activity Pane icon in the Action Bar (which has now moved to the right-hand side of the screen).
New wallpapers
Padlet have added several new wallpapers, including artwork from Seurat, Hopper and Van Gogh. Also, the title and description text will change to be readable in a font colour that contrasts clearly against the backdrop.
These are only a few of the recent updates to Padlet. For more details have a look at the Padlet Blog where you can also subscribe to get news of updates as they happen.
And remember, our team are here to support you with using these or any of the other core learning technologies at Sussex. If you'd like to know more, please visit the Educational Enhancement website or contact us at tel@sussex.ac.uk