When you hit your bed at night do you sometimes feel that you haven't achieved what you hoped to? If so, you may be helped by using online organisational tools. When many of us start a project, big or small, we often start by writing lists, but writing and lists are linear and our thoughts aren't. Consequently using alternatives to text and lists can increase our productivity. The common feature of my favourite organisational tools is that they are non-linear and visual and this helps us formulate our thinking and plan our time. That is why in the TEL team we use organizational tools to help us run our day and to be more productive.

Let me start with an example. Writing this blog post was not the only thing I needed to do today. There were a number of other competing tasks. However with the help of a project management board I am able to timetable and prioritise this task. Today, writing this blog post was at the top of the agenda.

Having prioritised this blog post as my top task for the day, the first thing I did was to draw a mind map of the things I wanted to say in the post. I had a host of ideas but how could they be organised? I used a second organisational tool that helps me organise my day-to-day work life – a mind map. Mind maps can be a paper exercise but there are several n big advantages to using computer-based tools.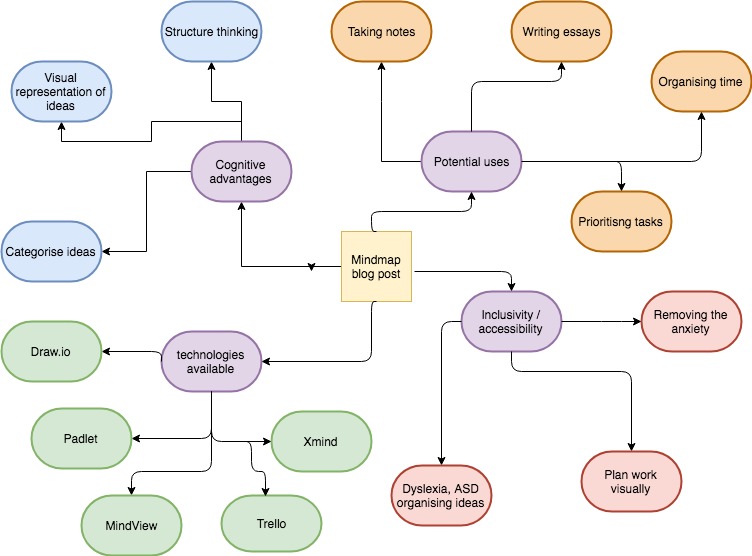 It is important at this point for me to note that the tools this post introduces will be of interest to you but the same organisational tools will be of use to students. It is a good idea to introduce tools like this to your students because they can help them organise lecture notes, organise their thinking and they are a great way of getting started on an essay. Furthermore there are some important accessibility barriers that these tools help students overcome, making your teaching more inclusive to all students whatever their background or circumstances.

Introducing Trello
Trello is project management software that we have mentioned before. I have a number of boards on Trello including the high stakes projects I am working on and the day-to-day management of tasks including email responses and so on. Depending on the type of project on which I am working the board may be collaborative with other team members or private to me.

In my opinion thes greatest strengths of Trello are its usability and its flexibility. Trello is highly featured but it is also simple to use. It allows you to easily and quickly visualise the tasks you and others in your team are engaged with and their current status.

You have a row of column titles that can be whatever what. In my day-to-day planner, they include stalled tasks, pending tasks, active tasks, awaiting review and ongoing tasks. The cards can have:
labels indicating the type of task they represent
a checklist of things that need to be met before completing the task
a due date
attached files
You can create a Trello card from an email just by forwarding the email to the special email address provided for each board.

Cards can easily be moved from column to column – for example in my day-to-day planner I can move a task from pending to active by simply dragging the card to the new column.

Trello can be useful to you as a professional but it can also be very useful for students who can use it to be more effective at planning and organising their study and personal time. This blog post provides examples of how Trello can also be used in the classroom.

Introducing MindView
Mind mapping is a useful activity to me because I can throw down ideas as they come, in whatever order. An important element of the mind map is that I can easily move these ideas about because once I have included everything I can think of I start to categorize and structure them into an intelligible plan or argument.That is where using post-it notes or software is better than using pen and paper where the representation of ideas can become fixed.

MindView is great because it is easy to drag and drop items and make a hierarchy of connected ideas. It is easy to make MindView visual as you you can easily add pictures from its own stock of images, from the web or from your own collections. It is easy to grab text from different sources and pull them into your mindmap. Furthermore, it's easy to order your ideas and give an estimation of how long they will take.

All these features make it an extremely useful tool, but its real strength over other mind mapping software is its ability to convert the thinking that has gone into creating the mindmap and ordering the ideas into the next stage of the project. For example you can switch your view of your ideas into a Gantt chart. Perhaps the most useful thing you can do though is convert your mind map into a Word document or Powerpoint so your ideas can easily become the start of an essay or report., and you don't need to throw away or rewrite your thinking.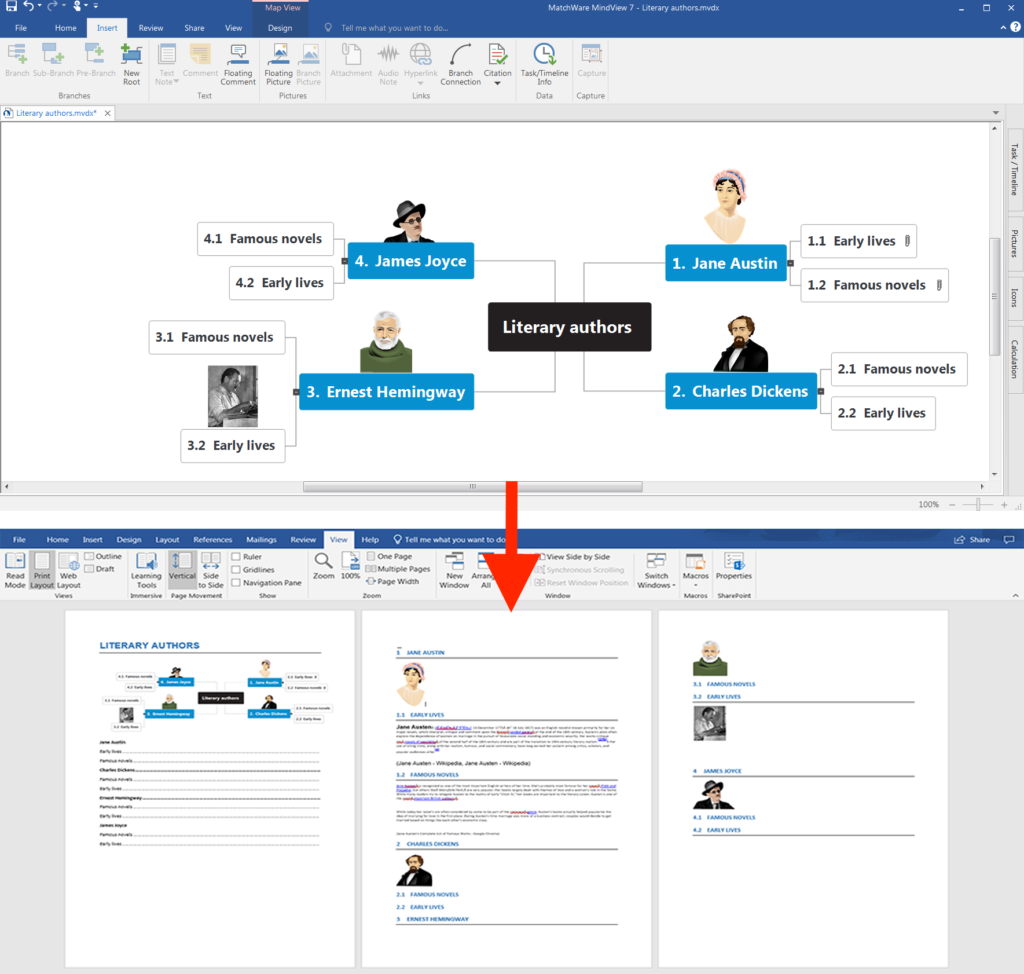 Summary
The beauty of organisational tools is that they help us plan our time, keep track of our ideas and structure our thinking into clear plans and documents. These management tools help all of us and are particularly helpful to those among us who struggle to assimilate concepts and make clear arguments.here are a number of tools available that can make us more productive in our working days. I use the two the above but there are many alternative organisational tools. The university has a site license for MindView and it is compatible with Windows or Mac, but not mobile devices. Other mind mapping tools, such as Mindmeister and bubbl.us can be used on mobile devices but do not have the advantage of converting to Word or PowerPoint.
You can find more useful digital tools in our A-Z of apps.