The 'human mind is a story processor, not a logic processor.' Jonathan Haidt


Two of the most important areas in people's lives are stories and agency, some would argue they are in fact integral to our nature, we communicate with others through story and the only way to define yourself as alive as opposed to being a mindless automaton is by your agency and the fact that you have the option to choose, to express your free will.
How do we define what a story is? It is a series of connected representations of experiences placed together to form a narrative. For an example look at how you make sense of your life, and how you would explain a day in your life to others. You would use your memories to do this, you would turn your experiences of the day into a narrative. That was your day, that was your story.
Stories and memories have an important role to play in teaching and learning as studies have found that narrative information is retained to a much greater degree than purely factual non-narrative information (see for example 'The science of telling stories: Evaluating science communication via narratives'). When narrative is employed, studies have found that university students are more engaged, more comfortable and more willing to learn. So wouldn't it be great if there was a tool that allowed you to create narratives for students which they could experience and learn from? There is such a tool and it's called Twine.
What is Twine?
Twine is a free open source tool for crafting choice-based narratives, using elements of constructivist and experiential learning. Twine can be accessed from any web browser, and it has an intuitive user interface which enables the quick creation of teaching resources. These resources can be shared as an HTML web page which can be embedded within platforms such as Padlet or VLEs such as Canvas.
A Twine story is made up of a number of 'passages', a passage in Twine is simply a page containing text, images, videos or other multimedia content. These passages are then linked together by various choices. When the player makes a choice they will be taken to the relevant passage. In this way large branching narratives can be easily created. Please see this example Twine Pete's Tea Odyssey.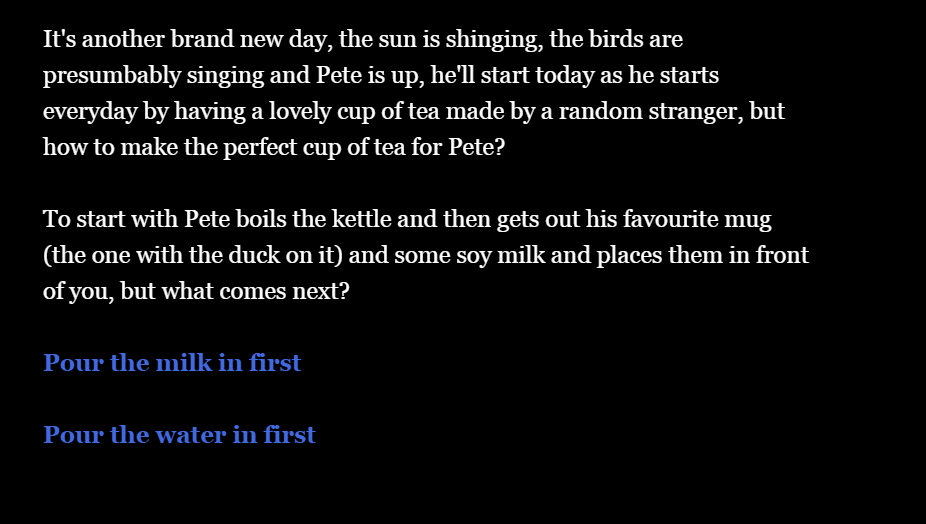 Why would you use Twine in your teaching?
Twine allows you to give your students the experience of working through a scenario and applying their learning. They make decisions and take actions based on the situation and then see the results and learn from their choices. Twine allows learners to make these decisions within a safe environment.
I hope this blog post has got you thinking about the power of narratives and how that can be applied to the teaching and learning experience. If any of this seems interesting to you and you'd like to use Twine within your classroom please contact tel@sussex.ac.uk for advice and support.
Further reading and resources
Twine Wiki – The official Twine full of guidance and advice on using Twine.
TEL Twine guide – A short guide created by TEL which features a step by step walkthrough of setting up your first Twine.
Pete's Tea Odyssey – An example of a Twine.