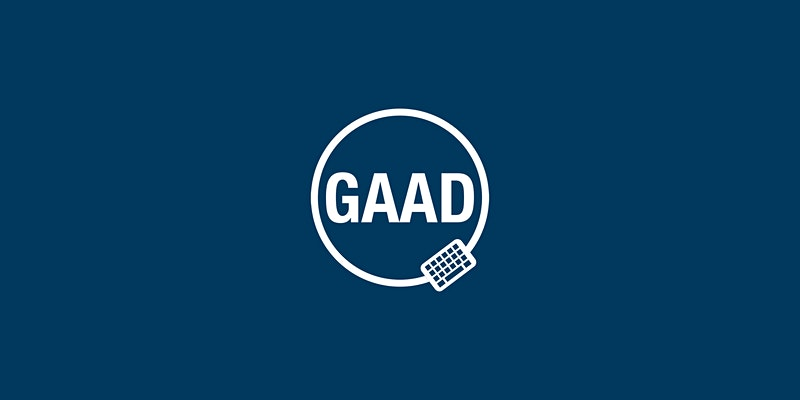 Thursday 20th May 2021 sees the 10th Annual Global Accessibility Awareness Day (GAAD). GAAD is an international event aimed at focusing attention on digital accessibility and inclusion.
Digital accessibility presents a huge challenge for students with disabilities. A recent report from WebAIM showed that 97% of the top one million homepages on the web do not meet the recommended industry standard for accessibility, WCAG 2.1 AA.
Since September 2018 it has been a legal requirement that public sector bodies including Universities meet the WCAG standard for web content. In June this year that requirement is extended to cover mobile applications as well.
Here at University of Sussex around 20% of our student body have registered disabilities, from physical disabilities to specific learning differences such as dyslexia, and mental health conditions. Addressing this need is core to providing an excellent student experience for all.
Over recent years Technology Enhanced Learning (TEL) and many other areas of the University of Sussex have been working hard to support staff in making their content accessible.
This reflects only a small part of the work going on to ensure we provide an inclusive digital space for students.
Many organisations are putting on open events in support of GAAD and you can find a list of many of these on the GAAD website. Sussex TEL are getting involved and we have teamed-up with our counterparts at Brighton University to offer our own event. On GAAD itself (20th May) we are excited to present a keynote talk from Dr Kevin Merry of De Montfort University (DMU). Dr Merry is an expert in Universal Design for Learning, an approach that he helped to introduce at DMU five years ago.
Dr Merry will be presenting his online keynote, 'Institution-wide approaches to embedding accessibility', on Thursday at 3pm. The event is open to all staff and students at University of Sussex and the University of Brighton. Please sign-up via eventbrite.
We encourage you to follow and to tweet about GAAD with the #GAAD.
If you have questions about how to make your modules accessible, please do get in touch via tel@sussex.ac.uk.