Collaboration is an essential part of learning so, this blog post will explore four tools you can use at the University of Sussex to facilitate digital collaboration.
Office 365 suite
If you've ever used a computer then chances are pretty high that you've also used Microsoft's suite of tools such as Word, PowerPoint and Excel, but did you know it's actually possible to collaborate with these range of tools? That means you can work on any of the tools as you normally would but you can work on them with others in real time.
This can be useful if you want to co-create slides, documents or spreadsheets. For teaching, you can create collaborative activities for your students within one of the tools.
Staff and students have full access to the Office 365 suite of tools, these can be accessed via the ITS website where you can also download the suite of tools.
Padlet
Padlet is a tool that allows users to post to a shared space known as a wall which can be composed of text, images, video, audio, GPS mapping, links,drawn images and much more.Padlet also allows for organisation of content through a variety of different layouts.For example, you can have a wall that is organised by columns, meaning you could create a group activity by creating a column for each group and asking students to post their input and resources under the appropriate column heading.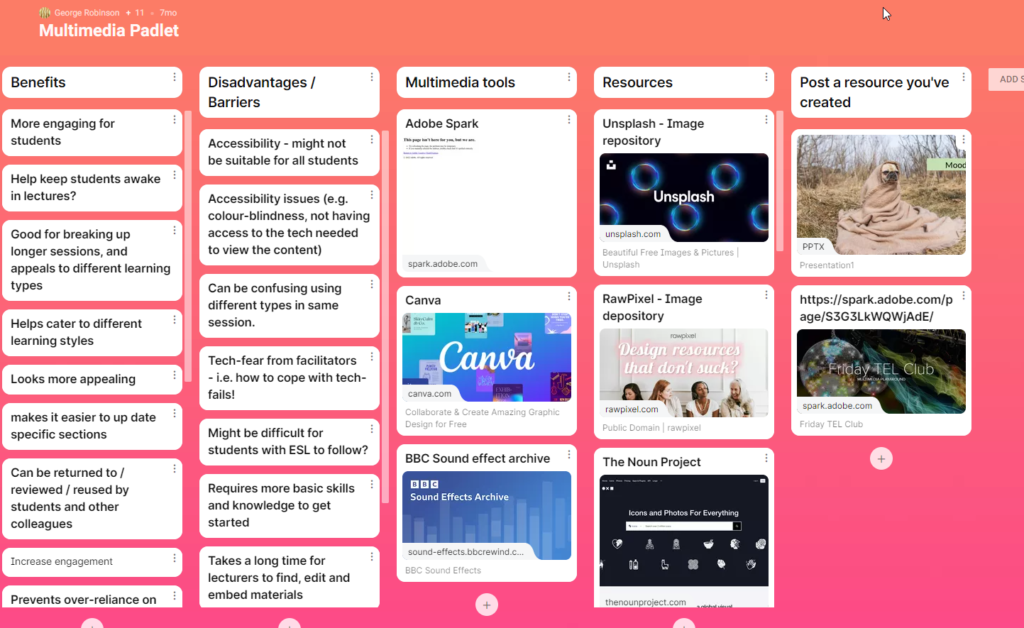 If you're a member of teaching staff at the University then you can ask to be added to the institutional Padlet account by contacting TEL at tel@sussex.ac.uk and we have a self-study course to help you get started with Padlet.
Otherwise it's possible to create a free Padlet account by registering on Padlet's website this will give you access to the free version of Padlet which has some restrictions but is still very usable as a tool.
Canvas pages
Canvas pages are what make up the bulk of most Canvas sites. As a teacher you may well have edited and created Canvas pages for use by learners, however you can use Canvas Pages in another way and that is by making them collaborative. Individual pages that you designate can be made editable by any students enrolled on your Canvas site.
This can be great if you want to create a collaborative wiki or to allow students to co-design pieces of content on these pages. pages that students create can be seen by all the other students on the module so you can allow learners to continuously build pages together, adding in useful information and so allowing for the creation of resources or good examples.
If you'd like to make a page editable by all students enrolled on a module you can do this by editing a page on Canvas and then under the Users allowed to edit this page option, select the dropdown box option Teachers and students

Google JamBoard
A fantastic tool created by Google, JamBoard is essentially a collaborative whiteboard whichallows a large number of users to draw, write,add images, text and shapes to a shared collaborative space.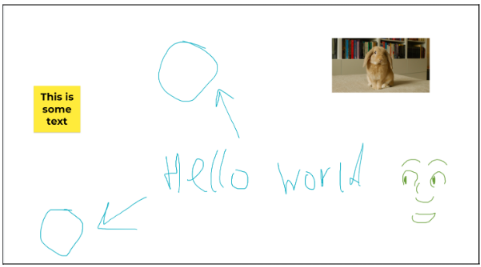 JamBoard's strength is its simplicity, it's light on features but if you want to quickly have an activity that involves people brainstorming or doing some rough planning then it's a great way to quickly gather and capture ideas. The small number of features also mean it's easy to get to grips with.
You can access JamBoard at the Google JamBoard webpage, you'll need to have a Google account to use Jamboard, but Sussex users can sign into Google using their Sussex credentials.
Further resources and support
You can read more about digital tools for collaboration in these blog posts:
If you would like to discuss options for collaborative teaching and learning at Sussex please contact tel@sussex.ac.uk