When teaching and learning is happening online the accessibility of digital materials and activities is more important than ever. This post is part of a series of Accessibility Tips to help you make your digital materials accessible. There are more great tips in our Digital Accessibility Toolkit. Previous posts in this series look at:
This post focuses on the list of tools in the Digital Accessibility Toolkit which can be used by students with specific learning differences. Many of the listed tools would be useful to anyone and the majority have free versions. You can filter the list to find the right tools for your needs, based on the device(s) you want to use and the cost. A more exhaustive list of tools is available on the DnA (diversity and ability) website.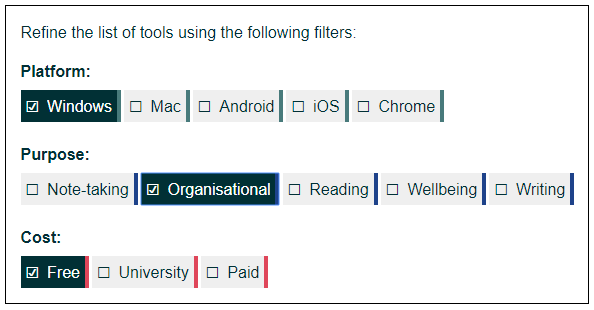 Organisation and planning
You can help keep your work on track and reduce your stress levels by using a to-do app such as Trello for organising tasks and mind mapping software like Mindview for notes, planning and more. You can read more about these two digital tools in our post 'The organisational tools I rely on'. Trello has a free version that would be enough for most users and the university provides Mindview to all staff and students.
Reading
Students and staff will spend considerable amounts of time reading, and there are some great tools to help. To modify your screen's display to reduce eye-strain, try F.lux which will adjust the display colour temperature according to location and time of day. Students and staff at Sussex can also use Sensus Access to automatically convert documents into a range of alternate media.You can read more about this in our post Alternative formats made easy with SensusAccess.
Writing
Microsoft and Google both allow you to speak your writing. Office 365, which is provided free to all staff and students at Sussex, lets you dictate into Word, OneNote, and PowerPoint. Google Docs allows users to create text using voice commands with a free Google account.
Tools you have to pay for
There are other tools that are not free, but which are very useful for a range of needs. Some funding is available for paid-for tools through the Disabled Student Allowance (DSA).
Claroread can read any on-screen text out loud to help students to read, write, study, and sit exams, while the Read & Write Chrome extension offers a range of support tools to help users gain confidence with reading, writing, studying and research. For note-taking and writing Audio Notetaker (Sonoscent), and Dragon (Dictate) are worth looking at.
Students can get more advice and guidance on selecting and using assistive and accessible learning technologies from the Sussex Regional Access Centre and staff wanting advice on making their teaching materials accessible can contact tel@sussex.ac.uk.