This post will look at some digital tools that could be used for activities such as peer learning and applying knowledge. We are also keen to look at apps and tools that could help to build a sense of community. As always, the technology is secondary to the learning aims, but as several of the tools offer possibilities across the range of activities let's look at each tool in turn and consider how it might be used for learning, what the benefits and challenges are and how accessible it is.
This tool, first explored in our post Flipgrid: video discussions for learning could be used for community building with tutors and students sharing short video introductions. It would also be a good way of students sharing their understanding of a concept or defining a key term in a discipline.
Here is an example of a Flipgrid with an introduction from me and responses from colleagues.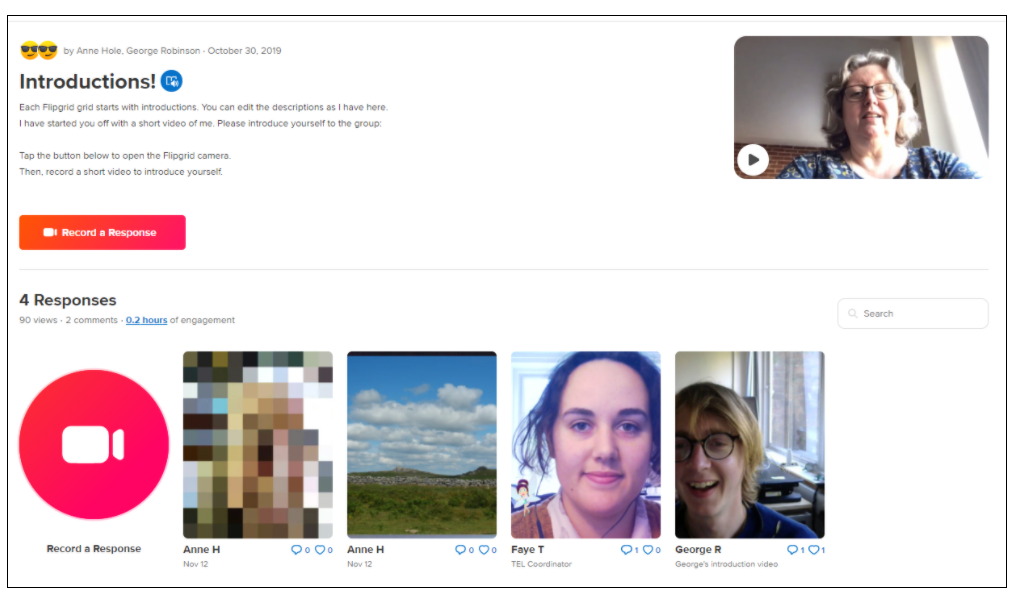 Flipgrid is an informal and user-friendly platform that many students enjoy using. For anyone uncomfortable showing their face (or their environment) in a video there are options for using a photo instead or pixelating the video. As with all video, a reasonably fast internet connection will be required for creating and streaming responses. Flipgrid also works with screen readers, is navigable by keyboard, has captions on videos and includes the Microsoft Immersive Reader.
This tool, not to be confused with our online study platform Canvas, helps anyone to design posters, infographics and other types of communications. This could be used by students to create posters instead of verbal presentations, social media posts explaining an idea from the module, or infographics to represent data they have gathered. Here are just a few of the many infographic templates available in Canva.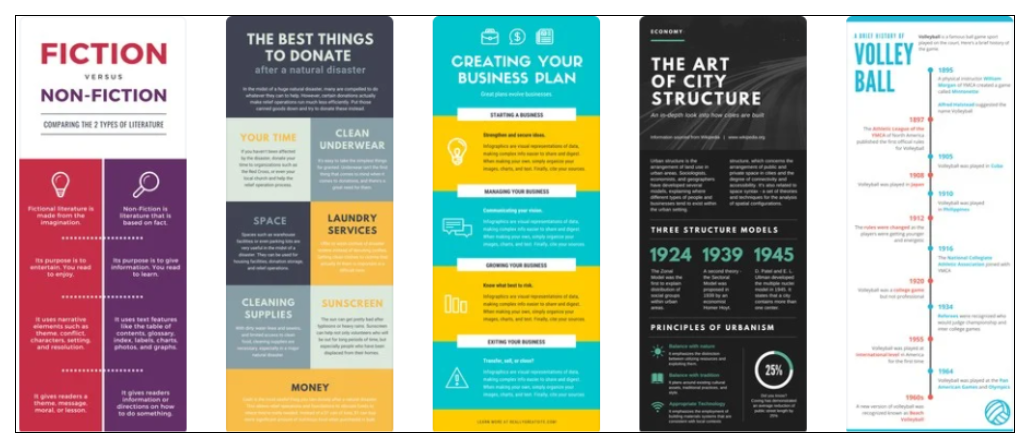 Canva does the designing for you, so you can concentrate on the content and produce a professional looking output. There is a huge amount of choice, which can make it difficult to select the best template and images for your project, but there should be something free for most purposes. Using Canva does require setting up an account, but this is free. If students are creating posters for submission to a Turnitin assignment they should not use Canva as the exported file types from a free account are not suitable for Turnitin.
Canva may not be as accessible as other platforms, so it would be best to offer it as an option, alongside something like PowerPoint that has a good set of accessibility features.
Twine describes itself as 'an open-source tool for telling interactive, nonlinear stories' (https://twinery.org/) and it allows users without coding knowledge to create branching scenarios. This could be great for giving students an opportunity to test out their learning in example situations. Or students could create their own Twines for each other. Have a look at this example that uses the simple task of making tea to give you an idea of how it works. This is what the beginning looks like in the creator's view.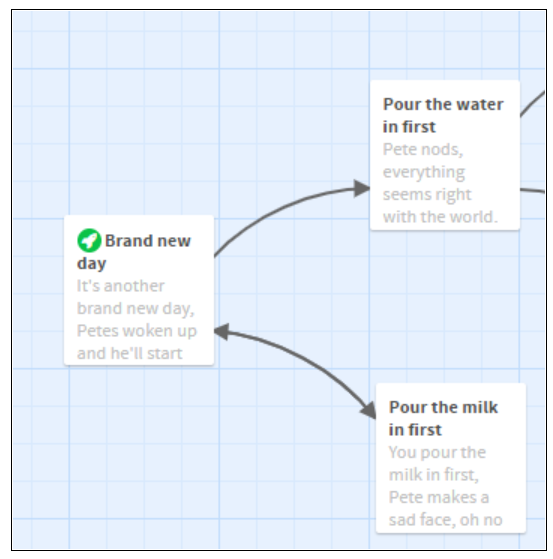 Whether you are the one creating it, or moving through it, a branching story/scenario in Twine can make you think carefully about choices and their consequences. The basic presentation is quite minimalist but there are options to add more if you have some coding experience.
Twine is not particularly accessible by default, but again, if you have some coding knowledge you can make your Twines more accessible.
Padlet is an old favourite and many people at Sussex are using it already in their teaching, but it is very versatile and would work well with the tools above – for example, you can add links to Flipgrids and Twines and/or upload Canva posters and infographics so it's a great place to bring a range of things together in a visual format. Here is an example Padlet showing a range of content.
We wrote previously about 4 fantastic uses for Padlet in online teaching and the addition of layouts for maps and timelines has extended the range of ways that it can be used. Padlet is easy to use and a Padlet can be easily embedded in a Canvas page.
Padlet are working on accessibility and it is getting better all the time – you can now use screenreaders with Padlet and some functions are possible with a keyboard only. As with all tools/platforms, when using Padlet you should consider whether you need to provide alternatives or modify the activity to allow everyone to take part.
Support with tools for active learning at Sussex
You can read more about a range of apps in our A-Z of apps or contact tel@sussex.ac.uk to discuss ideas and options with a member of the TEL team.