by Dr Sarah Watson
DARE to Transform, the University's Scholarship of Teaching and Learning (SoTL) blog, is changing its name and its scope. This post outlines the rationale for these changes and will explain how you can contribute to our new Learning Matters scholarship forum.
Changing names 
The DARE to Transform blog has changed its name to Learning Matters. DARE, which stands for Development, Advancement and Recognition in Education, was a scholarship network established by Dr David Walker and Prof Susan Smith at Sussex in 2019. The DARE network was run by the Academic Development team between 2020-3. In the last three years, it has had many successes:
23 blog posts, with a grand total of over 7000 views
a great programme of guest speakers for the DARE seminar series, including Prof Celia Popovic, Prof Lisa Anderson, and Dr Dawne Irving-Bell
a lively community of practice, which regularly brought together academics from across the University to discuss scholarship ideas, issues and outputs.
A lot has changed in the last three years, David and Susan have sadly left Sussex, the Academic Development team is almost completely unrecognisable from its original 2020 composition, and nobody we've ever spoken to can remember what the acronym DARE stands for.
The Academic Developers wanted to create a scholarship forum that didn't need to explain itself and were inspired by the University of Edinburgh's brilliant, and self-explanatory, Teaching Matters blog. On a relatively recent trip to The Keep (to gather archival material for the University Pasts and Futures Symposium), we serendipitously stumbled upon the Learning Matters newsletter, set up at Sussex by the Teaching and Learning Advisory Group in 1995. The newsletter was published termly and ran for at least 5 years. Issue one (autumn 1995) stated that the newsletter focused on the impact of teaching on student learning and was predominantly comprised of 'in-depth articles by and for Sussex faculty' (Locke, 1995. p.1). Not only did the heritage of Learning Matters at Sussex legitimise our seeming appropriation of Edinburgh's Teaching Matters blog, it also highlighted the synergy between our contemporary teaching and learning interests within the institution and those of a quarter of a century ago.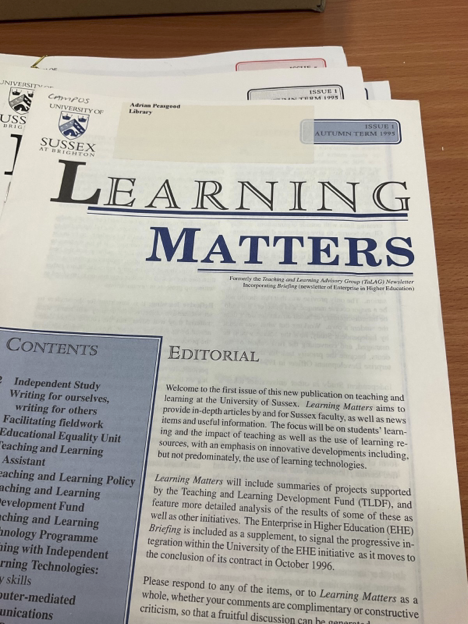 Issue 3 (summer 1996) of Learning Matters includes an article written by Mary Lea (Reader in Academic and Digital Literacies at the Open University) and Brian Street (Lecturer in Anthropology at the University of Sussex) on a research project they were currently undertaking into the complexities of different writing genres. Lea and Street argued that students' writing skills weren't necessarily getting worse (as was being claimed at the time), but that the academic writing requirements within specific genres or fields or writing weren't being made explicit to students. Lea and Street used Learning Matters to present the progress of their research project and two years later, once the project was complete, they published their full research in Studies in Higher Education. This 1998 article established Lea and Street's 'academic literacies' framework, which focused on successful writing as a complex and dynamic process, defined not merely through technical skill or subject acculturation, but rather through an understanding of a variety of linguistic practices (genre, fields, disciplines etc.,) within HE and the ability to 'handle the social meanings and identities that each evokes' (Lea and Street, 1998, p.159). This framework has been hugely influential across the sector and is still prevalent today, with the Journal of Learning Development in Higher Education dedicating a special issue to academic literacies in 2019.
Strangely enough, the academic literacies framework was at the forefront of our minds in June, when we visited the Keep, as we were in the process of publishing two DARE to Transform blog posts by Sue Robbins' (Senior Lecturer in English Language at the University of Sussex). The first post focused on the importance of academic literacies in UK HE generally, and the second examined the need to develop students' academic literacies as a defence against AI and personation in assessment. In both posts, Sue explicitly referred to Lea and Street's research, unconsciously connecting the DARE to Transform blog with the 1990s Learning Matters newsletter, and providing us with further encouragement to adopt the name of our predecessor.
It was a joy sitting in the Keep and reading Learning Matters articles from former faculty at Sussex. These 'in-depth articles', which were around 2000-4000 words in length, allowed academics to delve into their subject (Locke, 1995. p.1). As with Lea and Street's 1996 article, Learning Matters gave faculty an opportunity detail current research, providing a platform from which a journal article might quite naturally generate. These articles were very interesting to us, as they helped us to see that we need to create a space for multiple and diverse forms of writing about teaching and learning. For example, Sue Robbins' text on academic literacies had to be split into two parts in order to fit the shorter blog post format, whereas her original submission (which was around 2000 words long) would have been perfectly suited to a longer article format. With this in mind, the original Learning Matters newsletter has also inspired us to expand beyond a blog. We now present a Learning Matters scholarship forum, which gives academics the opportunity to write in three different formats:
1. Case study
Case studies for Learning Matters offer a brief overview of an aspect of teaching and learning that has had a positive impact on students. These case studies also provide helpful tips for faculty wishing to do something similar in their own classes. If you are interested in submitting a case study to Learning Matters, please complete this case study questionnaire and email your responses to educationalenhancement@sussex.ac.uk. Alternatively, you can schedule a quick interview with someone from Educational Enhancement who will write up your case study.
2. Blog
Blogs for Learning Matters are typically grounded in educational research. Authors may draw on literature and evidence-based practices to support their ideas and recommendations. While content is research-informed, blogs for Learning Matters aim to present information in a way that is accessible to a wide audience. For further information, see Blog scope and style guidance.
3. Article
Writers interested in contributing longer pieces to Learning Matters can opt to submit an article. For a list of suggested genres, see our Article scope and style guidance. Please note that these genres are not prescriptive: you are welcome to approach your article creatively in ways that meet your scholarship goals.
Invitation to contribute 
We welcome all colleagues at the University to write a blog, or an article, or present a case study around their teaching and/or around student learning at Sussex. If you're interested in contributing, please read the submissions page for further details.