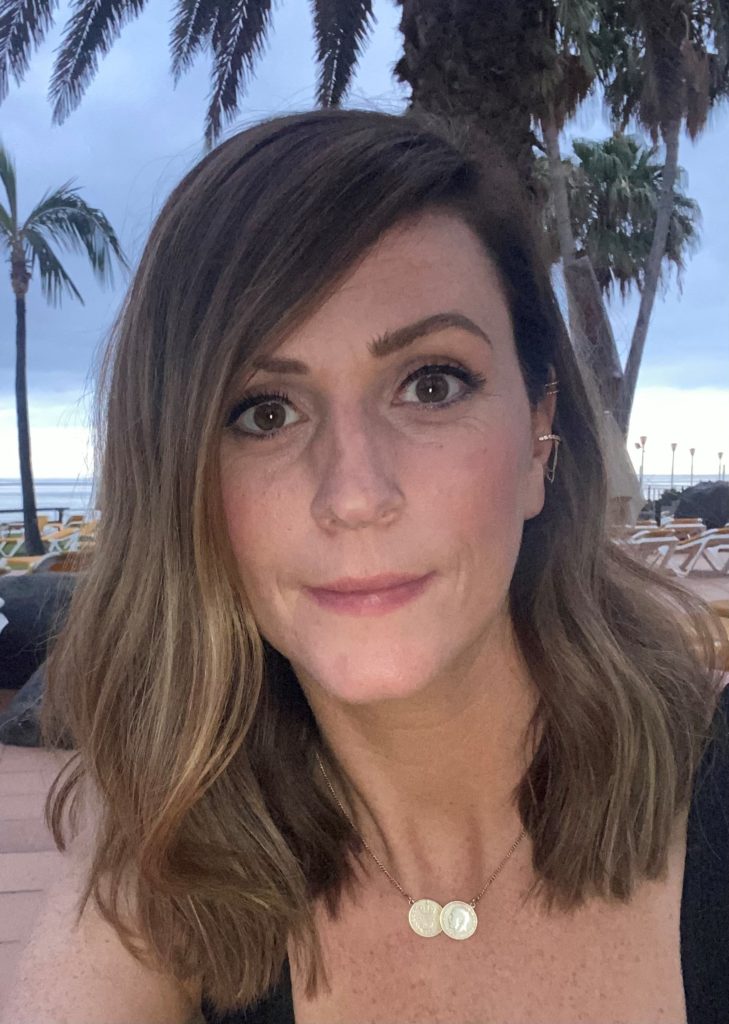 In this case study, Dr Jo Wilson, Senior Lecturer in Commercial Law, talks about how she introduced 'Legal Document Pack Exercises' (LDPE) as a form of authentic learning and assessment on a core law module. 
What I did
Students in my Contract Law 1 module take on the role of a Trainee Solicitor and they are given a bundle of documents from a client which range from email and text message exchanges, invoices, newspaper articles, adverts, contractual provisions etc. They must read though the documents, draw out the legal issues, and prepare a written answer, advising the client. Below is an example of instructions students receive and a visual of the sort of documents they analyse.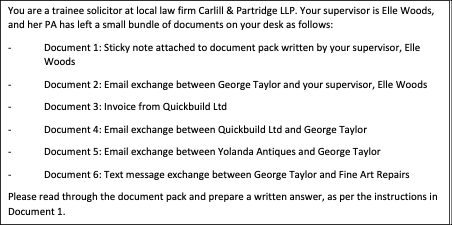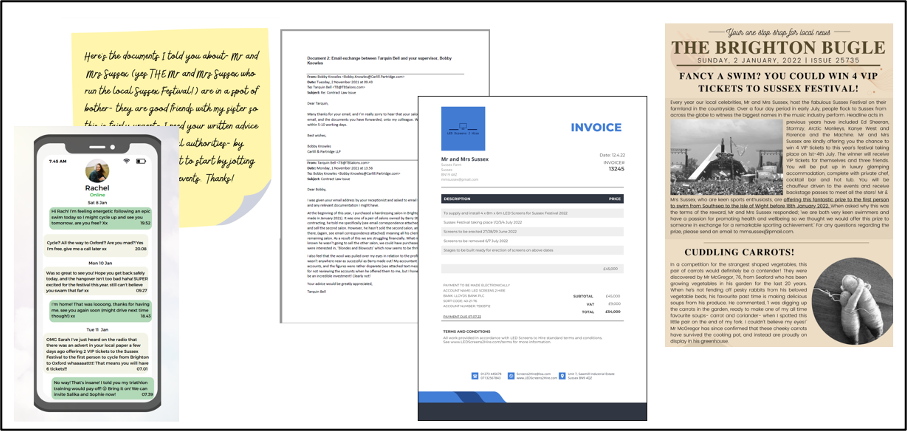 Authentic learning opportunities are embedded throughout the module, so that students can develop their skills relating to reading documents, drawing out the relevant legal issues, and producing a written answer, in preparation for the assessment. These learning opportunities, which are also interweaved with skills-based sessions, take place as follows:
Week 1: Seminar: How to read a case
Week 2: Workshop: How to answer a PQ/LDPE in Contract Law and Beyond
Week 3: Seminar Offer & Acceptance LDPE
Week 5: Exemplar for LDPE in Week 3 released
Week 5: Seminar: Consideration LDPE
Week 7: Seminar: Economic Duress LDPE
Week 9: Misrepresentation LDPE
Why I did it
There were three key driving factors that prompted me to take this approach; first, I wanted to create a more interesting and engaging learning opportunity for students (Burns, 2015), second, I wanted to give students the opportunity to develop their employability skills, and in doing so help to bridge the 'skills gap' between education and practice (Sotiriadou et al, 2020); and finally, linked to inclusivity and widening participation, I wanted to ensure that all students, including those who are unable to take advantage of our co-curricular skills programme (because of work or care commitments, for example), have the opportunity to develop their transferable skills.
This was a novel approach in the Law School, where assessment modes are dominated by traditional essays and problem questions.
Challenges
One challenge was that I had to upskill in creative software, and another was that creating the documents took an incredible amount of time, both in terms of initial set up, and then ongoing time costs.
First, in terms of software, if you want to produce documents that are authentic, you will need to develop your creative skills! When I initially introduced LDPEs, I used Microsoft Word to produce the documents, and they were not particularly realistic. To overcome this, I taught myself how to use Canva, a brilliant online graphic design tool, and I was able to produce some fantastic, authentic looking material.
Second, in terms of time, this learning exercise and assessment mode requires a huge commitment in terms of timing. Preparing the seminar material is a large undertaking, but that material can then be used year after year (with updates, as necessary). Beyond that initial exertion, you will need to dedicate much more time when it comes to prepping your assessments. Unlike an essay title, which can be quick to write, producing a LDPE is very time consuming. Not only do you have to develop and write the scenario, as you would with a traditional problem question, but you also must create the documents to tell that story.
Impact and student feedback
The response to the introduction of LDPEs as a learning activity has been overwhelmingly positive. In December 2021, 129 students completed a survey on curriculum changes in Contract Law 1.
93% agreed, or strongly agreed that the legal document pack seminar activities were interesting and engaging
94% agreed, or strongly agreed that the seminar activities created an authentic learning experience
94% agreed, or strongly agreed that overall, the use of legal document packs in seminars enhanced their student learning experience
Students were asked: 'What was your experience of the legal document pack seminar activities? Is there anything you would change?' and some of the responses were as follows:
"These were the highlights of my semester workwise. These document packs felt like practical, real word simulations that allowed me to play the proper role of lawyer-in-training, while also getting strong practice experience in structuring a problem question properly. I really hope to see more of these before I'm done at Sussex!"
"The experience was fantastic and practical. Having the ability to work with our clients in assessing their issues and providing potential solutions was greatly appreciated. The additional subtle details made the preparation work enjoyable with rewarding application opportunities. Absolutely brilliant! Thank you so much :)"
"The legal document packs were an excellent way to engage students in the learning process."
"I loved the document packs, it provided a more interactive and enjoyable way of applying what we had learnt in the lectures. I also loved figuring out the law through the texts and emails. 10/10!"
Future plans
We are now in the third year of using the LDPE's and they continue to work incredibly well, so there is no plan to make any changes. What I am doing, however, is continuing to disseminate the importance and benefits of authentic learning. In December 2023, I am co-hosting with colleagues from other institutions an online symposium, 'Authentic Assessment in Law: Critical and Practical Reflections,' and I am currently writing a book, alongside Dr Verona Ni Drisceoil, on 'How to Design and Embed Authentic Assessment in Law' (2025, Edward Elgar).
Top 3 tips
Use existing assessment scenarios that you have and 'convert' them into LDPEs by producing documents that tell the same story.
Ensure that you embed opportunities throughout the module for students to practice LDPEs.
Utilise software such as Canva to produce authentic documents.